To get these issues free by e-mail each week, just subscribe using the form above -- your privacy is Randy's policy. (Or cruise around the web site to see more samples, archive, and info on our terrific book collections of thousands of past stories.)
Since 1994, this is the 1184th issue of Randy Cassingham's...

---
Was This Issue Forwarded to You?

Click Here to Get Your Own Free Subscription.
---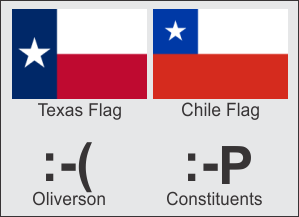 :-( Tom Oliverson, a member of the Texas House of Representatives, is sick and tired of Texans using the wrong flag "emoji" symbol to represent Texas online. There are many flag emojis available online, "but the official flag of Texas, also known as the Lone Star Flag, is not included in the selection," he says. "All too often, the Chilean flag emoji is used as a substitute for the Lone Star Flag in text messaging and on social media platforms." The Republican has thus introduced a Resolution to "urge all Texans not to use the Republic of Chile flag emoji in digital forums when referring to the Lone Star Flag of the great State of Texas." (RC/KVUE Austin) ... :-P
Pic and Choose: "Why is it," asks Genevieve Maheux-Pelletier, "that my child is put aside and being told, 'No, I'm sorry, but you cannot be part of the picture?'" It's because his parents refused to sign the consent form for his picture to be taken at école élémentaire La Fontaine, the school he attends in Kleinburg, Ont., Canada. Maheux-Pelletier said that's because signing the form would have allowed pictures of the 4-year-old to be shared on social media. A spokeswoman for the school board said allowing pictures to be taken, but keeping them off social media, would be too demanding. (AC/CBC) ...The real world's privacy settings aren't as flexible as Facebook's.
The Subject Line Notes "5 Stories" — the full edition had 14. This week you missed: Woman's "secret' to long life (109 years so far) is one most Americans could get behind. Yet another obliviot claims her kid was in stolen car (and goes to jail for it). Woman asks first date if he's a serial killer (No, but things go downhill quickly from there). Man wants a bullet in his new new jewelry, but because he's an obliviot.... Commercial fisherman's catch could send him (and his friends) to prison for life. Canadian cop notices men in drive-thru ...riding a sofa — and then it gets weird. Florida public defender tries to talk cop out of arresting ...him (doesn't work). Las Vegas Taco Bell to host weddings. Man tries to pull scam on his own grandmother, but she's way too smart for him. It's not to late to read these stories: just ask for your upgrade to start with the 19 February issue. See your upgrade options here and stop missing most of the stories!
This Issue's Exclusive Sponsor:
Drone Pilots: Do You Have Your Wings?

Beautiful custom metal Drone Pilot Wings dress up your shirt, jacket, and/or equipment box, showing your pride and professionalism in your hobby. Makes a great gift, and is less expensive than most message t-shirts (lasts longer, too).
Order Yours Here, with discounts for extras.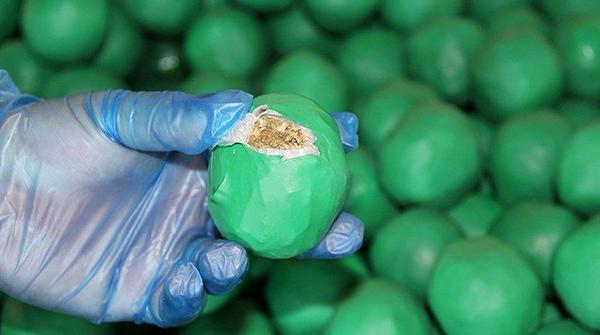 Blimey: When a "produce truck" came across the border from Mexico into Pharr, Texas, carrying 34,764 limes, the produce didn't quite look right to "imaging systems" Customs agents used to check the cargo. They didn't smell right to drug-sniffing dogs, either: the limes were fake, and hid 3,947 pounds of marijuana, which U.S. Customs and Border Protection valued at "approximately" $789,467. Last year at the same border crossing, Customs agents intercepted 2,493 pounds of marijuana hidden in fake carrots. (RC/CNN) ...At $12.50/ounce, Mexico clearly isn't sending up their best weed anymore.
Keystone Krooks in Kannapolis: Police in Kannapolis, N.C., responded to a report of shots fired at a Rent-A-Center store. When they arrived, they saw two men trying to load a TV into a car. Police say the men — later identified as Willie Anthony, 20, and Jamarqua Davis, 16 — jumped into separate vehicles and tried to flee the scene, but crashed into each other in the parking lot. They still tried to drive away — going against traffic, which resulted in two more, separate, crashes, which allowed police to apprehend them both. Anthony and Davis were charged with a litany of crimes, including breaking and entering, felony larceny, possession of a stolen vehicle, hit and run, and driving without a license. They were held in the Cabarrus County Jail. (MS/WCNC Charlotte) ...Shouldn't that be Kabarrus Kounty?
Speaking Ill: Leslie Ray Charping died, and his Galveston, Texas, family, dictated his obituary. "At a young age, Leslie quickly became a model example of bad parenting," the obit says, with a "commitment to drinking, drugs, womanizing and being generally offensive." He died at 75, "which was 29 years longer than expected and much longer than he deserved." Further, "he will be missed only for what he never did; being a loving husband, father and good friend." He did serve in the Navy, but "as part of a plea deal to escape sentencing on criminal charges." On the positive side, "Leslie's passing proves that evil does in fact die and hopefully marks a time of healing and safety for all." The family did not hold a memorial service. (RC/KTRK Houston) ...Remember: family always has the last word.
---
Goo-Goo G'joob
Man with Mop on Head Seeks Egg in Port St. Lucie
Port St. Lucie (Fla.) News headline
---
Did You Find an Error? Check the Errata Page for updates.
This Week's Contributors: MS-Mike Straw, AC-Alexander Cohen, RC-Randy Cassingham.
---
Something Amazing About Alexander's Pic and Choose story this week, about the parents who didn't want their child's school to post the kid's picture online (a very reasonable precaution in this day and age): when the parents went to the media, they gave the Canadian Broadcast Corp. the kid's photo, the CBC not only showed it on TV, but they of course ran it with the online version of the story too! I do agree it all should come down to the family's choice, but if they didn't want their kid exposed in a low-key way, it's a bit mind-boggling they't allow it in a high-publicity way. Even though they released it, I decided not to run it myself.
Update on the New 'Best of True' publication. A couple of weeks ago, I announced a new project I've been working on since late last year: a daily email that drops one story into your inbox every morning. It came about as a perk for those who have been extra supportive of the publication through Super Premium subscriptions, or by throwing in extra in their Patreon pledges (at the $7/month "Supporting Patron" level or higher).
Well, I'm not going to freeze the rest of you out just because you're not doing one or the other of those: you can even get the "Best Of" mailing if you don't have a Premium subscription. It's $27/year (with significant discounts for up to 5-year terms). See full information on this page.
Note it's highly desirable to start your subscription before March 1 (next Wednesday!): that's when it goes live, and once a story is published, it won't be repeated or available as a back issue. Start late, and you'll miss whatever came before you started. So use your "most reliable" address, such as gmail, to ensure you get them.
To sign up, there's a Paypal button on the details page, as well as a link to order via True's shopping cart, if you prefer plastic.
---
Ten Years Ago in True: Zero Tolerance: Fighting Fire With Fire
Today on Randy's Random: Keep Your Wits About You (though I enjoyed yesterday's Why I Married Her too!)
This Week's Honorary Unsubscribe goes to Barbara Carroll. A pianist, Carroll studied classical music, but preferred the jazz she heard on the family's radio, and created a life-long career.
Read her story in the Archive (with photo): Barbara Carroll (OK to share link)
And So Long to Bruce Lansbury, a TV producer best known for producing 69 episodes of The Wild Wild West (1966-1969), 38 episodes of Mission: Impossible (1969-1972), and 88 episodes of Murder, She Wrote (1992-1996) — starring his older sister, Angela. He died from Alzheimer's disease on February 13, at 87.
---
Subscriptions to This is True are Free at http://www.thisistrue.com. All stories are completely rewritten using facts from the noted sources. This is True® is a registered trademark. Published weekly by ThisisTrue.Inc, PO Box 666, Ridgway CO 81432 USA (ISSN 1521-1932).
Copyright ©2017 by Randy Cassingham, All Rights Reserved. All broadcast, publication, retransmission to e-mail lists, WWW, or any other copying or storage, in any medium, online or not, is strictly prohibited without prior written permission from the author. Manual forwarding by e-mail to friends is allowed IF 1) the text is forwarded in its entirety from the "Since 1994" line on top through the end of this paragraph and 2) No fee is charged. We request that you forward no more than three copies to any one person — after that, they should get their own free subscription. We always appreciate people who report violations of our copyright to us.
---
You can subscribe free by e-mail and get this delivered to you every week.
Last Week's Issue