To get these issues free by e-mail each week, just subscribe using the form above -- your privacy is Randy's policy. (Or cruise around the web site to see more samples, archive, and info on our terrific book collections of thousands of past stories.)
Since 1994, this is the 1080th issue of Randy Cassingham's...

---
Locked Out: Stan Lock is only 13, but has already suffered the loss of several friends and family members to cancer. And while he's only 13, he decided he could do something about it: he set up a fundraising campaign asking for contributions for a cancer care center. In exchange for pledges, he offered to shave his head. But officials at his school, Churchill Academy in North Somerset, England, didn't care about Lock's motives, just his locks: he was not only put inin-school suspension for his "extreme haircut," but he was banned from attending classes, and forced to spend the entire school day, including lunch and break times, in an isolation booth. The punishment's duration was set as until his hair grows out to at least "number 2" clipper length, which may take weeks. "Isolation is one of the consequences for students that break our behavior policies," said headmaster Barry Wratten. Until, that is, uproar overthe school's decision hit the media. Wratten backpedaled after four days, and let Lock back into class. Meanwhile, Lock's fundraiser went nuts, with even fellow students and teachers contributing. He originally stated a goal of £100, but has raised more than £18,200 (US$27,000). (RC/Cheddar Valley Gazette) ...Next, a fundraiser to hire in a better headmaster. It'll bring in millions!
This Guy Deserves a Kik in the Teeth: When a dad in Mill Creek, Wash., checked his 14-year-old daughter's phone, he found a series of messages allegedly from Mark Holstein, 28. One of the messages even encouraged the girl to delete their chats "in case your dad gets ahold of anything." The messages, sent through the online service Kik, showed that the girl originally claimed to be 19, but then revealed her true age to Holstein. "You're the only one Ineed," one message read. "Plus prison." According to the filed charges, the two did meet for a tryst, and Holstein allegedly took explicit photos of her. He apparently enjoyed the experience, too. "You honestly should consider being an escort," Holstein allegedly advised the girl. "You'd be able to make a ton, I promise." Holstein was arrested and released after posting $50,000 bail. He faces 13 months in custody, which is just long enough to servetime in prison instead of jail. (MS/Seattle Post-Intelligencer) ...Then he'll have all he needs.
Advertisement
Does Your "Sport Sandal" Weigh a Pound ...or More?
Xero Shoes Feel Like Going Barefoot, yet still protect your feet. New Z-Trek sandal is secure without something between your toes. Rated 94 out of 100 by The Running Clinic.
Details at Xero Shoes, including Win a Pair!
UKKR: British police officials issued denials and apologies after news dealers said officers contacted them about sales of Charlie Hebdo magazine. A reported 2,000 of the 5 million copies of the magazine's "survivors' issue" went to U.K. customers. Officers in at least three jurisdictions there approached retailers, in at least one case asking for customers' names. "There were questions asking where we got the Charlie Hebdo copies from, did weknow who we sold them to — which we didn't say," said a retailer in Presteigne, Wales. Local police officials said "the visits were only made to enhance public safety and to provide community reassurance." After people raised free-speech concerns, Sir Peter Fahy, the country's top cop for "preventing extremism," tried to provide ...well... community reassurance. "It is important that we do not erode the very freedoms that we are tryingto protect," he said, and investigating who'd bought the magazine "is not to be supported unless there is clear evidence that a crime has been committed." But national guidance to police said visiting Hebdo dealers might be worth considering "if there are raised community tension indicators." (AC/London Guardian) ...Je Suis Charlie Dealer.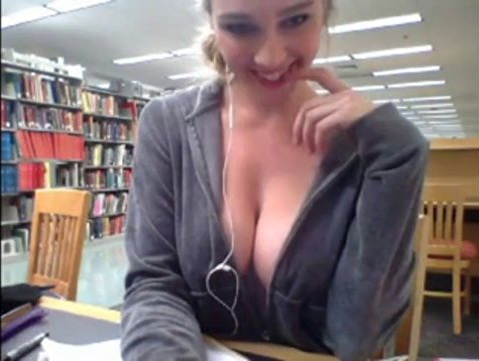 Go Beavers! Kendra Jane Sunderland, 19, went to Oregon State University in Corvallis, Ore., for one term before withdrawing, but she made a returntrip to the campus's Valley Library to make a video. In the video, posted online, Sunderland flashes her ample chest and briefly (as most reports delicately put it) engages in a "solo sex act." She recorded the video in the 340,000 sq. ft. library's "Geography, Anthropology, [and] Recreation" section, and when campus officials learned about it later, they came unglued. "This is not Oregon State University," said university spokesman Steve Clark."This is not what we're all about." Students, however, were not bothered. "Everyone knows about it," shrugged a 22-year-old student. "The word spread so fast that the day after it was posted, pretty much every person on campus knew about it." But then it blew up into a big deal among school officials. "I did not see that coming." Even though no one in the library witnessed Sunderland's ...er... performance, she has been issued asummons charging public indecency, and faces up to a year in jail and a $6,250 fine. (RC/Corvallis Gazette-Times) ...Meanwhile, having dropped out of school, she only has one skill that can earn her that much money in a hurry....
---
Florida? Yep, Florida
Police: Ocala Man Tried to Circumcise His [20-month-old] Nephew with Kitchen Knife
Orlando Sentinel headline
---
Did You Find an Error? Check the Errata Page for updates.
This Week's Contributors: MS-Mike Straw, AC-Alexander Cohen, RC-Randy Cassingham.
---
To Err is Human; To really screw things up requires a computer. Last week, a glitch somewhere along the line took out a big chunk of text from a story, leaving the lead sentence more than perplexing. It was correct in the Premium edition, but by Friday's free edition, it was garbled. A large number of you said to yourselves, "Well, maybe that's what the Errata Page is for!" and clicked the link that's inevery issue, saw the correction, and got instant gratification. Another large number of you e-mailed me with the equivalent of "Huh?" — and/or spent hours trying to research what the heck the story might have been trying to say. And, I'm guessing, a big number of you shrugged and moved on. Whichever camp you were in, here's the story as it should have appeared last week:
Not Black or White: Emergency responders are bracing themselves for an upswing in emergency calls relating to sex play gone wrong, now that the movie Fifty Shades of Grey has been released. Such an upswing would correspond to a previous surge that occurred when the books became popular. The U.S. Consumer Product Safety Commission reports 83 percent of the cases involved, as they delicately put it, "foreign body removals" — in men more than women— and 25 percent involve injuries severe enough to require specialized care and/or hospital admission, not just E.R. visits. Indeed, firefighters and medics in London, England, say they've seen many cases of people trapped in handcuffs since the books came out. "We hope film-goers will use common sense and avoid leaving themselves red faced," said London fire brigade Third Officer, Dave Brown. London fire crews are now dispatched to about 40 sex-related calls per month,and not just for handcuffs and vacuum cleaners: incidents have even involved toasters. (RC/Washington Post, CNN) ...Now listen very carefully: do NOT put the candle back!
...which tagline is, of course, a reference to Young Frankenstein. As far as this week's stories, yes: "Beavers" really is the team name for Oregon State University sports.
---
You've Probably Noticed the Ads now and then for Xero Shoes; there's one this week, above. They've been running here on and off since before the founders were on Shark Tank. I'm really intrigued by their "minimalist" running sandals, even though I'm not a runner. So much so that when they started running ads in True, I bought a pair (they didn't give them to me); my wife boughttwo pair. We both found them hugely comfortable to walk in ...but I didn't like lacing post going between my toes (Kit was fine with them, and wears them a lot). I told my contact at Xero my experience, and he said "wait a bit." Well, I waited, and earlier this month he sent two pairs of their new product, the "Amuri Z-Trek" — a pair for me, and another for Kit. The Z is for the strapping system; they don't have anything going between my toesanymore. They're so freaking comfortable they're amazing. Kit, who liked the originals, loves these even more. She's on her way home from a trip, and wore them pretty much the whole time. Yeah, it's winter in Colorado: you can wear socks with these!

They're not "flip flops," which I never have liked. Not only do they have something sticking between your toes, but having to grip with your toes is just not a natural way to walk. Plus, most flip flops are made with foam thatslowly compresses, misaligning your feet and ankles until you're standing on an unstable foundation. How can you tell? Just watch someone walking in them: most people fall off one side or the other, or step over the front edge. It's clearly not stable, and not a healthy way to walk. Typical sport sandals, like Teva or Chaco or Keen, are typically really stiff. One of my Z-Treks (men's size 11) weighs less than 8 ounces, compared to my clodhopper Keens, which weigh 19 (each!),and they're so flexible they can roll into a fist-sized balls: they can fit into no matter what tight space you need to pack them into ...unlike my Keens. I get a good chuckle that Xeros have a "5,000 mile warranty," yet they're half the cost of the typical "sport sandal" I'm never going to buy again.
Their regular sandals (the Cloud and the Venture — my previous pair is the Venture) have a huge advantage over flip flops, and this part I liked: the lacing system goes all around your foot, so it holds on without you having to grip them with your toes as you walk. They're waterproof, too. I even left mine on when I went swimming at the beach. (I did say the lacing makes them secure! Try that with flip flops!)
Finally: a perfect replacement for my something-to-be-desired Keens. And no, they definitely did not pay me to say any of this: they'll be hearing this reaction for the first time in this issue, just as you are. :-)
---
I Spent Quite Some Time looking for an Honorary Unsubscribe nominee who met my criteria, but didn't find someone both suitable and who died in the previous week (before the Monday Premium issue). Usually, I have multiple choices, but sometimes we just have to go without, which is OK: that just means someone really cool didn't die!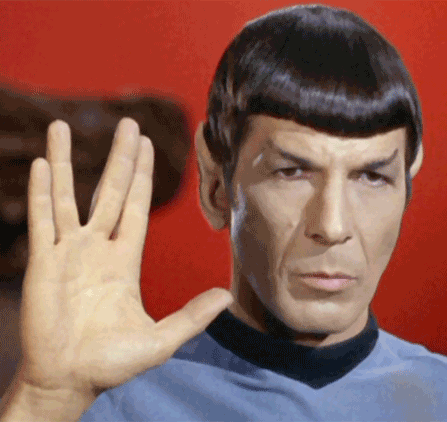 Except today (27 February), someone did die: Leonard Nimoy — "Mr. Spock" from Star Trek. "Foreshadowing his fame as a semi-alien," Wikipedia notes,"he played Narab, one of three Martian invaders in the 1952 movie serial Zombies of the Stratosphere." My dad was a technical adviser for Zombies, long before I was born (and even before he married my mother), and he remembered Nimoy well. Making an impression seemed to be a Nimoy trademark, and he brought great ...humanity to Spock. He lived long, and he prospered. And, indeed, so did his fans.
Eight More Stories: By not getting the Premium edition, you missed the story (with photo) of the four men who poached four deer ...who planned to drive the animals away in a Mini Cooper?! The wonderful way neo-Nazis were outsmarted in Germany. How a 124-year-old company was accidentally driven out of business by a typo. Newspaper refuses to apologize for a front-page story on sexual bondage, citing interest in the Fifty Shades of Greymovie. Grade school officials force children to pull down their pants so they can inspect the kids' underwear. Woman calls boyfriend, tells him to bring a gun to her 1-year-old daughter's birthday party, because.... A tank accidentally crashes into a residential neighborhood. Why the bomb squad was called out for a "suspicious banana." You can still read these stories: just ask for your upgrade to start with the 21 February issue:

| | | |
| --- | --- | --- |
| Paypal: | Amazon: | All Upgrade Options: |
---
The Latest Posting to Jumbo Joke: Laws for 21st Century Life.
Ten Years Ago in True: Al Qaeda announces it "managed to capture the American soldier John Adam after killing a number of his colleagues." But... We Recognized His Plastic Smile.
Advertisement
Floored By Remodeling Decisions?

Stone or tile? How do you decide?
The Flooring Lady, an independent flooring expert, will help youfind your way through the maze of questions.
Explore The Flooring Lady
No Honorary Unsubscribe This Week as noted above.
---
Subscriptions to This is True are Free athttp://www.thisistrue.com. All stories are completely rewritten using facts from the noted sources. This is True® is a registered trademark. Published weekly by ThisisTrue.Inc, PO Box 666, Ridgway CO 81432 USA (ISSN 1521-1932).
Copyright ©2015 by Randy Cassingham, All RightsReserved. All broadcast, publication, retransmission to e-mail lists, WWW, or any other copying or storage, in any medium, online or not, is strictly prohibited without prior written permission from the author. Manual forwarding by e-mail to friends is allowed IF 1) the text is forwarded in its entirety from the "Since 1994" line on top through the end of this paragraph and 2) No fee is charged. We request that you forward no more than threecopies to any one person — after that, they should get their own free subscription. We always appreciate people who report violations of our copyright to us.
You can subscribe free by e-mail and get this delivered to you every week.