To get these issues free by e-mail each week, just subscribe using the form above -- your privacy is Randy's policy. (Or cruise around the web site to see more samples, archive, and info on our terrific book collections of thousands of past stories.)
Since 1994, this is the 1179th issue of Randy Cassingham's...

---
Was This Issue Forwarded to You?

Click Here to Get Your Own Free Subscription.
---
Before the Stories: As mentioned previously (Issue 1100), I pretty much always have music running through my head. Most often, it's something recognizable; only sometimes is it "made up as I hear it." And now and then, I want to "actually" hear it — and know it's on my hard disk somewhere. I have a neat utility that lets me find it in a flash: "Everything" (Windows only). Just click on the Everything icon in the taskbar, which then brings up a window listing every file on my hard drive — more than 3/4 of a million files in my case, no matter what folder they might be in. Can't possibly find it in that pile, right? So you start typing anything you know to be in the file name. Today's earworm was "Rosanna", so I typed "rosan" — and could stop because the list was narrowed down to a single file: the one I wanted, showing it was in music/rock/toto/iv.
I just clicked on the file name and Winamp ran and started playing it, just seconds after I decided I wanted to hear it. That is something awesome about technology, and knowing how to use it! (As an alternative, I could have right-clicked the file name, chosen "Open Path", and had instant access to all the songs on the album.) Even better, Everything is freeware, created by a guy named David Carpenter who decided to make a neat function available to everyone, without even ads; I like to support stuff that makes my life better, so in addition to telling my part of the world about his work, I've also tossed some cash his way as a thanks. To make sure you get the program without it having been monkeyed with by malware, get it directly from the source: VoidTools.
---
Ace in the Hole: Elmer Riehle of Frankfort, Ky., wants to get a divorce. Kentucky law does not allow "persons of unsound mind" to file legal actions; divorce is a legal action, and Riehle, 88, was declared mentally incompetent after sending thousands of dollars to an online scammer. Kentucky's Supreme Court has ruled that he can only get a divorce if his legal guardian files the action on his behalf. His guardian is Carolyn Riehle — his wife — and she doesn't want a divorce. "The disabled person is stuck until death do they part in the commonwealth," his lawyer grumped, but he admitted he hasn't told Elmer of the ruling, since the man's health has deteriorated so much, communication with him is "difficult." (RC/AP) ...And for some reason, he doesn't want to pass the message through Elmer's wife.
Second Only to "Hold My Beer and Watch This": Hassan Muhammad-Richardson, 29, was so sure he could walk over the iced-over pond at a quarry in Harrisburg, Pa., that he bet co-workers that he could. It was unclear whether any of his friends took the bet, but Muhammad-Richardson set out on the ice. "Witnesses said they called out to him and tried to get him to come back, but he wouldn't listen," says Pam Gay — who became involved in the case since she's the York County Coroner: Muhammad-Richardson fell through the ice. Police are investigating, but Gay isn't: her deputy certified the death as an accidental drowning without bothering with an autopsy. (RC/Harrisburg Patriot News) ..."He wouldn't listen" is probably noted in a lot of accidental death reports.
On Obliviot's Pond II: It started with a post to Dustin Smith's Facebook page, saying that he was camping at East Fork Lake, Ohio, and found a body frozen in the ice — and included photos. Several people commented, telling Smith to call the police. He didn't, but someone apparently did. "We kept the joke going for about two hours," Jasen Dixon said. Smith "eventually comes clean and said he was just messing with people. But 30 minutes later, he gets a call...." Dixon is the owner of the pond where he said the photos were actually taken. "We had a little zombie figure and threw him in the pond and we thought we needed to take a picture of it and post it on my buddy's Facebook page," he admits. The call Smith received was from the Ohio Department of Natural Resources. East Fork Lake is commonly searched for missing people, and bodies have been recovered from there. The DNR said it is working with local law enforcement on potential charges. "He didn't break any laws," Dixon said. "If they had a case, he would already been charged." (MS/WCPO Cincinnati) ...If those were actual zombies, they'd still be searching for braaiins.
This Issue's Exclusive Sponsor:
Losing Sleep Trying To Decide On A New Mattress?

Memory foam or latex mattresses/toppers, airbeds or waterbeds, innerspring coil or futon mattresses, all without sales hype: not affiliated with any store or manufacturer. Just personal non-biased perspective on your options. Explore The Mattress Lady
Theory of Obliviocy: Jose Vaca, 29, had a "theory," he says. "I told my friend one day that I wanted her to believe all police officers are good," he said. That conversation happened after his friend's husband had been killed by police. In order to test his theory, Vaca first purchased a rifle — illegal since he's a convicted felon. "First thing that came to my mind is I'm already going to get pulled over. I know they're most likely going to take me in," Vaca said, "but I'm going to need to try my theory real quick and see that it's true, so she can believe there is good officers in the world." So, when he was pulled over, he did. "I come to the front of the police vehicle," he said. "And I put [the] butt of the rifle on the [ground], and I just, like, put my hand up." According to the police report, Officer Christian Hernandez opened fire. "What I was hoping for them to do was tell me, 'Drop the gun! Back away from the firearm! Get on the ground! Turn around!' and it was going to be an arrest," Vaca said. "But I was completely wrong." (MS/KBAK Bakersfield) ...The judge can test another theory: whether prison time brings correction.
Seven More Stories: Some people attach notes to helium ballons, but this woman attached ...what?! It's almost a case of "Suicidal Man Shoots Twin By Mistake!" (and I mean really, really close). Florida burglar picks a really, really dumb target. Man sues McDonald's in an almost-a-Stella-Award case. It takes 40 firefighters to rescue a man (only in his underwear) who got stuck in ...a wall?! Firefighters have to help girl break out of prison — an abandoned one, that is. A Canadian couple's crazy divorce makes headlines because.... You can still read all of these stories: ask for your upgrade to start with the 15 January issue and get a full year of expanded issues for just $32 (cheap!) See your upgrade options here.
Big Toppled: Feld Entertainment, the Florida-based company that owns the Ringling Bros. and Barnum & Bailey Circus, has announced it's closing the traveling show forever, after 146 years in business. While PETA and other "animal rights" groups claimed victory, "There isn't any one thing," said chairman and CEO Kenneth Feld. Declining audiences and high operating costs seem to be the main factors. "It's a different model that we can't see how it works in today's world to justify and maintain an affordable ticket price. So you've got all these things working against it." (RC/AP) ...They just couldn't compete with the biggest circus of all: 21st-century American politics.
---
The Law Has a Bigger Nose
Wheaton Burglar Who 'Thumbed Nose at Law' Gets 22 Years in Prison
Chicago (Ill.) Tribune headline
---
Did You Find an Error? Check the Errata Page for updates.
This Week's Contributors: MS-Mike Straw, AC-Alexander Cohen, RC-Randy Cassingham.
---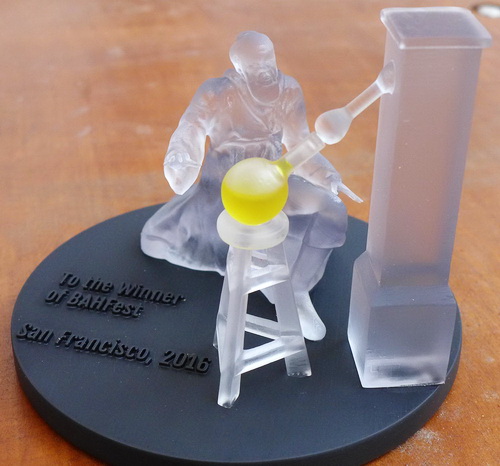 Mike, Regarding His Story "Theory of Obliviocy" above, suggests that the obliviot's "theory" might be a contender for BAHfest — the Festival of Bad Ad Hoc Hypotheses. The winner gets a statue of alchemist Hennig Brand boiling his own urine in hopes of producing gold. While I like Jose Vaca's optimism, I think he has a real chance at winning.
Kemper in Virginia writes: "I've gotten behind on my [Premium] emails. I found a batch from 2012 and 2013 that I hadn't read, and am going thru them now. I've presently gotten over half way thru them and have enjoyed every single one. I have a very hard time deleting most them after I've read them. Many even end up being 'flagged' for future reference. Thanks Randy! I greatly appreciate your work (all of it)!"
Kemper may be pretty far behind, but I notice he's kept his subscription current since mid-2002, so he really does plan to get to the stories eventually! I get mail sometimes from readers who are a few weeks, or even a few months, behind. Kemper posted this comment on a blog post from May of 2013, Unusual Unsubscribes, presumably after clicking on the link in an issue, so he's around 3 years, 8 months behind as of his comment yesterday. I've always said the stories are mostly timeless, and Kemper just proved it. Hopefully, he'll get to this issue in less than 44 months!
Want to See what keeps him around? It's the full edition with all the stories. See your upgrade options here.
The Special on Plastic Get Out of Hell Free Cards — with every one purchased, you get two regular paper cards, so you can choose which card to grace your recipient with — ends January 27. Details here.
---
Ten Years Ago in True: Unfortunately, we all know at least one guy like this, but did you know he could go to prison for five years for this behavior? Cruel and Unusual Punishment.
This Week's Honorary Unsubscribe goes to Levi Felix. At a California tech start-up, Levi nearly worked himself to death; it was what he did about that when he made his mark on the world.
Read His Story in the Archive: Levi Felix (OK to share link)
Plus a Salute to astronaut Gene Cernan, the last human (of 12) to walk on the moon, on December 14, 1972, died Monday (16 January) at 82. Armstrong, Conrad, Shepard, Mitchell and Irwin preceded Cernan; Aldrin, Bean, Scott, Young, Duke, and Schmitt are still alive.
And So Long to actor Dick Gautier, best known as Hymie the Robot on Get Smart (1965-1970), dead January 13 at 85.
And Goodbye to jazz singer Buddy Greco, best known for his swing hit "The Lady is a Tramp", dead January 10 at 90.
---
Subscriptions to This is True are Free at http://www.thisistrue.com. All stories are completely rewritten using facts from the noted sources. This is True® is a registered trademark. Published weekly by ThisisTrue.Inc, PO Box 666, Ridgway CO 81432 USA (ISSN 1521-1932).
Copyright ©2017 by Randy Cassingham, All Rights Reserved. All broadcast, publication, retransmission to e-mail lists, WWW, or any other copying or storage, in any medium, online or not, is strictly prohibited without prior written permission from the author. Manual forwarding by e-mail to friends is allowed IF 1) the text is forwarded in its entirety from the "Since 1994" line on top through the end of this paragraph and 2) No fee is charged. We request that you forward no more than three copies to any one person — after that, they should get their own free subscription. We always appreciate people who report violations of our copyright to us.
---
You can subscribe free by e-mail and get this delivered to you every week.
Last Week's Issue