To get these issues free by e-mail each week, just subscribe using the form above -- your privacy is Randy's policy. (Or cruise around the web site to see more samples, archive, and info on our terrific book collections of thousands of past stories.)
Since 1994, this is the 1112th issue of Randy Cassingham's...

---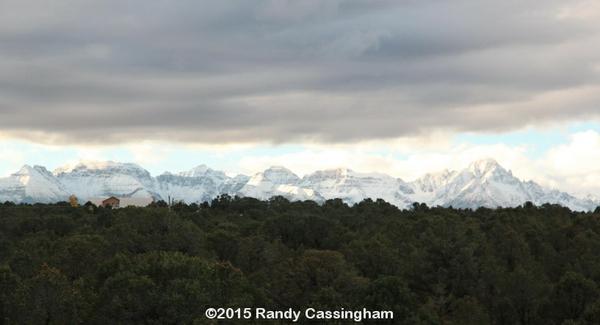 Before the Stories: I woke up Monday morning to one of my favorite sounds: a light but steady rain. Ilove the mountain view we have, but they're so much nicer with snow on them! Here and there throughout the day, the clouds opened up a little portal to allow a peek: yep, snow. Ahhhhh! (Early? Heck no! We usually get a dusting in September.) The pic is from dawn Tuesday, when the clouds lifted. As is usual, you can click the pic to see it larger.
---
Petty Crime: Officials at the U.S. Marine Corps' Camp Pendleton in San Diego County, Calif., have issued a statement disavowing a clever SitRep — Situation Report — that someone wrote in the style of the real thing. "I called police records," confirms a base public affairs officer, 1st. Lt. Savannah Frank, "and while they were highly entertained, they confirmed it is absolutely a hoax." The report: that a drunk Navy Chief Petty Officer man hadleft a bar drunk, and couldn't drive home due to a breathalyser interlock device on his car. In desperation, he "captured a raccoon" and made it blow into the interlock device so he could start his car. He discarded the animal onto the car's floor when it went unconscious from him squeezing the air out of it, but it later revived "and began to attack the suspect while driving," causing him to crash. The story quickly went viral online, but it was too good tobe true. "Not karma, fiction," the local newspaper concluded. (RC/San Diego Union-Tribune) ...Yeah, but on the Internet, facts rarely get in the way of a good story.
Foul: "I blow the whistle. I turn to report my foul and I've got some guy standing on the edge of the gym floor grabbing a coach by the arm, trying to pull her off the court," said Andy Love, who was refereeing a basketball game for 9-year-old girls in Burleson, Texas. The coach was Jessica Curs, 31. The guy was Gary Melson. He said that he was an off-duty police captain from Alvarado, and that he would hold her for the local police. Apparently he thought she had saida naughty word. Love says one of the Burleson officers "had a problem keeping a straight face," and the police report says Melson wanted "this issue to be resolved" without even a ticket. But two months later, Curs found an arrest warrant in her mailbox. The charge: "evading arrest." It was dropped after journalists investigated — but not before Curs had spent six hours in jail and had her mug shot taken. "I saw and heard nothing that would warranta police officer even coming onto the court," Love said. (AC/KTVT Fort Worth) ...So where's Melson's mug shot?
Advertisement
Floored By Remodeling Decisions?

Stone or tile? How do you decide?
The Flooring Lady, an independent flooring expert, will help youfind your way through the maze of questions.
Explore The Flooring Lady
How Can We Send True for Free? Because a small percentage of the readers subscribe to get more stories each week, and the $30 per year they pay adds up to 85 percent of True's budget, making this free edition possible. The expanded "Premium" edition has a minimum of 10 stories each week, not just the four of this free sampler. This week, Premium also had these stories: It's a good thing the town decided to open their "timecapsule" 50 years early, because.... Man starts to hallucinate thanks to a meth binge ...and then it goes downhill from there. Girl gets in trouble at school because she wore the wrong shade of green shirt. What the U.S. congressman stole from the congressional chamber — and why he's not going to give it back. Something fell from the sky onto a home, and the police were very interested. Woman complains to the Fair Work Commission because (sob!) her boss unfriended her onFacebook — and you won't believe how the Commission ruled. Police, searching for suspects in bank robberies, got some unexpected help ...from the robbers. More people have died this year from mishaps while taking "selfies" than from shark attacks. We would sure like your support for True too: see your upgrade options and stop missing most of the stories every week.
Breathtaking Crime: Scott Tran, 44, was the owner of Tran Pharmacy in Lincoln, Neb. According to federal prosecutors, Tran submitted hundreds of fraudulent claims for TOBI, a drug used in inhalers for cystic fibrosis patients, in the names of his customers' children. The fraud added up to over $14.4 million — the largest such fraud on record in Nebraska. Tran pleaded guilty and faces 8–10 years in prison, as well as paying full restitution. Tran's attorney,Clarence Mock, said Tran didn't steal the money so he could lead a "posh lifestyle." Instead, according to Mock, he gambled away the majority of the money at casinos. (MS/Lincoln Journal-Star) ...He didn't want a posh lifestyle by stealing, he wanted a posh lifestyle by gambling.
Breathtaking Stupidity: Emma Gonzales, 9, was having trouble breathing in class at Columbia Elementary School in West Jordan, Utah, Monday morning. She had been to the emergency room over the weekend, and a doctor prescribed an inhaler to help her breathe. "I kind of hurtle up on the ground, can't breathe and then I start to kind of feel a little nauseous," Emma said. So she took out her inhaler in class to relieve her shortness of breath — and was immediatelysent to the office by her teacher, where staff took her inhaler away, and wouldn't let her have it back. "There could be all sorts of problems if children were just allowed to take any medication and we didn't have that verification," said district spokeswoman Sandy Riesgraf — the school wasn't notified of the girl's new prescription and she didn't have the correct district paperwork from her parents. "Again, this is for the student'ssafety." Gonzales was in such distress that she threw up. "When a child is puking all over themselves and they can't breathe, you know you kind of have to take action right then and there," says Emma's mother, Britney Badger. The family is keeping the girl out of school until it's all sorted out. (RC/KSTU Salt Lake City) ...Because school officials understand medical issues much better than doctors.
---
Lassie Ain't What She Used to Be
4-year-old Boy and His Dog Rescued from Well in Mississippi
AP headline
---
Did You Find an Error? Check the Errata Page for updates.
This Week's Contributors: MS-Mike Straw, AC-Alexander Cohen, RC-Randy Cassingham.
---
Yes, I Take Story Submissions — and have since 1994. It's good to send out a periodic reminder, since so many story submissions start with "I know you don't take story submissions, but did you see this?!...." Most of the time yes, I did see it, but sometimes, it's a great story that we didn't catch, usually from a small-town news source. So yes, especially when it's a local story,you're welcome to send it in. See this page for submission guidelines. As noted on that page, due to the volume of submissions I don't reply to them unless it's something I haven't already seen, and it is indeed something I can use. Thanks for your understanding.
Long-Time Readers Will Remember that at the turn of the century (you know, a very long time ago!), I created a spinoff publication called HeroicStories. As True continued to grow, though, I found I couldn't do both, so I turned HeroicStories off to a new publisher in 2003. It went OK for awhile, but went dormant when the new publisher fell ill ...and died. But it came back last yearwith a new publisher, and is ramping back up again.
HeroicStories are short (500 words max) true stories of people doing something for someone else that made a big difference. It doesn't have to be a big thing, like risking their lives, but it's often a big deal to the recipient. As I was getting it going, a friend of mine — who was on his deathbed — used some of his energy to tell me, "HeroicStories is simply great. People don't seem to realize that the magnitude of heroism is the difference betweenwhat you have and what someone is willing to give you in a time of need. The actual per unit value of the commodity is unimportant. That's why people sometimes don't fully accept that their personal contribution may have been unusually important to others." (Yeah: Jerry was an engineer!)
So I'm really happy that my buddy Leo Notenboom of Ask Leo! fame took it over. Neither he nor the previous publisher, though, took over the book publishing. I still have a few thousand of the books I published in 2001 and 2002, The Best of HeroicStories (volumes 1 and 2). They don't do anyone any good sitting in storage, so I decided to do an "inventory reduction sale" similar to what I did with the True books earlier thisyear: blow them out a small shipping box-full at a time at a big discount — more than half off, with free USA shipping.
Why would anyone want a box-full? Well, with the holidays coming up, I thought they'd make a great gift — and it helps get the word out about the efforts Leo is making to get the publication rolling again. So I'll invite you to get an early start on your holiday shopping, and help out a great publication at the same time. The special is open through November 15, in True's shoppingcart.
---
The Latest Posting to Jumbo Joke: "Aflac" Street Scam Alert.
Ten Years Ago in True: A woman decides to go for Her 15 Minutes of Frame.
Advertisement
Regain Control of Your Inbox

You don't have to wade through junk just to get to the good mail in your inbox. Take 15 minutes to read Randy Cassingham's Spam Primer web site — and grab his highly rated ebook (just $3.99!) with proven techniques to Stop most spam from even showing up in your inbox.Read Randy's Spam Primer
This Week's Honorary Unsubscribe goes to Joseph Coffey. A cop, Coffey turned into the New York mafia's worst nightmare, all due to something that happened when he was 8 years old
Read his story in the Archive: Joseph Coffey (OK to share link)
And So Long to actress Catherine Coulson, best known as "Log Lady" on the 1990 cult TV hit Twin Peaks, dead September 28 at 71, apparently from cancer.
---
Subscriptions to This is True are Free athttp://www.thisistrue.com. All stories are completely rewritten using facts from thenoted sources. This is True® is a registered trademark. Published weekly by ThisisTrue.Inc, PO Box 666, Ridgway CO81432 USA (ISSN 1521-1932).
Copyright ©2015 by Randy Cassingham, All RightsReserved. All broadcast, publication, retransmission to e-mail lists, WWW, or any other copying or storage, in any medium, online or not, is strictly prohibited without prior written permission from the author. Manual forwarding by e-mail to friends is allowed IF 1) the text is forwarded in its entirety from the "Since 1994" line on top through the end of this paragraph and 2) No fee is charged. We request that you forward no more than threecopies to any one person — after that, they should get their own free subscription. We always appreciate people who report violations of our copyright to us.
You can subscribe free by e-mail and get this delivered to you every week.