To get these issues free by e-mail each week, just subscribe using the form above -- your privacy is Randy's policy. (Or cruise around the web site to see more samples, archive, and info on our terrific book collections of thousands of past stories.)
Since 1994, this is the 1200th issue of Randy Cassingham's...

---
This Way, Gang! A burglary of a Silicon Valley tech company netted $30,000 worth of equipment, including computers. The thief was easy to track down, but not because he was injured in the break-in, and left blood "and other DNA evidence" at the scene. It was because the target was Roambee of Santa Clara, Calif., which makes GPS tracking equipment. "There is no [power] switch," said Roambee spokesman Vidya Subramanian. "It's always on and it always tells you, as long as it's got a battery, where it is in the world." The company simply relayed to police where the 100 trackers were located, and officers raided two locations, finding not only the stolen trackers, but various other stolen goods from other burglaries. A suspect is in custody. (RC/San Jose Mercury News) ...It's great we don't need a high-tech tracker to know where he'll be the next 3–5 years.
By Any Other Name: ...Continues in Premium.* (a crazy lawsuit)
Ding Dong: Caitlynne Hines of Halifax, N.S., Canada, says a man tried to come in her apartment's front door, saying a friend was staying in the apartment upstairs. She turned him away, but he came back minutes later, she says, and tried to "pick the lock." He failed, and left again. "We didn't call the police, but we were prepared to if he came back again," she says. It was quiet all night, but when she came home from work the next day, there was something on her doorstep: a six-pack of beer, and a note. "It kind of clicked with me immediately once I recognized the box and I just said 'oh my god I think it's apology beer'." Sure enough: "I sincerely apologize for waking you up and being so disorderly in the middle of the night," said the man in the note, who signed it Cliff. "Please accept this six-pack of average tasting beer as a token of my appreciation." The beer was Alexander Keith's IPA. (RC/Global News) ...So really, he wasn't all that sorry.
Not Quite What He Asked For: ...Continues in Premium. (Florida story)
They Got In Through the Woof: ...Continues in Premium. (Florida story)
Parents of Walmart: Police were dispatched to the Riverdale, Utah, Walmart store after receiving reports of a woman locking her children in a car. Tori Castillo, 39, had allegedly put her children, aged 2 and 5, in the trunk while she went shopping. "Several good Samaritans observed this and came to the aid of the children," police Lt. Casey Warren said. Officers were able to get the 5-year-old to pull the emergency latch and escape. When Castillo returned to the car, she was arrested and charged with child abuse. The children were turned over to a responsible party. (MS/Deseret News) ...Compared to the mom, anyone is a more responsible party.
This Issue's Exclusive Sponsor:

Is Your Life in Constant Chaos?
Distractions, piles of stuff, too much to do, missed appointments, forgotten deadlines — Make It Stop!
If this sounds like you, I can help. I'm a High Performance Coach, and I specialize in people with ADD (or ADD-like problems). Get details here.
Batman and Robbin': ...Continues in Premium. (Stupid female criminal)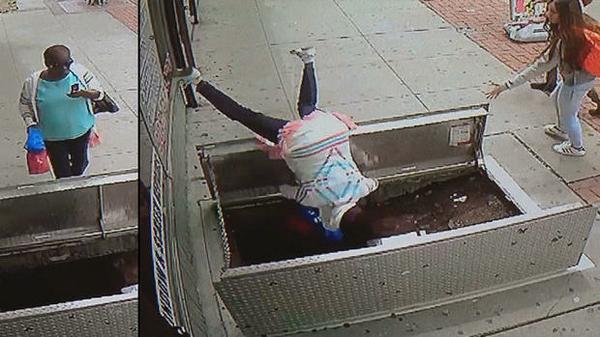 Was She on Tumblr? A 67-year-old woman was busy with her phone as she walked down a Plainfield, N.J. street, and she walked into a thigh-high barrier and fell, head down and feet in the air, into the basement of Acme Windows. The store had opened the basement door in the sidewalk, and security cameras captured the whole thing. "I thought texting and driving was a bad thing," said eyewitness Martin Delgadillo. "Now it's texting and walking." The unnamed woman was hospitalized in "stable" condition. (AC/WNBC New York, AP) ...And if doctors aren't distracted while treating her, maybe she can recover.
Comedy Short: ...Continues in Premium (Stupid female criminal)
Just Add Mr. Fusion: ...Continues in Premium. (Fun Back to the Future-inspired story)
Cover Story: ...Continues in Premium. (Stupid school story)
Use It or Lose It: "JPD on scene of 'suspicious death' investigation," the Jackson (Miss.) Police Department posted to Twitter. What made them "suspicious"? They had only found the victim's head. Hours later, a body without a head was found. Police exercised caution in a follow-up tweet: "Working to confirm if linked to this morning's discovery of a human head." The reporter at a local TV station was similarly cautious: the "cause of death" for the lone head, she reported, "at this time, appears to be severance." Yet "There is no apparent cause of death of the decapitated body at this time." (RC/WLBT Jackson) ...Don't be too tough on her: some journalists have worked their entire career without a head.
---
Then How About My Smartphone?
Utah Says There Is No Constitutional Right to Marry Your Laptop
KSTU Salt Lake City headline
---
Did You Find an Error? Check the Errata Page for updates.
This Week's Contributors: MS-Mike Straw, AC-Alexander Cohen, RC-Randy Cassingham.
---
* The "Continues in Premium" style was suggested by Jim in New Jersey. The idea: show how the stories fit together a bit, and see clearly just how much more there is in the Premium edition. I definitely won't be doing it this way every week, but now and then it's illustrative.
Jim comments: "I've teetered on the fence of 'gee, [the price] is steep' even as I can afford it: I'm frugal, not cheap. The part that crossed me over the top is not that I get the Premium content, but that it is extremely tightly policed, thoroughly researched, and well written. I want to buy the product of this type of company and keep them in business, especially as my local printed 'rag' has really dropped in quality. ... I hope that my comments can help challenge those on the fence to cross over."
Jim may be frugal, but as of next week, he'll have been a Premium subscriber for 15 years. My suggestion: if you're unsure, start with a four-month "Sample" upgrade for $12.50. One issue of Premium isn't really a good test, but four months? Yeah, you'll get the full flavor, and then you can decide whether to renew, or drop back to the free edition. The Sample and other options are all outlined on the Upgrade Page.
---
You May Have Noticed a new advertiser this week. It's my wife. You wonder how I can possibly do so much, with a new True every week, a new meme on Randy's Random every day, volunteering, sitting on a couple of Boards, and more? Her business is called "LIFE" ...but she's not a Life Coach. She's a Certified High Performance Coach, and with all I do, you get the idea of what it's like to have that kind of help on your team!
She has a new coaching program she has just started: the "Mini-Custom Intensive" where you choose a couple-few areas you want to concentrate on for quick results. And there's a $100-off special on that through July 15. If you're ADD (or just ADD-like) — that's her specialty — you might want to check out her site ...which I redesigned recently in my spare time. :-)
Actor Adam West (star of TV's Batman (1966–1968)) died last Friday. His death was way too well covered for him to be the Honorary Unsubscribe this week, but I wanted to relay a story about him. He got the role, first of all, because of a series of campy commercials for Nestle's Quik chocolate powder, sending up James Bond (example on Youtube). Batman producer William Dozier saw that ad series, and tapped West for the lead role. But did you know West was a co-star of the last Three Stooges film? That was 1965's The Outlaws Is Coming! Anyway, West told this story about working with those comedy legends:
"The main thrust of the plot was that we were trying to save the buffalo. I was the young lawyer from Boston and we had the same interests and that's how we got together. So we spent the movie trying to save the buffalo. The wrap party at the end of the movie and Moe says, 'Ok, everyone's invited to my place in Bel Air for a buffalo barbecue!' And that sort of typifies these three restless knights."
No wonder West was such a natural with screwball comedy: he learned from the masters! He died June 9, from leukemia, at 88.
San Diego Update: II'll be in San Diego the week of (now narrowed to) June 27-30. If you live in the area and would like to meet me and other readers, get a free Get Out of Hell Free card, get any True books signed, or what have you, send me a note with the subject San Diego and I'll let you know the place and time when I get it narrowed down.
The latest GOOHFpack special was to end June 28 — "or when 50 packs have sold, whichever comes first." Well, it's rare that I put the actual cards on sale, so the special is over, mostly snapped up by Premium subscribers. Sorry! But you can of course still get Jumbo Packs (of 500ish cards), in both Classic and Pride versions, at a significant discount over ordering five 100-packs ($40, vs $60), which is why two of them were ordered within hours of my closing down the special. I love it that the cards are still so popular!
The June Tagline Challenge Results are in. ...Continues in Premium! (really stupid Florida story)
---
Ten Years Ago in True: U.S. Senator really puts his foot in it: Bemocked (and be sure to see the update below).
Today on Randy's Random: Term Limits — I'll bet most of you will get behind this one!
This Week's Honorary Unsubscribe goes to Jim Stewart. A marine botanist, Stewart turned a hobby into a career and, while he was at it, made scuba diving safer for everyone.
Read his story in the Archive: Jim Stewart (OK to share link)
And Yeah, the full text of the Honorary Unsubscribe is included in the Premium edition too! Upgrade Here.
---
Basic Subscriptions to This is True are Free at http://www.thisistrue.com. All stories are completely rewritten using facts from the noted sources. This is True® is a registered trademark. Published weekly by ThisisTrue.Inc, PO Box 666, Ridgway CO 81432 USA (ISSN 1521-1932).
Copyright ©2017 by Randy Cassingham, All Rights Reserved. All broadcast, publication, retransmission to e-mail lists, WWW, or any other copying or storage, in any medium, online or not, is strictly prohibited without prior written permission from the author. Manual forwarding by e-mail to friends is allowed IF 1) the text is forwarded in its entirety from the "Since 1994" line on top through the end of this paragraph and 2) No fee is charged. We request that you forward no more than three copies to any one person — after that, they should get their own free subscription. We always appreciate people who report violations of our copyright to us.
---
You can subscribe free by e-mail and get this delivered to you every week.
Last Week's Issue