To get these issues free by e-mail each week, just subscribe using the form above -- your privacy is Randy's policy. (Or cruise around the web site to see more samples, archive, and info on our terrific book collections of thousands of past stories.)
Since 1994, this is the 1157th issue of Randy Cassingham's...

---
Was This Issue Forwarded to You?

Click Here to Get Your Own Free Subscription.
---
Before the Stories: I re-posted this photo with some comments on True's Facebook page last Friday, and it got quite a bit of activity (hundreds of "Likes", shares, and comments, with many of the latter being how seat belts and/or airbags saved the commenter's life).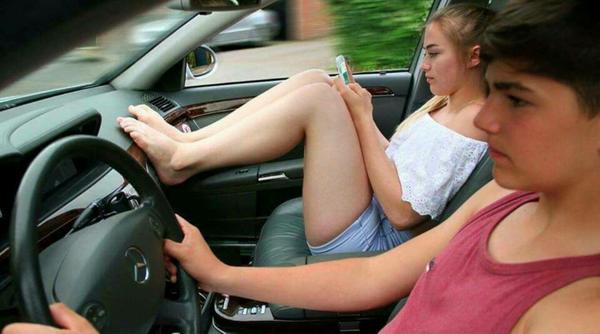 As a medic, I would really, really hate to roll on these people crashing. First, imagine how mangled this girl would be: no seat belt and rammed butt-first into the floor. If she survived, she probably will wish she didn't. And then there's the issue of the airbags, as the original post brings up.
The driver won't fare well either, thanks to his similar lack of seat belts.
Please be nice to yourselves and the medics who will come rescue you: wear your seat belts and think about what would happen if you crashed. Thanks.
With that, here's the original post comments, from the LaGrange, Ga., Police:
Did You Know?
Airbags deploy between 100 & 220 MPH. If you ride with your feet on the dash you may send your knees through your eye sockets if the airbag is deployed. (LaGrange Police, August 14)
---
And Another Class She Flunked: Jessica Lynn Cato, 27, was at the Kent County (Mich.) Courthouse to attend a class when she overheard that sheriff's deputies were on their way to the room to arrest her on two warrants from a drug case. By the time deputies arrived, Cato had run into a restroom, dislodged a light, and climbed into the ceiling in an apparent bid to escape. "There was drywall dust falling as she was walking across it," a witness said. "And I guess as she tried to climb over here, she kicked through the whole ceiling [and] her leg fell through." It took about 10 minutes for officers to get Cato down and arrest her. The class Cato was taking: "Thinking Matters". (RC/Grand Rapids Press, WOOD Grand Rapids) ...To be fair, she hadn't started reading the textbook yet.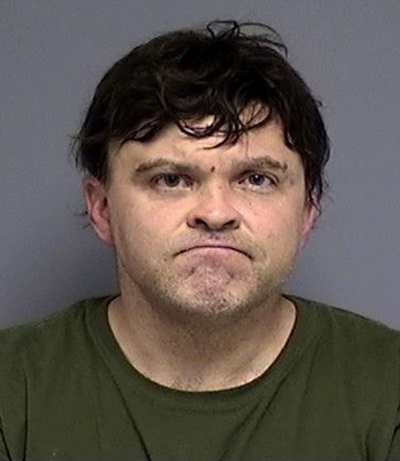 Holier than Thou: Police patrolling at 1:00 a.m. in Canton, Ill., noticed a car parked at the First Church of the Nazarene. The keys were in the ignition, and the engine was warm. Then they found a door of the church was broken in, and went inside to investigate. They caught a burglar red-handed as he was trying to pry open a safe in the office. Police identified the burglar as David R. Utt, 39 — the minister of the New Hope Community Church in town. "He needed money because he was behind on his church's rent," police Sgt. Josh Wages said. On the other hand, Utt, who used to be a pastor at another Church of the Nazarene, was able to post $6,000 cash bail to be released the next day. (RC/Peoria Journal-Star) ...Just because his church is poor doesn't mean he is — which may be why the church is poor.
Back in My Day: Darla Edwards told police that she was in a Billings, Mont., parking lot and her foster son was acting "like a 4-year-old boy," jumping and running around. According to Edwards, an elderly woman walked up and slapped the boy across the face, yelled at him that he'd be going to jail, and then yelled at Edwards to "get control of the child" as she got into her car and drove off. Police were able to identify the woman as Beverly Hardy, 71. When they approached Hardy's home, she reportedly said, "I bet you're looking for me." Hardy told officers a similar story: she was leaving the restaurant when she saw the boy in the parking lot. "She said [the boy] was unattended and she felt the need to discipline the child," officers noted in their report. "She pulled him out of traffic, swatted him on the behind and on the cheek." She also told the officer she didn't feel like what she did was wrong. "I'm 71, I can do whatever I want," she said in the parking lot. She was charged with felony assault on a minor. (MS/KRTV Great Falls) ...Funny, that's almost exactly what the 4-year-old said.
This Issue's Exclusive Sponsor:
Losing Sleep Trying To Decide On A New Mattress?

Memory foam or latex mattresses/toppers, airbeds or waterbeds, innerspring coil or futon mattresses, all without sales hype: not affiliated with any store or manufacturer. Just personal non-biased perspective on your options. Explore The Mattress Lady
Don't Shoot: Participants in "shoot/don't shoot" scenarios at a Punta Gorda, Fla., Police Night were to have the experience of deciding whether to use lethal force while facing a simulated threat. Lee Coel, a police officer playing a criminal, pointed a gun at Mary Knowlton, a 73-year-old playing his victim, and fired. The department thought the gun was loaded with blanks; the audience at first thought Knowlton was merely acting the part of a shooting victim. No and no. The bullets were real, and Knowlton is dead. (AC/Fort Myers News-Press) ...Every gun "is loaded." Every brain, not so much.
Nine More Stories: Canada's Prime Minister accidentally photobombs an outdoor wedding (and then it gets weird). Police patrolling a music festival come across two sellers advertising illegal drugs. "God commands" Florida man to baptise 11-year-old boy ...in a dirty motel swimming pool. Man insists he's not drunk, even though.... Karma quickly catches up to man who stole from paramedic. No one runs for German town's Wine Queen — so a man steps up for the job. Florida man manages to set fire to his $170,000 yacht, and the reason why really stinks. Lawyer stops taking death penalty cases, because he has not managed to win for any of his three-dozen clients. Florida doctor finds library book he checked out ...40 years ago. You can still read these stories: ask for your upgrade to start with the 21 August issue. Full Details Here.
We Need to Research the Policy on This: The Nebraska legislature's Executive Committee — and the governor — have asked state Sen. Bill Kintner, 55, to resign, but Kintner refuses because he is "being obedient to God's decision." It's unclear what "God's decision" might be, but Kintner has admitted to using his state computer for cybersex with someone other than his wife. Kintner's wife is the governor's Policy Research Office director, and has been off work while fighting cancer. Kintner recently alerted state police that the legislative computer system might have been hacked; a "sexually explicit" video was allegedly found on Kintner's state-issued computer — but it's hard to blame a hacker for that, since the video features Kintner himself. (RC/Omaha World-Herald) ...So it wasn't a hacker, but rather a whacker.
---
You Guessed Right
Report: 'I Guess I Did Something Stupid,' Man Says While Flashing Deputy
WFTV Orlando (Fla.) headline
---
Did You Find an Error? Check the Errata Page for updates.
This Week's Contributors: MS-Mike Straw, AC-Alexander Cohen, RC-Randy Cassingham.
---
You All So Enjoyed the "Before the Stories" item last week — "The Basic Laws of Human Stupidity" — that I popped it onto my blog so you could have the summary to link to. It's here, and you're welcome to use the short link, http://ThisIsTrue.com/d-stupid-laws (e.g., for sharing on Facebook or Twitter).
Pledge Drive: When in my car, I listen to the only news station I can get in rural Colorado: the local transmitter for Colorado Public Radio. They do those "pledge drives" a lot to cajole listeners to pay for membership to fund their operations. The "typical" (average?) support, they say, is $120/year, but as I was listening to the last one, they were really, really pushing hard for "just a dollar a day" — $365 a year — though at times they were asking for $100/month — $1,200 a year. My wife and I do support the Colorado NPR operation, because we do listen to them. But no, we don't toss them $100/month, or even "a dollar a day"....
It irritates me to not be able to get news during their every-few-minute pushes when they're doing pledge drives, but I know that's what they have to do to stay afloat. What occurred to me in my irritation is how cool it would be if they simply had two channels: the regular one, which is interrupted by pledge breaks, and a private one for those who have, indeed, become members — supported the station financially — so we don't have to listen to the pitches.
And when that occurred to me, I began laughing at myself, since that's exactly what This is True has: two feeds. There's this free one, which doesn't interrupt you after every tidbit of content with very pushy "Do it NOW!" demands (but does have the "Here's some of what you missed" paragraph), and then there's the Premium edition, which doesn't have any upgrade pushes because everyone reading it has already upgraded. Beautiful!
Sometimes people unsubscribe from this free publication because "You promote yourself too much." I sure wish I didn't have to, but like with Public Radio, it's a case of promote or die. Readers do not upgrade if I don't ask them to do it, and This is True exists only because of the people who upgrade: the subscription fees provide 85 percent of True's budget (sales of "stuff" — True books, Get Out of Hell Free cards, advertising, etc. — only contributes 15 percent). Don't want to see Premium upgrade pushes? Easy: upgrade — there are no upgrade pleas in the Premium edition, just more content! Simple, eh?
So I started actually listening to the pledge drive come-ons to see what techniques they use. First, they note the different methods available to support them. Got that: not only does buying "stuff" help, but there are a lot of ways to upgrade, too, including Paypal, credit/debit cards, even checks/money orders in the mail.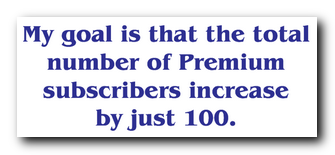 Another thing I noticed is they have a "goal" in mind, like 2,500 new members or $300,000 worth of pledges. So with that, I have a specific goal in mind: I just checked the number of Premium subscribers. Some expire on Monday, and some of you would normally upgrade over the weekend, which generally keeps things in approximate balance. My goal is that the total number of Premium subscribers increase by just 100. Had Premium before, but it expired? It'll count if you renew again. I'll keep you posted as to when the goal is reached: I'll update you every week, and then shut up when we get there.
You might think that 100 new Premium subscribers won't make a big difference, but it will: on average, only about a half-dozen people upgrade each week. Getting 100 in a few weeks will be a big boost. The bottom line: do readers want to support This is True ...or not? That's what this goal is about. All small and independent sites need your support, and True is no exception. I need you to upgrade to show your support. If you truly can't afford that, then don't sweat it, since there are other ways you can help that don't cost a thing: see this page for ideas. But if you've been "meaning to" upgrade, now is the time to do it.
Some might think that it'll be easy to get that 100 this weekend. That would be pretty impressive, but I won't be holding my breath. The truth is, few readers actually step up to support This is True, probably similar to how few (percentage wise) step up to support Public Radio, even when they listen regularly. I think it's going to be several weeks before I get that 100-reader increase. Maybe you'll prove me wrong! But either way, I'll chart it and let you see the progress. I don't ask for "a dollar a day," but rather just $32 for a full year of expanded issues filled with thought-provoking content. Upgrade here.
(To see all the "stuff" that's available, browse through True's secure shopping cart.)
With around 30,000 free edition subscribers, that means just a third of a percent of you need to jump on board. Let's see how long that takes.
Again, I'll be reporting back in this space each week about how it's going until the goal is reached, and then I'll end it. See this page to see a chart of results as we go along (toward the bottom of the page)
Thanks much for your support!
Coming Next Week: The last of the Summer Flash Sales.
---
Ten Years Ago in True: This is True's "official" Definition of "Political Correctness".
This Week's Honorary Unsubscribe goes to D.A. Henderson. Most short versions of who Henderson was sound boring: he was an epidemiologist. So what? Well, here's how someone on Twitter linked to this week's writeup: "Man embarks on successful genocide campaign, becomes hero because of it. Later dies of ironic causes." Read Henderson's amazing story in the archive: D.A. Henderson (OK to share link).
And So Long to actor Jack Riley, best known for his recurring role on The Bob Newhart Show as the neurotic perpetual patient "Mr. Carlin", dead from pneumonia on August 19 at 80.
The above-mentioned Tweet: by EclecticLeeS
---
Subscriptions to This is True are Free at http://www.thisistrue.com. All stories are completely rewritten using facts from the noted sources. This is True® is a registered trademark. Published weekly by ThisisTrue.Inc, PO Box 666, Ridgway CO 81432 USA (ISSN 1521-1932).
Copyright ©2016 by Randy Cassingham, All Rights Reserved. All broadcast, publication, retransmission to e-mail lists, WWW, or any other copying or storage, in any medium, online or not, is strictly prohibited without prior written permission from the author. Manual forwarding by e-mail to friends is allowed IF 1) the text is forwarded in its entirety from the "Since 1994" line on top through the end of this paragraph and 2) No fee is charged. We request that you forward no more than three copies to any one person — after that, they should get their own free subscription. We always appreciate people who report violations of our copyright to us.
---
You can subscribe free by e-mail and get this delivered to you every week.
Last Week's Issue