To get these issues free by e-mail each week, just subscribe using the form above -- your privacy is Randy's policy. (Or cruise around the web site to see more samples, archive, and info on our terrific book collections of thousands of past stories.)
Since 1994, this is the 1101st issue of Randy Cassingham's...

---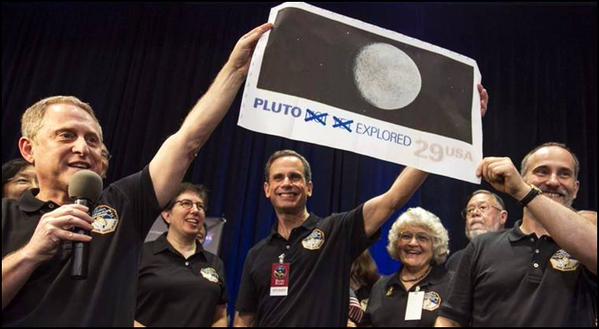 Before the Stories: We made it to Pluto. Back in my NASA days, I was there when my first project boss, Rob Staehle, got the inspiration forthe mission.
JPL ended up not leading the mission, and in a post spanning several years, I talk about why and why that's OK, and why in the heck mission Principal Investigator Alan Stern (with microphone, in the photo) is holding up a giant postage stamp. Even This is True played a small part in the mission. Click the photo, or here, for the story.
---
Right Hand, Meet the Left Hand: When online retailer Amazon celebrated its 20th anniversary by holding a big one-day sale — but only for its "Prime" members, who pay an annual fee for extra services — other retailers got grumpy. Walmart, the world's largest retailer, was one of them. It tried to steal some of Amazon's thunder by holding its own big online sale on the same day. "Some retailers are charging $100 to get access to a sale,"snipped Fernando Madeira, president of Walmart's online division, in a slam on Amazon's membership fees. "But the idea of asking customers to pay extra in order to save money just doesn't add up for us." That might make his boss unhappy: Walmart operates Sam's Club, a discount chain that charges an annual membership for the privilege of shopping there. Not to mention Walmart's online division, which is launching its own paid membership program for extraservices, trying to copy Amazon. News of that service leaked two months ago, but Walmart hasn't been able to get it going yet. (RC/USA Today) ...Walmart doesn't seem to understand the number-one reason people shop at Amazon: "Because it's not Walmart."
Live Long and Prosper: Shadow Health Minister Darren Millar requested details from government officials of UFO sightings at the Cardiff (Wales) Airport. He also wanted to know if research into the sightings would be funded. The response from the Welsh government: "jang vIDa je due luq. 'ach ghotvam'e' QI'yaH devolve qaS." No, that's not Welsh: the statement was delivered in Klingon, the language of a fictional alien species in Star Trek. Translation: "Theminister will reply in due course. However this is a non-devolved matter." A nonplussed Millar noted, "I've always suspected that Labour ministers came from another planet. This response confirms it." (MS/BBC) ...So, they're just like our politicians.
Advertisement
Drone Pilots Only

Get Your Wings! Custom metal Drone Pilot Wings dress up your shirt, jacket, and/or equipment box, showing your pride and professionalism in your hobby. Makes a great gift, and is actually less expensive than most message t-shirts (lasts longer, too).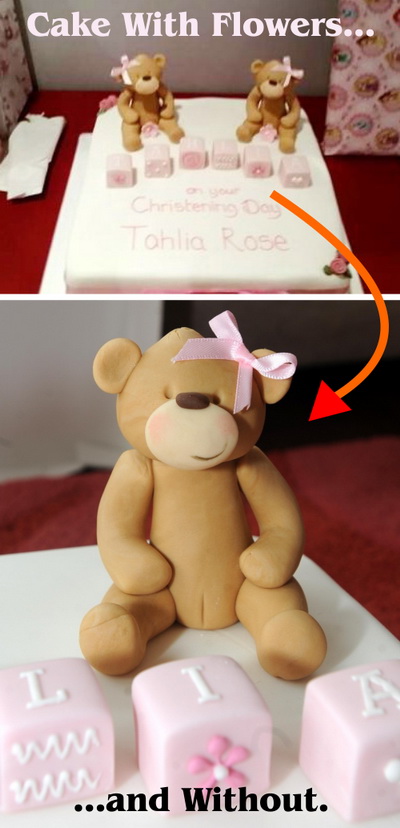 In the Eye of the Beholder: "It is completely inappropriate," complains Sharon Green. "The cake is supposed to be for a3-year-old girl." The cake in question, ordered from Occasion Cakes in Wigan, Greater Manchester, England, for her daughter's christening, includes a pair of teddy bears as decoration. And the bears have a "crease" at their crotch that ...well... the 45-year-old mum found inappropriately similar to a girl's genitalia. "The crease on its stomach is supposed to represent the seam where the bear is 'sewn together'," said a spokesman forthe bakery, noting the same crease is included on both boy and girl teddy bears. Green has demanded a refund on the 60 pound (US$93.50) cake, but the bakery says that's the way they have made the cake for 30 years, and no "no one has ever drawn such a bizarre, and, quite frankly, distasteful, connection." They gave Green edible flowers to cover the crotch, but she says guests kept pulling them aside to "poke fun" at the figures. She still wants a refund. (RC/BoltonNews) ...So what she is saying is, it was her own guests that were deflowering the bears.
If a Little is Good, More is Better: Each week, This is True includes at least ten stories, but this free sample edition only has four of them. This week you missed: Minor-injury car crash was so spectacular, the driver was arrested on multiple charges. Nuns want millions for their convent, and confirm, "This is about money — control of money." Woman detained because there's something very suspicious ...about her breasts. The crash seemed fairly ordinary...but the van she crashed into had a rear-facing camera, showing the crash occurred because she...! Because it's Portland, they have to do things a little differently to Keep It Weird. Man was just standing on the deck, enjoying the view, when it crashed into a curb, killing him (wait... what?) In perhaps the ultimate case of "Blame Obama," woman blames the president for her turning to crime. Lightning strikes twice at Florida home, and the second time leads to a policeinvestigation and arrest. You Can Still Read All of These Stories! Just ask for your upgrade to start with the 19 July issue. Upgrades start at just $12 — cheap!
A Responsible Citizen: "No court and total dismissal!!!!!" wrote Becky Rehr, 47, a surgical nurse, volunteer soccer manager, and married mother of two, in an e-mail to a reporter. "I'm free!!!!" Rehr conceded that she got a warning before her dog's license expired, then another notice, and even a home visit to warn her that a warrant would be issued for her arrest, but somehow she's still shocked to have discovered this was a criminal matter inKalamazoo County, Mich. "I had every intention of taking care of it, but with the end of the school year and my job, it just totally got put on the back burner." She did get the license renewed, but not until the warrant had been issued. After she got a letter telling her to turn herself in, she went to the jail, expecting to clear things up quickly. Per procedure, she was booked; per usual practice when there are no other problems, the case was dismissed at the prosecutor'srequest. Meanwhile, as Rehr's story caught attention, the county dog-licensing office reported a major surge in Kalamazooans renewing late dog licenses. (AC/Kalamazoo Gazette) ...In other words, enforcement works.
---
Three Stooges Still At Large
Boulder PD: Man Tosses Pie in Road Rage Incident
KUSA Denver headline
---
Did You Find an Error? Check the Errata Page for updates.
This Week's Contributors: AC-Alexander Cohen, MS-Mike Straw, RC-Randy Cassingham.
---
This is Why I Do What I Do, illustrated by a letter Monday from Kellie in Pennsylvania: "True is one of the best things in my life. I was always taught in high school that journalism should be as unbiased as possible. Seems like in this day and age journalists are actively trying to be as biased as possible. Just tell me the news, don't tell me how I should feel about it. And that is why I love True. Yes, you tell me your opinion, butyou stay as un-party/religion/race biased as possible, merely making fun of stupidity where you see it and allowing me to form my own educated opinion. And sometimes I disagree with you but that's ok. I was raised in a very closed-minded family and I can say without a doubt that you are a huge part of the reason I have turned into the open-minded person I am. I am firm in what I believe, but I am not afraid to hear opinions from the other side of a matter anymore. Because maybe if I'mafraid of a viewpoint being different from mine, then really I'm just afraid of being wrong. So I love hearing other viewpoints because they either reinforce why I have mine or they help me change my viewpoint for the better. I can honestly say I am afraid of who I would be if I wouldn't have discovered True. I got my first Premium subscription when I turned 18 and could charge it to my own credit card. It is some of the best money I spend every year. Thank you!"
I'm serious that I want people to think, so for the most part, I do stay out of the way — and that's exactly the kind of result I'm looking for. I didn't have to say that "if you're afraid of a viewpoint being different from yours, then really you're just afraid of being wrong." Kellie figured that out for herself ...by (yep!) thinking about it. What more could I ask for? So many schools teach what to think, rather than how to think. Wesee the predictable results of that in the stories every week, eh? I want readers to learn how to think, and that's what we should truly want out of all of our fellow citizens. The "what" should be up to them. So, thank you, Kellie! If you'd like to join Kellie and get all the stories each week, see your upgrade options here.
---
When I Mentioned the "Pie" Headline to my wife, I noted that it was a pecan pie, since that's one of our favorites. "Why would he waste a perfectly good pecan pie?!" she responded. I had to do it: "Because he was nuts."
I Like it When True Can justifiably be contrarian — it's thought-provoking. Such as when the "Taylor Swift Cop Video" had everyone awwwwing the first of the year (but not me). Or more recently, when a story went viral online with outrage that a woman was arrested (arrested!) for ...failing to renew a dog license! There were howls (sorry) of protest!But not from Alexander. When he sent me his treatment on the story, he commented:
"Once I started writing this story, I realized that Rehr had behaved like an obliviot masquerading as a responsible citizen — seriously, she got an in-person warning that if she didn't renew her dog license she'd be arrested — and that while this is arguably a case of overcriminalization, the law is not nearly as dumb. Notably, the dog-licensing scheme is used to protect the public against rabies (that is, against a health threat that does not depend onfurther volitional action by the dog owner besides keeping an unvaccinated dog), and Rehr's case got a lot of people to renew their dog licenses, which a mere civil fine would not have done. And unlike the typical case of overcriminalization, violators here get plenty of notice: the scheme is designed to be effective at getting people to keep their dogs licensed, not to catch people unawares and throw them in prison for years. So we're not dealing with a stupid law here. Anunjustified one, maybe. But not stupid. Whether the law is ultimately justified is complicated. When, if ever, is it OK to prohibit people from running risks with their neighbors' safety? And how serious a threat is rabies now, anyway?"
Well, a lot less serious these days, thanks to licensing making vaccination mandatory, eh? Or, as Alexander put it in the tagline, "...In other words, enforcement works."
---
The Latest Posting to Jumbo Joke: Used to Sharing Everything.
Ten Years Ago in True: When adoption policies get politicized: In God's Name.
Advertisement
Floored By Remodeling Decisions?

Stone or tile? How do you decide?
The Flooring Lady, an independent flooring expert, will help youfind your way through the maze of questions.
Explore The Flooring Lady
No Honorary Unsubscribe This Week: despite spending quite a bit of time looking, I didn't find anyone that met my criteria.
But, Parallel Farewells to songwriters Roy C. Bennett (co-writer of 40 songs for Elvis movies such as Girls! Girls! Girls! and Fun in Acapulco), dead July 2 at 96; Ernie Maresca (Barbara Ann, Shout! Shout! [Knock Yourself Out]), dead July 8 at 76; Michael Masser (Touch Me in the Morning, Theme from Mahogany [Do You Know Where You're Going To]), dead July 9 at 74; Buddy Buie (Spooky, So Into You), dead July 18 at 74; and WayneCarson (Always on My Mind, The Letter) dead July 20 at 72.
---
Subscriptions to This is True are Free athttp://www.thisistrue.com. All stories are completely rewritten using facts from the noted sources. This is True® is a registered trademark. Published weekly by ThisisTrue.Inc, PO Box 666, Ridgway CO 81432 USA (ISSN 1521-1932).
Copyright ©2015 by Randy Cassingham, All RightsReserved. All broadcast, publication, retransmission to e-mail lists, WWW, or any other copying or storage, in any medium, online or not, is strictly prohibited without prior written permission from the author. Manual forwarding by e-mail to friends is allowed IF 1) the text is forwarded in its entirety from the "Since 1994" line on top through the end of this paragraph and 2) No fee is charged. We request that you forward no more than threecopies to any one person — after that, they should get their own free subscription. We always appreciate people who report violations of our copyright to us.
You can subscribe free by e-mail and get this delivered to you every week.