To get these issues free by e-mail each week, just subscribe using the form above -- your privacy is Randy's policy. (Or cruise around the web site to see more samples, archive, and info on our terrific book collections of thousands of past stories.)
Since 1994, this is the 1089th issue of Randy Cassingham's...

---
Before the Stories: Now that he has been found guilty of all 30 counts against him, the penalty phase has begun in the trial of Dzhokhar Tsarnaev, the surviving Boston Marathon bomber. The bombing was two years ago this month. In a poll, 60 percent of Americans favor the death penalty for Tsarnaev. That number is down from a similar poll after Timothy McVeigh's conviction in 1997 of bombing the federal building in Oklahoma City; he wasexecuted in 2001. The same poll that found 60 percent are in favor of executing Tsarnaev found that support among Americans for the death penalty in general is ...56 percent; that number peaked at 78 percent in 1988. (Source: CBS News Poll)
---
Space Case: Santino Aviles, 42, thought the Earth's destruction was imminent. Thankfully, he spotted a spaceship so he could escape the planet. Ringing the buzzer, he was allowed into the ship, where he climbed into one of its chambers. There, he took a short nap on the couch, then threw a large ball out the window because he was "planning to float with it through the galaxy." Unfortunately for Aviles, the "spaceship" was really a San Francisco, Calif.,apartment building, and when the residents of the apartment discovered him there throwing their exercise ball onto the fire escape, they attacked him with a baseball bat and called police. His attorneys say Aviles was suffering from a methamphetamine-induced psychosis. He has been convicted of misdemeanor battery and assault, but the jury couldn't agree on a burglary charge, and accepted Aviles' drug-fueled psychosis as a defense and acquitted him of robbery, attempted robbery, andassault and battery. (MS/San Francisco Chronicle) ...The San Francisco jury was sympathetic, since they spend lots of time in outer space too.
Always a Bride, Never a Bridesmaid: Authorities discover woman has been married six times in six months ...but never divorced. [This story only available in Premium.]
"Dead" Beat Dad: Man says he can't pay court-ordered child support ...because he was killed in an accident. [This story only available in Premium.]
Zero Tolerance for Student Action: Brianna Cooper, 11, was so upset at witnessing a teacher berate another student at Samuel Gaines Academy in Ft. Pierce, Fla., she set her phone to record the tirade. "Don't let size fool you. I will drop you," the unnamed science teacher told the other student. "You don't know me, that's all I'm saying. So, don't give me no look." Brianna considered it bullying, and says she had heard the teacherdo it before. She made the recording because "Do you think that they would actually believe a student over a teacher?" When she turned the recording over to school officials, principal Traci Wilke took strong, decisive action: she accused Brianna of making an "illegal" recording. "I thought I did the right thing," the girl said, "but I guess I just got suspended." Indeed so: for five days. But police say that such a recording is not illegal whenthere's no expectation of privacy, and Brianna's mother said the message school officials are sending is, "if you think something is wrong, don't try and do anything about it." The day after the story hit the media, the school announced it "took swift, appropriate action" by firing the teacher for her "unprofessional behavior." (RC/WPTV West Palm Beach) ...The real message school officials are sending: if you expect them to do the rightthing, you have to take your story to the media.
Advertisement
Does Your "Sport Sandal" Weigh a Pound ...or More?
Xero Shoes Feel Like Going Barefoot, yet still protect your feet. New Z-Trek sandal is secure without something between your toes. Rated 94 out of 100 by The Running Clinic.
Examination: Simon Schräder, 17, used the North Rhine-Westphalian, Germany, freedom of information law to help others get government information about parking, local budgets, and so forth — and then realized that there was one piece of government information that would be especially useful to him. So he filed a request for the questions on an upcoming standardized school test. About 75 percent of requests under the law are granted, but Schräder expected this one to fallinto the other quarter. "It will be interesting to see, though," he said, "how the ministry reacts." The Education Ministry said he could see the questions after the exam — revealing them beforehand would interfere with government policy. (AC/Deutsche Welle, Local Germany) ...Looks like the ministry passed its exam.
Oh, Shoot: Man accidentally shoots his mother-in-law in the most bizarre way imaginable. [This story only available in Premium.]
Leave the Driving to Us: Bus passengers mighty upset at what the driver was doing as he went down the road. [This story only available in Premium.]
Rocky and Mugsy Strike Again: The way the robber was dressed during the crime — straight from Saturday morning cartoons. [This story only available in Premium.]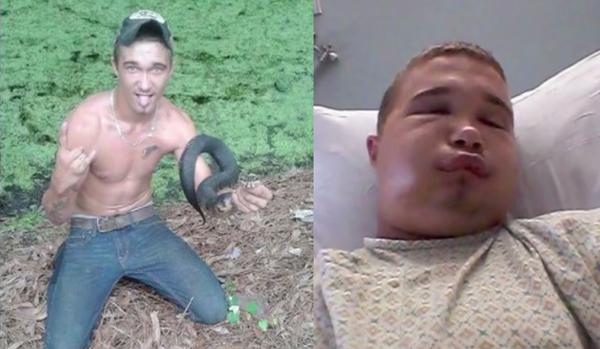 Not the First Teen Boy to Be Betrayed by HisSnake: Austin Lane Hatfield, 18, captured a fully grown cottonmouth in his girlfriend's back yard in Hillsborough County, Fla. Also known as a water moccasin, the pit viper is a poisonous snake whose bite can be deadly. Hatfield kept it as a pet, keeping it in a pillowcase on his bed, and he liked to kiss it — on the mouth. "Alright he's kissed it 12 times," said his buddy Jason Belcher. But then, "He took it out, put it on his chest and it was actingfunny," Belcher says. "He ran out of the room saying, 'Hospital, hospital, now, now'." The snake had bit him — on the mouth. Hatfield was admitted to the hospital in critical condition, but he is expected to recover. David Lueck, who owns a Florida trapping business, says if you see a cottonmouth, "Just turn around and walk away from it and you'll be fine." But there's even a more important rule, he says. "First and foremost,don't kiss them." (RC/Tampa Tribune, Bay News 9, WTVT Tampa) ...That's what his girlfriend's father said about his daughters, but he didn't listen to that advice either.
Sit Still and Shut Up: Girl told it is against the rules to read while riding the school bus. [This story only available in Premium.]
Peeping Tom: Family sues photographer for secretly shooting intimate photos of them inside their house, so why did the courts throw the case out? [This story only available in Premium.]
Dell Hell: Man "executes" his balky computer ...which brings the police. [This story only available in Premium.]
---
Apparently He Still Had the Hots for Her
Man Accused of Attacking Ex-Girlfriend with Fire Extinguisher
WMUR Manchester (N.H.) headline
---
Did You Find an Error? Check the Errata Page for updates.
This Week's Contributors: MS-Mike Straw, AC-Alexander Cohen, RC-Randy Cassingham.
---
A Little Change-Up
on the way I show what you miss by not having the Premium edition. I'm guessing some never check down here and learn there
is
another edition with more stories! Indeed, the full column is
at least ten
stories every week, and this free "sample" edition only includes four of them. A full year of Premium is just $30.
Details here
.
Last Week, I Noted a New Get Out of Hell Free card product was coming "to help angry voters show their displeasure in the upcoming presidential elections." They were first announced in this week's Premium edition, and sure enough they're being snapped up. Several readers in the U.K. lamented they are not quite shipping yet, since they have an election coming up next week. Sorry! But indeed, they're prettyuniversal, not just for the USA.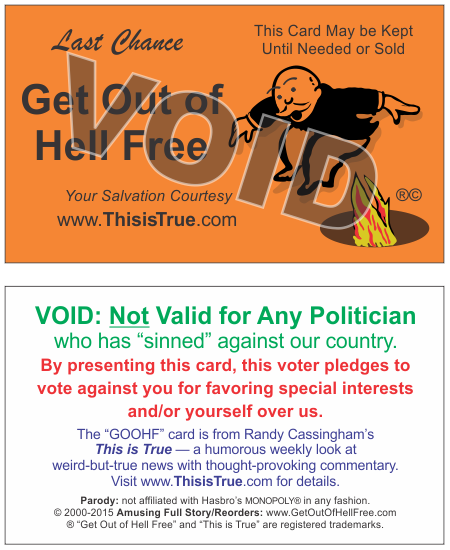 And Here It Is: a tangible way to send a message to Washington ...or your state capitol. Or, heck, your parliament, should you not be in the USA. Your own Fist of Defiance that showsyou plan to hit them where it hurts: in the ballot box! A message that plainly says "I'm voting against YOU."
The front of this GOOHF card has a huge "VOID" across it, semi-transparent so they can see what they're missing. On the back, it's really spelled out: "VOID: Not Valid for Any Politician who has "sinned" against our country." and just below, in red type: "By presenting this card, this voter pledges to vote against you for favoring special interests and/or yourself over us."
The card is available in several quantities, including a box of 536 cards for those of you with mass "Clean out Washington" desires.
Works equally well against incumbents or wanna-bes. Federal, state, or local. If you're Mad as Hell and Aren't Going to Take it Anymore, this is a way to send a real message well before election day.
Yes, I'm absolutely serious about this. I want you to send one (or more) to the candidate(s) you love to hate. Drop one in their donation boxes. Put one in their post-paid return envelope in lieu of a check. It's a great visual way to send a serious message. These cards will start shipping no later than May 31 so you really can start sending messages to representatives who aren't actually representing you.
They'll start shipping no later than May 31. (Most certainly before, but I'd rather underpromise and overperform.) Order here.
---
The Latest Posting to Jumbo Joke: Out with the Dogs.
Ten Years Ago in True: Speaking of politicians, they created The Longest Two Years Ever Recorded.
Advertisement
Floored By Remodeling Decisions?

Stone or tile? How do you decide?
The Flooring Lady, an independent flooring expert, will help youfind your way through the maze of questions.
Explore The Flooring Lady
This Week's Honorary Unsubscribe goes to Betty Willis. Willis went to design school, and then returned home for a career where her work has been seen by millions, likely including you.
Read her story in the Archive: Betty Willis (OK to share link)
---
Subscriptions to This is True are Free athttp://www.thisistrue.com. All stories are completely rewritten using facts from the noted sources. This is True® is a registered trademark. Published weekly by ThisisTrue.Inc, PO Box 666, Ridgway CO 81432 USA (ISSN 1521-1932).
Copyright ©2015 by Randy Cassingham, All RightsReserved. All broadcast, publication, retransmission to e-mail lists, WWW, or any other copying or storage, in any medium, online or not, is strictly prohibited without prior written permission from the author. Manual forwarding by e-mail to friends is allowed IF 1) the text is forwarded in its entirety from the "Since 1994" line on top through the end of this paragraph and 2) No fee is charged. We request that you forward no more than threecopies to any one person — after that, they should get their own free subscription. We always appreciate people who report violations of our copyright to us.
You can subscribe free by e-mail and get this delivered to you every week.