To get these issues free by e-mail each week, just subscribe using the form above -- your privacy is Randy's policy. (Or cruise around the web site to see more samples, archive, and info on our terrific book collections of thousands of past stories.)
Since 1994, this is the 1066th issue of Randy Cassingham's...

---
It's in the Bag: Intercity Transit in Olympia, Wash., found a backpack that had been left on one of its buses. Inside, they allegedly found marijuana and "magic mushrooms" packaged for sale, along with a wallet belonging to Michael Henderson, 43. Henderson showed up later at Intercity Transit asking if his bag had been found. Police arrested him on charges of possession of narcotics with intent to sell. Earlier that same weekend, a plainclothes officer in Seattle sawfour youths attack a man and take his backpack. Officers apprehended and arrested the youths, but the man took off before they could return his backpack. When the officers looked inside, they allegedly found a large quantity of magic mushrooms. (MS/KOMO Seattle, 2) ...Your task: figure out which dealer actually uses the product he's selling.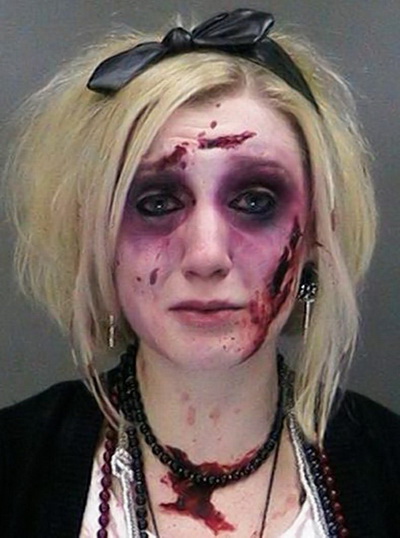 Strike Four: When Catherine M. Butler, 26, was pulled over in Gates, N.Y., she was apparently on her way home from a costumeparty — she was made up as a zombie. Officers pulled her over for driving without headlights at 2:00 a.m., and ended up charging her with drunk driving. After booking, she was released to a sober friend, but "Somehow, she ended up back in her car," says police spokesman Lt. Jon Ballard. That came to police attention at a little before 5:00 a.m., when Butler was pulled over again for swerving in and out of her lane as she drove. Butler, who was still dressed as a zombie, wasagain arrested and charged with drunk driving. She also has two prior drunk driving convictions. (RC/Rochester Democrat & Chronicle) ...After four times, she's lucky the blood is fake.
Advertisement
Losing Sleep Trying To Decide On A New Mattress?
Memory foam or latex mattresses/toppers, airbeds or waterbeds, innerspring coil or futon mattresses, all without sales hype:not affiliated with any store or manufacturer. Just personal non-biased perspective on your options.Explore The Mattress Lady
Eau Dear: "There are just some conditions that we have to adhere to, and the shooting of guns, even with blanks, is something we don't feel is appropriate given society," explained Tim Leibham, Eau Claire, Wisc., school district executive director of administration. So, so much for a 21-gun Veterans Day salute and the on-campus event, held by the local Patriotic Council. Scheduling played a role too, and it's not clear whether the event could have been heldwithout the gun issue, but Patriotic Council vice president Kaye Olsen said her hopes for a compromise on the guns were frustrated. The council held its event at a local Burger King, and the district held other events in its schools to mark the holiday. "It's really hard to tell the veterans they're not allowed to bring those rifles in," Olsen said. But Leibham insists, "We like to honor our veterans." (AC/WEAU Eau Claire, Eau Claire Leader-Telegram, WQOW EauClaire) ...Just not for anything involving guns.
Blood on His Hands: Carolyn Bibbs of Fellsmere, Fla., says neighbor Billy Wall came to her door asking if he could get a change of clothes. "He was drenched with blood because I seen it all down his leg," she said. "I ain't givin' him no clothes to put on." The police showed up shortly afterward, though, because Wall had allegedly stabbed his own nephew, twice, damaging his liver; he needed surgery. As they handcuffed him, officers say Wall admittedto stabbing Charles Williams, but claimed it was self defense. "He say, 'He try to get a machete at me and cut me with a machete and I stabbed him'," Bibbs related. And what started the argument? Wall says he only got one pork chop for dinner, and his nephew ate three. (RC/WPBF Palm Beach) ...Blood is thicker than water, but pork fat is thicker than blood.
---
OK Mister, Drop It!
Charge: Man Drops Air Pistol, Pants at Seattle Café
Seattle Post-Intelligencer headline
---
Did You Find an Error? Check the Errata Page for updates.
This Week's Contributors: MS-Mike Straw, AC-Alexander Cohen, RC-Randy Cassingham.
---
It's Been Forever since I ran a few letters from readers. There were two in a row that happened to hit the same theme, but in very different ways:
"Can I say what a pleasure it is to read your excellent updates each week. From the perspective of the UK it gives me great comfort that there are other mad people in the world — hope for us all. Keep up the great work." —Justin, London.
I told Justin that I appreciated he understood True's message of hope. Many don't "get" that angle, so much so a couple of years ago, I wrote about that in my blog. Yes, the crazy stories in This is True give me significant hope for humanity.
"Thank you so much for continuing to educate and entertain people with your This is True project. I have long been a subscriber to the free version, and I have wanted to upgrade for a while. I decided today to upgrade, because these emails are one of the few bright spots in my life, and one of the few things keeping me sane in the last few weeks. You see, my husband (who also enjoyed This is True, and who ordered one of your books for me) died very unexpectedlyabout 6 weeks ago. I am very grateful for your continuing efforts to keep getting people to THINK — often in a very entertaining way — and I wanted to make sure I helped to keep it going. Thanks again." —Kim, Indiana.
I'm so sorry to hear about that, Kim, though if True is helping you out in any way to keep you sane, I'm awfully glad to be here for you. This is her first Premium issue. I looked up her husband's obit: he was just 49. And my research helped me learn something really cool about him: her husband donated his body to the Complex for Forensic Anthropology Research at Southern Illinois University. I've heard of these places: there's one in Colorado that my wife(the deputy coroner) is drooling to visit. "Forensic Anthropology is the application of the science of biological anthropology to the legal process," SIU's web site explains. "Forensic Anthropologists contribute to legal cases in a variety of ways, including recovery of skeletonized and badly decomposed human remains from the field, analysis of human remains for elements of the biological profile (age, sex, ancestry, and height), identify trauma and its potential cause,estimate the length of time the individual has been dead (the postmortem interval), and provide information that may be useful in the process of positive identification."
In other words, in his final act, Kim's husband is helping people in the future by letting these scientists learn from his body to help identify bodies found in the future, giving closure to families and, in many cases, helping to solve why they died — whether it be from murder or natural causes. Now that's showing hope for the generations to come. And I greatly appreciate that Kim is helping True to survive too with her support, even as she's strugglingto adjust to her changed life. That's pretty humbling for me.
Thanks to all who write. I don't want to publish too many angry rant letters, unless they're terribly entertaining, since that can get old. And I don't want to publish too many gushing kudos, since I'm that gets old for you even more quickly, though I enjoy every single one. Still, I sometimes just have to publish a couple of the many letters I get to give you a little insight as to how powerful they can be. Thanks, and keep those letters coming! Theyreally are worth my time to read.
To Join the Supporting Readers of This is True, upgrade to get more stories (a minimum of 10 each week), with no outside advertising:

| | | |
| --- | --- | --- |
| Paypal: | Amazon: | All Upgrade Options: |
---
The Latest Posting to Jumbo Joke: Government Work.
Ten Years Ago in True: Tax office makes a big, big mistake. Due on Demand
Advertisement
Regain Control of Your Inbox

You don't have to wade through junk just to get to the good mail in your inbox. Take 15 minutes to read Randy Cassingham's Spam Primer web site — and grab his highly rated ebook (just $3.99!) with proven techniques to Stop most spam from even showing up in your inbox.Read Randy's Spam Primer
This Week's Honorary Unsubscribe goes to Tomas Young. A soldier, Young was just 21 when he was inspired to enlist in the Army to "exact some form of retribution" on those responsible for the 9/11 attacks.
Read his story in the Archive: Tomas Young (OK to share link)
---
Subscriptions to This is True are Free athttp://www.thisistrue.com. All stories are completely rewritten using facts from the noted sources. This is True® is a registered trademark. Published weekly by ThisisTrue.Inc, PO Box 666, Ridgway CO 81432 USA (ISSN 1521-1932).
Copyright ©2014 by Randy Cassingham, All RightsReserved. All broadcast, publication, retransmission to e-mail lists, WWW, or any other copying or storage, in any medium, online or not, is strictly prohibited without prior written permission from the author. Manual forwarding by e-mail to friends is allowed IF 1) the text is forwarded in its entirety from the "Since 1994" line on top through the end of this paragraph and 2) No fee is charged. We request that you forward no more than threecopies to any one person — after that, they should get their own free subscription. We always appreciate people who report violations of our copyright to us.
You can subscribe free by e-mail and get this delivered to you every week.