To get these issues free by e-mail each week, just subscribe using the form above -- your privacy is Randy's policy. (Or cruise around the web site to see more samples, archive, and info on our terrific book collections of thousands of past stories.)
Since 1994, this is the 1105th issue of Randy Cassingham's...

---
Before the Stories: My friend Rusty in California travels a lot, and posted this to a group of friends. I'm repeating it here with his permission, just to remind people about why you might want to pay attention when out in public.
"Boarding a commercial aircraft the other day I noticed the guy several people in front of me had a backpack that was smoking. No, HE wasn't smoking, the backpack was! When I questioned him about it he said that his electronic cigarette had blown up and caught on fire. He thought he had put it out. When he went to board the plane lots of people were talking amongst themselves and were quite concerned since there was indeed quite a bit of smoke coming out of the backpack, butnobody said anything. I walked over to the agent that was letting people onboard to explain the situation. They closed the door and stopped boarding for about 15 minutes. Many folks were relieved that airline personnel finally were on the situation after not noticing what had happened in the first place. Yet none of those folks spoke up!"
Several friends replied to say he's a hero, etc. He was quick to set them straight:
"I tell you though it was no kind of heroics. In fact that's my point. It was just common sense. While admittedly common sense these days seems like heroics, it's actually not. It's always amazing to me how many people at airports are in a complete daze. They walk right next to extremely famous people and don't even notice them. They are in boarding group C and can't seem to find the C gate! Even after they wait 30 minutes for a ridiculously pricedStarbucks they still don't seem awake! Still, those who did notice the smoke said nothing. They were going to let the plane take off with an apparent fire inside."
Thus, he concludes, "If you Smell Something, Say Something!" And keep your eyes open. Someday I'll tell you Rusty's story (or cajole him into writing it up for me) of his running into
Mel Blanc
("The Man of a Thousand Voices") in the airport — twice! It's hilarious.
---
I Have No Words: "It pains me to admit it, but apparently, I have passed away." So said Dorothy McElhaney, 104, of Colonial Heights, Va., in the obituary she apparently wrote for herself, which went viral online when the Richmond Times-Dispatch published it. It was a touching story of love spanning more than a century of cultural change. One problem: it was largely plagiarized from Emily DeBrayda Phillips's self-written obituary — and not by McElhaney,but by her daughter, Glenna Kramer, 72, who used the structure and some of the most moving prose of the Florida woman's obituary, together with facts from McElhaney's life, to construct her mother's paid obit. "This has turned into quite a firestorm, one that I had not anticipated," Kramer said. (AC/Richmond Times-Dispatch) ...She wanted everyone to remember her mother. Or somebody else just as special.
A Jamming Rescue: Bill Erwin was in the grocery store with his wife when he "heard my wife scream 'He's got my purse!'" The thief bolted out the door of the Spokane, Wash., store. Heidi Muat was outside and gave chase. "We ran over to the freeway," Muat said. "We had to dodge some traffic and once he realized I wasn't going to stop because I was dodging traffic with him, we headed to the freeway and he looked and saw he had nowhereto go other than running, and I said I can outrun you, give it up, and he just looked at me and tossed the purse." Police charged Ronald Warner with the theft. The Erwins thanked Muat, also known as "Miss Ida B. ChoAzz" of the Spokannibal Roller Derby team. (MS/KXLY Spokane) ...If you can dodge a derby girl, you can dodge a car.
Advertisement
Does Your "Sport Sandal" Weigh a Pound ...or More?
Xero Shoes Feel Like Going Barefoot, yet still protect your feet. New Z-Trek sandal is secure without something between your toes. Rated 94 out of 100 by The Running Clinic.
Eh to Zed: The reputation of Canadians as polite is intact in Vancouver, B.C. Police Sgt. Mark Horsley went undercover in an attempt to arrest particularly despicable robbers — those who target disabled people in wheelchairs. Horsley first went out and observed how the disabled comport themselves, then borrowed a $16,000 wheelchair and went around various trouble spots, flashing cash and expensive items. "We wanted a serious assault or a robbery," he said."That's all we were after." But after 300 "contacts" the only person to reach for his wallet was a man who covered it up for him, and warned him to be careful. Others gave him food, money, or a kind word. After five days, he gave up. There were no arrests. (RC/Ottawa Citizen) ...Take a tip from the U.S.: if you want to find criminals, go undercover among the politicians.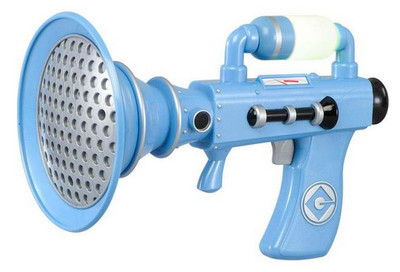 Huh... They Really Are Everywhere: Last week's Dublin, Ireland, story about the "Minion" character ("They'reEverywhere!" in This is True #1104) is topped only by this week's. Dublin airport officials confiscated a toddler's Minion 'Fart Blaster' because it's shaped like a gun, modeled on a weapon used by Minions in the animated film Despicable Me 2. The toy "lights up, makes fart sound effects, and produces a 'banana-like scent'," officials noted. Airport security promised to hold the gun and give it back when the familyreturned from holiday. An airport official noted that "Anything that is a replica gun with a trigger mechanism on it is listed as a prohibited item," and airport security considered it a "threat." (RC/Dublin Irish News) ...Definitely a threat: if he had shot that on the plane, other passengers would have killed him.
Plus...: How woman works around the anti-drunk-driving Breathalyzer interlock device installed on her car. Aussie politician claims people are making alcohol ...out of Vegemite. The "War on Drugs" gets way out of hand in Texas. McDonald's says it doesn't know anything about a Mickey D's advertising sign ...in the middle of a desert. U.S. Patent Office not concerned that 10,000 employees don't have supervision, may not be working, and can't bedisciplined. Woman finds herself a new boyfriend via her son's Xbox console, and it goes downhill (way downhill!) from there — she may even end up in prison. Woman has to be rescued from charity's clothing donation box. Landlord prohibits destitute tenants from using food banks (wait... what?!) Every week, the full edition has at least 10 stories. Upgrades start at just $12! See your options here.
---
Jesus Doesn't Throw His Money Around — Jesus Saves
Woman Arrested after Telling Police Jesus Would Pay Her Seafood Restaurant Bill
Myrtle Beach (S.C.) Sun News headline
---
Did You Find an Error? Check the Errata Page for updates.
This Week's Contributors: MS-Mike Straw, AC-Alexander Cohen, RC-Randy Cassingham.
---
A Wonderful Little Addition to Alexander's pilfered obituary story — with Bonus Namefreak! Emily DeBrayda Phillips also had a daughter, and heard about the plagiarism. "This is kind of strange but sweet in a way," she said. "If my mom's words made an impact to a stranger's family in a positive way, and they chose to use it, then that's, I think, a great honor to my mother. I just would like mymother to be remembered for those words, because they absolutely were hers." She certainly holds the high ground here, even before I tell you her name: Bonnie Upright.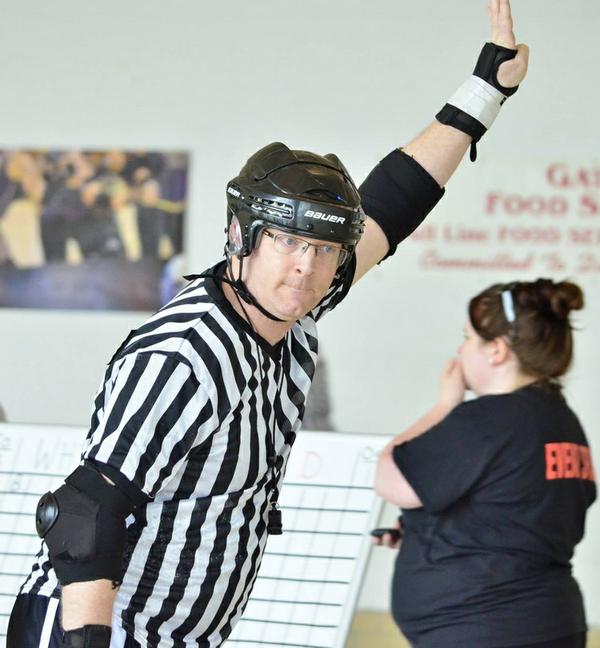 Mike's Roller Derby Queen Story (hah! "Miss Ida B. ChoAzz" indeed!) absolutely had to be assigned to Mike, because I knew somethingabout his life after retirement from the U.S. Air Force: he's a roller derby referee. Here he is (photo, right) in action, assigning points to a jammer. Roller derby, Wikipedia says, is played by about 1,250 amateur teams, with slightly over half of those being in the U.S. "Modern roller derby," they say, "is an international sport dominated by all-female amateur teams, in addition to a growing number of male,co-ed, and junior roller derby teams, and was (as a roller sport) under consideration for the 2020 Summer Olympics."
It's a contact sport, so "modern roller derby games are required to be played with EMTs on hand." I've never done a medical standby at a game, but I have for college football, and ...pro rodeo! Yep, Ridgway has a sanctioned professional rodeo every year — one of the few events EMTs here are paid to attend. I tell the EMS chief each year to give the shifts to others, and only assign me if she doesn't haveenough people. I'd rather the other EMTs get the pay than take the shifts myself, but Kit and I have been called on several times. It's a pretty fun gig.
---
Pledge Drive: When in my car, I listen to the only news station I can get in rural Colorado: the local transmitter for Colorado Public Radio. They do those "pledge drives" a lot to cajole listeners to pay for membership to fund their operations. The "typical" (average?) support, they say, is $120/year, but as I was listening to the last one, they were really, really pushing hard for "just a dollar aday" — $365 a year — though at times they were asking for $100/month — $1,200 a year. My wife and I do support the Colorado NPR operation, because we do listen to them. But no, we don't toss them $100/month, or even "a dollar a day"....
It irritates me to not be able to get news during their every-few-minute pushes when they're doing pledge drives, but I know that's what they have to do to stay afloat. What occurred to me in my irritation is how cool it would be if they simply had two channels: the regular one, which is interrupted by pledge breaks, and a private one for those who have, indeed, become members — supported the station financially — so we don't have to listen to the pitches.
And when that occurred to me, I began laughing at myself, since that's exactly what This is True has: two feeds. There's this free one, which doesn't interrupt you after every tidbit of content with very pushy "Do it NOW!" demands (but does have the "Here's some of what you missed" paragraph), and then there's the Premium edition, which doesn't have any upgrade pushes because everyone reading it has already upgraded.Beautiful!
Sometimes people unsubscribe from this free publication because "You promote yourself too much." I sure wish I didn't have to, but like with Public Radio, it's a case of promote or die. Readers do not upgrade if I don't ask them to do it, and This is True exists because of the people who upgrade: the subscription fees provide 85 percent of True's budget (sales of "stuff" — True books, Get Out of Hell Free cards,advertising, etc. — only contributes 15 percent). Don't want to see Premium upgrade pushes? Easy: upgrade — there are no upgrade pleas in the Premium edition, just more content! Simple, eh?
So I started actually listening to the pledge drive come-ons to see what techniques they use. First, they note the different methods available to support them. Got that: not only does buying "stuff" help, but there are a lot of ways to upgrade, too, including Paypal, credit/debit cards, even checks/money orders in the mail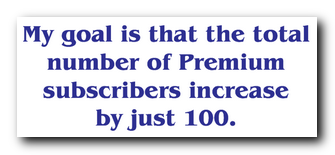 Another thing I noticed is they have a "goal" in mind, like 2,500 new members or $300,000 worth of pledges. So with that, I have a specific goal in mind: I just checked the number of Premium subscribers. Some expire onMonday, and some of you would normally upgrade over the weekend, which generally keeps things in approximate balance. My goal is that the total number of Premium subscribers increase by just 100. Had Premium before, but it expired? It'll count if you renew again. I'll keep you posted as to when the goal is reached: I'll update you every week, and then shut up when we get there.
You might think that 100 new Premium subscribers won't make a big difference, but it will: on average, only about a half-dozen people upgrade each week. Getting 100 in a few weeks will be a big boost. The bottom line: do readers want to support This is True ...or not? That's what this goal is about. All small and independent sites need your support, and True is no exception. I need you to upgrade to showyour support. If you truly can't afford that, then don't sweat it, since there are other ways you can help that don't cost a thing: see this page for ideas. But if you've been "meaning to" upgrade, now is the time to do it.
Some might think that it'll be easy to get that 100 this weekend. That would be pretty impressive, but I won't be holding my breath. The truth is, few readers actually step up to support This is True, probably similar to how few (percentage wise) step up to support Public Radio, even when they listen regularly. I think it's going to be several weeks before I get that 100-reader increase. Maybe you'll prove me wrong! But either way, I'll chart it andlet you see the progress. I don't ask for "a dollar a day," but rather just $30 for a full year of expanded issues filled with thought-provoking content. Upgrade here.
(To see all the "stuff" that's available, browse through True's secure shopping cart.)
With 33,700 free edition subscribers, that means just 0.3 percent of you need to jump on board. Let's see how long that takes.
Again, I'll be reporting back in this space each week about how it's going until the goal is reached, and then I'll end it. See this page to see a chart of results as we go along (toward the bottom of the page)
Thanks much for your support!
---
The Latest Posting to Jumbo Joke: The Fortune Teller.
Ten Years Ago in True: Wow, I can hardly believe this was already 10 years ago! Canada: Outpruding the U.S.
This Week's Honorary Unsubscribe goes to Edward Thomas. A policeman, Thomas was the kind of guy you want a cop to be.
Read his amazing story in the Archive: Edward Thomas (OK to share link)
---
Subscriptions to This is True are Free athttp://www.thisistrue.com. All stories are completely rewritten using facts from the noted sources. This is True® is a registered trademark. Published weekly by ThisisTrue.Inc, PO Box 666, Ridgway CO 81432 USA (ISSN 1521-1932).
Copyright ©2015 by Randy Cassingham, All RightsReserved. All broadcast, publication, retransmission to e-mail lists, WWW, or any other copying or storage, in any medium, online or not, is strictly prohibited without prior written permission from the author. Manual forwarding by e-mail to friends is allowed IF 1) the text is forwarded in its entirety from the "Since 1994" line on top through the end of this paragraph and 2) No fee is charged. We request that you forward no more than threecopies to any one person — after that, they should get their own free subscription. We always appreciate people who report violations of our copyright to us.
You can subscribe free by e-mail and get this delivered to you every week.