To get these issues free by e-mail each week, just subscribe using the form above -- your privacy is Randy's policy. (Or cruise around the web site to see more samples, archive, and info on our terrific book collections of thousands of past stories.)
Since 1994, this is the 1097th issue of Randy Cassingham's...

---
Before the Stories: The other evening I was watching the 1970s TV show Emergency! (Episode 52; Season 3, #20) — rescuing "The Hermit" from his collapsed cave — when Roy hands something to Chet Kelly. "Here, Tim, take this" he says. Tim? Chet was played by Tim Donnelly; Kevin Tighe called him by the wrong name. Oops! But they just left it in there, figuring no one would notice. Little did theyknow that we'd be watching it in the 21st Century, and could punch a button to rewind 10 seconds while saying, "What did he just say?" The Hermit was played by Pat Buttram who, if you're a dino like me, you will know as "Mr. Haney" on Green Acres (and if you're more of a dinosaur than I am, you'll remember him as Gene Autry's sidekick in more than 40 movies and on TV's The Gene Autry Show from 1950 to 1956, which iswell before my time).
---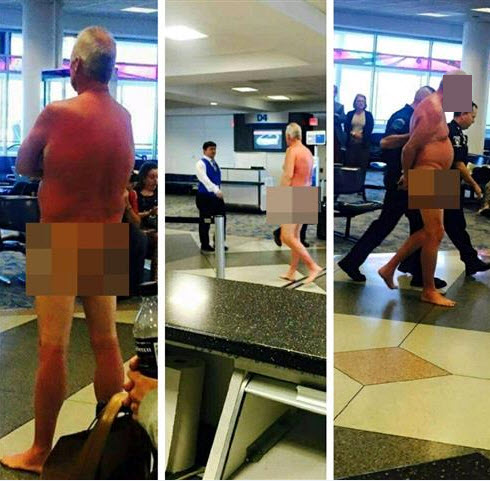 Barely Adequate Security: A man trying fly to Jamaica from the Douglas Airport in Charlotte, N.C., was apparently incensed that he wasdenied boarding on the overbooked flight. "I seen some people running and I was wondering what they was running from and people were standing there snickering," said one witness, so she went to look. The man was "standing there with his arms crossed and hollering at the lady at the desk," Sherry Ketchie said. "He stood there for a moment and then started taking off his clothes." All of them. "I ain't never seen nothing [like it] in my life,"Ketchie added, so "I got out my phone and started taking pictures." She says the man was in the concourse without any clothing for about an hour before finally being escorted away — but police said he would not be charged with any crime. (RC/WBTV Charlotte) ...An hour to get a response inside the "security" area? Yep, they sure know how to make travelers feel safe.
Momma's Boy: Theodore Berry, 24, came within 35 votes of being elected to the Rockland (Me.) City Council last year. This year, Berry was arrested for assault after allegedly knocking a woman down, injuring her. In court, representing himself, Berry said his right to privacy was violated by a newspaper report on his arrest, and he demanded the judge order the Bangor Daily News to withdraw the article, and remove it from its web site. He also demanded the judge order thepolice officer who released arrest details to the newspaper be demoted. Judge Patricia Worth refused to issue such orders. She lectured that having the legal system open to the public is an important protection for democracy and all citizens. "That sunshine, that bright light, is the way to be sure" the government doesn't abuse rights. "Understood, news of a criminal prosecution is difficult. It's difficult for defendants and victims." But that difficulty isnot as important as open government. Berry's mother, Bethany Berry, interrupted court proceedings to tell her son, "Say you're innocent!" Berry dutifully told the judge, "I'm innocent, your honor." The judge, not knowing who had made the interruption, ordered that "The person who just felt they had to tell the adult what to say can go" — ordering her out of the courtroom. Berry also tried to get the judge to drop a restraining orderkeeping him from contacting the victim. But Knox County Assistant District Attorney Jeff Baroody told the judge that the order should stay in place: "There was a three-year plan to marry the victim written in a letter sent to the victim's mother," he said, and he thought Berry would try to influence her to drop the charges. Last, after the judge refused to seal the court proceedings to keep them from the public, Berry finally hired a lawyer to represent him. (RC/Bangor DailyNews) ...Before that, Berry had a fool for a client.
Advertisement
Drone Pilots Only

Get Your Wings! Custom metal Drone Pilot Wings dress up your shirt, jacket, and/or equipment box, showing your pride and professionalism in your hobby. Makes a great gift, and is actually less expensive than most message t-shirts (lasts longer, too).
The North Pole is a Very Happy Place: When Alaska legalized recreational use of marijuana, the town of North Pole considered, and then rejected, an option to ban pot sales in the town, so the city "where the spirit of Christmas lives year 'round" will also allow residents and visitors to purchase and use pot. During the city council meeting considering the measure, Santa Claus — his real name — spoke out in favor of allowing a marijuana dispensary to openthere. "As far as the image goes here at North Pole, how do most people perceive Santa Claus?" Claus asked. "I would say Santa Claus is a pretty jolly fellow. I am a medical marijuana patient. I would like to have access to medical marijuana here in North Pole and not have to travel to Fairbanks to get it." (MS/Fairbanks News-Miner) ...Better leave out some extra munchies this Christmas, kids.
Heisenberg's Uncertain Principles: "This marks the beginning of many more law enforcement initiatives by the Clayton County Police Department to make Clayton County a safe place for its citizens to live," said Police Chief Gregory Porter after a prostitution sting. "The operation was a fine example of how effective the community-oriented police concept can work by partnering with the community to address their public safety concerns." One of the 12 menarrested in the sweep for pandering was Walter Lee White, 49 — a sheriff's captain from neighboring Fulton County. "He has worked for the Fulton County Sheriff's Office for more than 20 years," a Fulton County spokeswoman said. "His status is undetermined at this time while command staff gather more information." (RC/Atlanta Journal-Constitution) ...Perhaps he can move to Albuquerque and become a high school chemistry teacher.
Plus More Stories...
Extreme Honesty: Murderer will "get no sympathy from us, any of us," family says.
Necessity is in the Eye of the Beholder: State needs two special drivers to take legislators home when they've been drinking too much on the job.
Cut and Run: It's bad enough that a woman got a terrible haircut, but wait until you hear how they proposed to fix it!
Textbook Case: Arsonists used an arson investigation manual to help keep them from being caught, but they made such stupid mistakes they were easily caught anyway.
Don't Worry, Bro: Another "test" of another "bulletproof" vest, another stupid death.
Wright is Wrong: Another teacher stupidly tries to be "cool" among teens, and ends up arrested.
Instant Replay: Wanna-be security guard accidentally shoots himself ...during gun safety training.
...in True's Premium edition. You can still read all of these stories: just ask for your upgrade to start with the 21 June issue.
---
Did You Get the Shot?
Russian Woman Accidentally Shoots Herself While Taking Selfie
AFP headline
---
Did You Find an Error? Check the Errata Page for updates.
This Week's Contributors: MS-Mike Straw, RC-Randy Cassingham (Alexander Cohen is off this week).
---
Two Years Ago, I Predicted the Supreme Court pretty much had to rule in favor of marriage equality. (Or, as I put it then, "I can't imagine that the top court in the Land of the Free could rule that such discrimination is warranted.") My essay (in my blog) argued that "gay marriage" is a conservative value. My only disappointment was that the vote at The Supremes was 5-4.
"No union is more profound than marriage," read the court's majority opinion, "for it embodies the highest ideals of love, fidelity, devotion, sacrifice, and family. In forming a marital union, two people become something greater than once they were. As some of the petitioners in these cases demonstrate, marriage embodies a love that may endure even past death. It would misunderstand these men and women to say they disrespect the idea of marriage. Their plea is thatthey do respect it, respect it so deeply that they seek to find its fulfillment for themselves. Their hope is not to be condemned to live in loneliness, excluded from one of civilization's oldest institutions. They ask for equal dignity in the eyes of the law. The Constitution grants them that right."
But there was indeed dissent. "Who ever thought that intimacy and spirituality [whatever that means] were freedoms?" Wow: I would have thought nearly everyone. What business is it of mine (or of the government's!) what sort of intimacy or spirituality others want to practice? As long as they don't trample my rights, it seems to me other consenting adults should be able to do what they want. A conservative value indeed!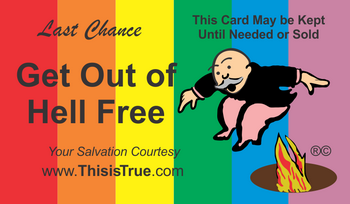 More Freedom: what a fitting gift for True's 21st birthday — today. It was this day in 1994 that I came up with the idea for this publication, and wrote the first sample stories.
A friend of mine is an ordained minister, and when she heard the news this morning, she went to her county's courthouse to wait on the steps for any couple who wanted to get married. That's an amazing way to show support for equal rights.
I guess it's no surprise that orders for the "Pride" version of the Get Out of Hell Free card ramped up this week. You can bet the American Taliban is sputtering over this ruling, but we must fight back against their own version of Sharia law. Click the card (or here) to order some.
---
There Was an Interesting Complaint from "chamkwangila" in Dar Es Salaam, Tanzania: "Obviously you do not blog any oddly enough news from Africa. I wonder why?"
Well, ignoring that "oddly enough" is a trademark of the Reuters news agency, so naturally I'm not going to bill my work with their title, "Obviously" "chamkwangila" was not a subscriber, but I checked his address to be sure, and indeed found he is not a current or recent subscriber. So "I wonder why" he chose to argue from total ignorance? Of course I've had many stories from Africa, I told him, despite the difficulty in gettingstories from any foreign country, since I only read English, and have to be able to find my stories from mainstream news sources who publish in English. Whether or not they also are published on my blog depends on many factors, but only a very tiny percentage of stories from the weekly newsletter ever appear on the blog. This is True is about thinking, since the lack of thinking is hurting the world and its inhabitants. "You might try subscribing and learningsomething," I told him.
But you guessed it, he didn't reply. So many people choose to hide behind obviously fake names and take hit-and-run potshots at others, rather than stand up proudly with their own name to engage in a dialogue, or work toward improving things. But then, he probably still hasn't thought about it.
Last, the Feel-Good Story of the Week comes out of Colorado. It starts, however, in tragedy: a family — a man, woman, and four kids — rolled their car over in Brighton, which is northeast of Denver, along Interstate 76. The father of the family was killed. I know, this doesn't sound too feel-good, but stay with me.
When Brighton Police officer Nick Struck arrived at the crash, one of the other first responders handed him one of the kids — a 2-year-old girl who had been thrown out in the wreck. "The first thing we do when we get on scene is we just try to, if we can comfort anybody, of course we're going to go to the kids," Struck said. He has a 2-year-old daughter himself, and he did what he does to comfort her: "My daughter ...when she falls down and hurts herself? I sing'Twinkle Twinkle Little Star'."
"I know for my daughter, it's just the attention that someone is there, listening," Struck said later. "It's the same for adults, but kids, they take it on a whole other level. They'll gravitate to you, and I remember when I was holding her, she was grabbing the back of my arm, which is something my daughter does. Just stroking to the music, 'twinkle, twinkle'."
The scene was captured by Jessica Matrious, a witness to the accident, who took a photo of Strunk distracting the little girl to perhaps give her better memories of that day: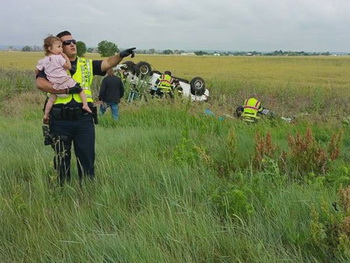 Matrious said the family's car blew a tire, and crashed. The entire family was thrown out of the car as it rolled over.
"I have a 2-year-old daughter and she's my first kid," Struck said. "So of course, your first thought is that could be your little daughter. I'm not a medical person, but I know how to give a hug to somebody, and you better believe every one of those officers on scene would do the same thing."
And here's the thing: cops, firefighters, and medics do this every day. It's not at all unusual. What's different here is someone was there to take a photo, thanks in large part to cameras being included in nearly every cell phone. Cameras not only catch wrongdoing. More and more, they also catch the heroism that first responders perform every day. And that makes me feel good.
Comments? Want to see the photo larger? This is on my blog: Everyday Heroism.
Oh, and wear your seatbelts, OK?
---
The Latest Posting to Jumbo Joke: The Senator's Decision.
Ten Years Ago in True: Yeah, this story brought some complaints! Another Symptom of the Same Disease.
Advertisement
Floored By Remodeling Decisions?

Stone or tile? How do you decide?
The Flooring Lady, an independent flooring expert, will help youfind your way through the maze of questions.
Explore The Flooring Lady
This Week's Honorary Unsubscribe goes to Jack Rollins. A business manager, Rollins had to invent his interesting niche.
Read his story in the Archive: Jack Rollins (OK to share link)
And So Long to Phil Austin, a founding member of the Firesign Theatre, best known as the voice of "Nick Danger: Third Eye", dead June 19 at 74.
---
Subscriptions to This is True are Free athttp://www.thisistrue.com. All stories are completely rewritten using facts from the noted sources. This is True® is a registered trademark. Published weekly by ThisisTrue.Inc, PO Box 666, Ridgway CO 81432 USA (ISSN 1521-1932).
Copyright ©2015 by Randy Cassingham, All RightsReserved. All broadcast, publication, retransmission to e-mail lists, WWW, or any other copying or storage, in any medium, online or not, is strictly prohibited without prior written permission from the author. Manual forwarding by e-mail to friends is allowed IF 1) the text is forwarded in its entirety from the "Since 1994" line on top through the end of this paragraph and 2) No fee is charged. We request that you forward no more than threecopies to any one person — after that, they should get their own free subscription. We always appreciate people who report violations of our copyright to us.
You can subscribe free by e-mail and get this delivered to you every week.