To get these issues free by e-mail each week, just subscribe using the form above -- your privacy is Randy's policy. (Or cruise around the web site to see more samples, archive, and info on our terrific book collections of thousands of past stories.)
Since 1994, this is the 1188th issue of Randy Cassingham's...
| | |
| --- | --- |
| 19 March 2017: A Story That Will Blow You Away | Copyright ©2017, Forwarding Prohibited |
---
Before the Stories: Hello from Texas — are heading out of Dallas, where I spoke at a conference. Wish I had time for a reader gathering, since the last time we did that in Dallas we had a big turnout. I'll also be in San Diego later this year, and will have more time there and will set something up. (Also Pasadena in September — more on that later.)
---
Now We Know: "We'll never really know what happened," Joy Hansen wrote in a sympathy card to Kathleen Mills, after her husband died at the Aging Joyfully assisted-living center in Eden Prairie, Minn. Hansen is the owner of the facility. Bradley Mills, 79, had heart problems, but was doing OK, so the state investigated his death. Their findings: when an aide helped Mills to bed that night, she forgot to plug in his heart pump. It has batteries, but they only last a few hours, so when they died in the middle of the night, so did Mills. "I knew it was their mistake," Mrs. Mills said. "But to sue, what does it get you?" (RC/Minneapolis Star-Tribune) ...Revenge.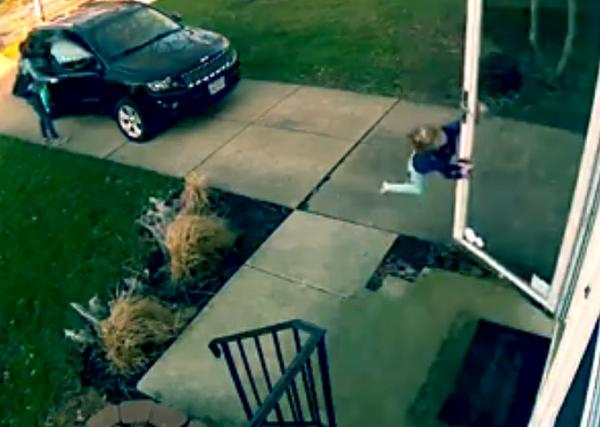 How to Sweep a Girl Off Her Feet: Brittany Gardner and daughter Madison, 4, were heading into their Lyndhurst, Ohio, home during a major windstorm. As Madison opened the door, the wind caught it, blowing the door open — with Madison still holding on. "All I hear is 'mommm!'," Gardner said. Home surveillance video captured the door carrying the girl off. "She is totally OK," Brittany said. "She was scared at first, then was laughing away at it. She held on until I took her off the handle." Brittany edited the video — to add Frank Sinatra's "Come Fly with Me" — and posted it on Facebook, where it was widely shared. (MS/WJW Cleveland) ...Luck was a lady that night.
A Medium that's Rarely Well Done: Iowa State Sen. Mark Chelgren is pushing legislation to limit the number of Democrats state universities can hire as professors. When reporters looked at the bio on Chelgren's web site to see what he knew about education, they noticed he claimed he had a business degree from the Forbco Management School. What's Forbco? A company that used to operate a Sizzler steakhouse restaurant in southern California; Chelgren apparently simply was trained as a manager by the company. When that went public, Chelgren quickly deleted the claim from his bio; he has no college degree at all. (RC/NBC) ...Typical politician: more sizzle than steak.
This Issue's Exclusive Sponsor: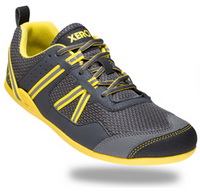 New from Xero Shoes!
Xero Prio is our 'barefoot' running shoe. It still has our famous protective minimalist sole, but with comfortable and super-lightweight uppers that look good, too. Naturally inspired, supernaturally awesome.
He Needed an Effective Lawyer: Edward M. Czuprynski says he can't do his job effectively without alcohol, and complained that Saginaw County, Mich., District Judge M. Randall Jurrens had "abused his discretion" by cutting him off from booze as part of his probation. But less than a month earlier, when he got a probationary restriction lifted that had banned him from using medical marijuana, he told Judge Jurrens he didn't want to challenge any other prohibition the judge had imposed. What changed his mind? Perhaps it was getting pulled over after buying beer. Czuprynski is a lawyer. (AC/Bay City Times) ...In his defense, when he forgot to argue against the drinking ban, he was sober.
Nine More Stories: She stole more than $150,000, so she's sentenced to a $100 fine and one day in jail. Florida man steals from Toys for Tots donation jar (and will surely get more than one day in jail). Shoplifting case turns to armed robbery when dude pulls a knife on store security guard. Politician (who has wife and children) caught having sex ...with a teenage boy. Florida city doesn't keep the old one when it switches Internet domains, so naturally there's an "adult" site there now, and.... Man with minor irritation pulls a gun (and of course his life instantly becomes a major irritation). Florida drive-thru window employee leads a team of off-duty firefighters and medics to save a cop in the feel-good story of the week. Man decides to run over a rooster with his golf cart (well sure it was in Florida!), and things go downhill from there. Man in Florida can't find his car keys, so he drunk-drives in forklift instead. You can still read these stories: just ask for your upgrade to start with the March 19 issue. Subscriptions to the expanded edition start at less than $15. See your upgrade options here.
Talk Fast: Brian Murphy, 25, of Jacksonville, Fla., says the lights were out, but has a theory as to how his girlfriend was shot in their bedroom. He had taken his dog, Diesel, out for a late-night walk, and when he got back to the bedroom, he saw a flash and heard a loud bang. All he can figure is, Diesel jumped up on the nightstand, where Murphy's pistol was laying, and must've accidentally hit the gun's trigger. The gun happened to be pointed at the woman, and she was shot in the leg. After hearing Murphy's theory, a neighbor was ready with her opinion. "Bogus," said Dianna Fay. "A dog can't fire a gun. That's crazy." (RC/WTEV Jacksonville) ...And she ought to know, since she wasn't there.
---
The Eight-Legged Mammal
Man on LSD Calls Police, Says Spider Gave Birth in His Stomach
WRTV Indianapolis, Ind., headline
---
Did You Find an Error? Check the Errata Page for updates.
This Week's Contributors: AC-Alexander Cohen, RC-Randy Cassingham.
---
The Video of the Little Girl blown away by the wind is on Facebook, here. As of yesterday, it's been viewed 1.7 million times.
Sigh! I'm re-running the Xero Shoes ad for free this week (above), since there was a screw-up in their link before, which made the click not work for most of you. Sorry if you had trouble!
While in North Dallas this week, we stopped at a Starbucks for some afternoon refreshment. Drew took our order, and was a delight, so I gave her a Get Out of Hell Free card; her big grin showed she appreciated it. We then turned our attention to the barista who was to make our drinks ...and I noticed he was not having a good day. He wasn't grumpy, exactly, but he didn't seem happy, either — until I handed him a GOOHF card, too. In response, he cracked a huge smile, then laughed. After a pause, he said thanks for "the first genuine laugh I've had all day."
That is really what the cards are for: to give people permission to not take everything quite so seriously, and to have a better day. You're most welcome, Keenan, and may the card give you more smiles later: they take a long time to wear out.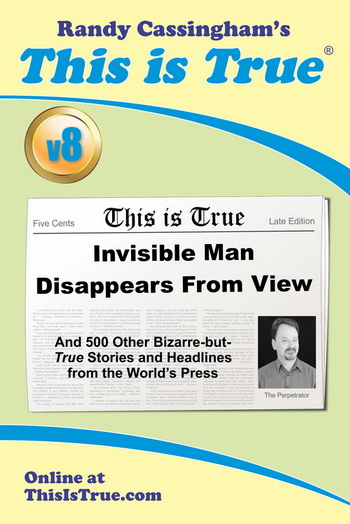 We're Still Making Progress on True's books. It has been a long and frustrating process: just as I'd get an assistant up to speed, they "had to" move away, and for really crazy reasons like wanting to be with their husbands who moved to new jobs in other states, and the process would have to start over. Well, one of them ended up moving back, and Clare has done a great job of getting things caught up: we have eight books shipping now, in both printed and ebook formats.
The DRM-free (read: no copy protection) ebook files are available in both Mobi (Kindle and similar) and ePub (Apple and similar) formats. Click the cover image above (or here) for more details. You can download the files immediately upon purchase. If you like having paper, the ebook format comes free when you order the paperback version, so you can have a reading copy and a shelf copy.
The shopping cart has a How Do I Read True's Ebooks? page if you need help with loading the file into your Kindle, smartphone, tablet, or computer to read the electronic forms: you certainly don't have to have a Kindle (or buy the books from Amazon, for that matter).
And Yes, More Are Coming as we catch up on our huge backlog. We seem to keep churning out stories to put in between the covers!
---
Ten Years Ago in True: The Florida security guard is 81 years old, and.... Better Off Retired.
Today on Randy's Random: Everyone Needs to Understand This (one of those "Wow" thoughts).
This Week's Honorary Unsubscribe goes to George Weinberg. Weinberg, a psychologist, coined a word you have heard, and may have used, and turned a certain "mental illness" on its head. Read his story in the archive.
And So Long to Rock 'n' Roll pioneer Chuck Berry, dead March 18 at 90.
And Goodbye To newspaper columnist Jimmy Breslin, a Pulitzer Prize-winning New York staple for more than 40 years. He died March 19 from pneumonia, at 88.
---
This is the Premium Edition of This is True. All stories are completely rewritten using facts from the noted sources. "This is True" is a registered trademark of ThisisTrue.Inc, PO Box 666, Ridgway CO 81432 USA, http://www.thisistrue.com.
Copyright ©2017 by Randy Cassingham, All Rights Reserved. All forwarding, broadcast, publication, retransmission or copying, in any medium, online or not, is strictly prohibited without prior written permission, with exceptions shown in the Premium FAQ. Get details on how to send a copy of this issue to a friend.
ThisIsTrue.Inc
PO Box 666
Ridgway CO 81432
USA
Unsubscribe
|
Change Subscriber Options