To get these issues free by e-mail each week, just subscribe using the form above -- your privacy is Randy's policy. (Or cruise around the web site to see more samples, archive, and info on our terrific book collections of thousands of past stories.)
Since 1994, this is the 1153rd issue of Randy Cassingham's...

---
Was This Issue Forwarded to You?

Click Here to Get Your Own Free Subscription.
---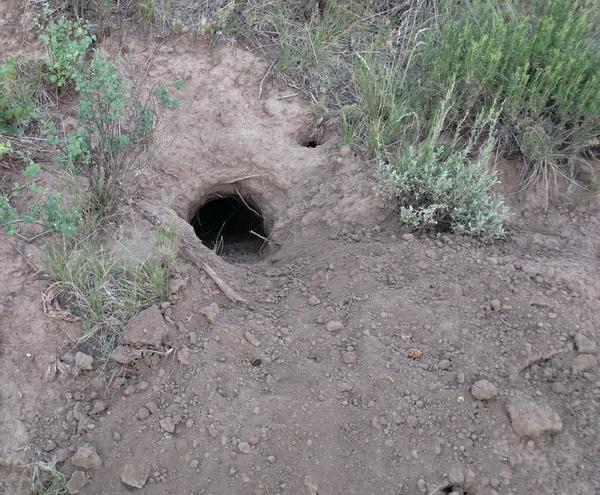 Before the Stories: We have a new resident on our property — an American badger (Taxidea taxus). I've seen it once, and it was big!, but unfortunately didn't have my cell phone or camera readily available to get a photo, so this pic of its burrow (about 10" in diameter), which I found later, will have to suffice for the time being.
"What are you going to do to get rid of it?!" someone asked me. Nothing! They eat mice, voles, and prairie dogs, of which there are plenty around here and could use some thinning out. It appears this was a prairie dog den before the badger went in after them, and that's just fine with me! They can be nasty, but usually only if they're cornered, and I have no intention of getting in its way. I just hope our indoor/outdoor cat is as smart. So far, so good....
---
Thank Goodness it Wasn't Plugged In: Daniel Wolfe was walking to the library in Fort Lauderdale, Fla., when a man tried to rob him. The weapon used: an electric guitar. "I was on the phone with 911 when he hit me," Wolfe said of the incident, which the local newspaper dubbed a "guitarmed robbery attempt." Wolfe fended off the attack with his arm, which left a gash that required stitches. After a "tug-of-war" over Wolfe's computer case, the man ran off, but police quickly caught Edward J. Chestnut III, 23, who was held on weapons charges. (RC/South Florida Sun-Sentinel) ...Heck yeah a guitar can be a murder weapon, which you'd know if you heard Chestnut play "Stairway to Heaven".
Voluptuous Volunteerism: "A restaurant extended support to help make a local Cub Scout Day Camp possible and provided volunteers for the camp," the Boy Scouts of America said in a statement. Parents, however, were not happy about this particular restaurant sponsoring a Frontier District Day Camp in Denver, Colo. Michelle Kettleborough discovered the sponsorship when she picked up her 7-year-old son from the camp. "I step back for a second," she said, "and I take a look and I'm like, 'are they wearing Hooters visors?'" After parents complained, Hooters Colorado took down photos from their Facebook page showing volunteers wearing "traditional" Hooters-style attire. "It's just the philosophies of the two organizations are polar opposites and I just don't think they should be together," said Marsha Corn, who also sent her concerns to the local Boy Scouts chapter. "The restaurant assisted with the costs of putting on the camp, and through their community volunteering several of their waitresses donated their time to help staff the camp," a district executive replied. "Glad to hear your son had such a good time." (MS/KMGH Denver) ...Hooters is also sponsoring the new Owl Spotting merit badge.
Sign on the Blue Line: After the recent murder of five police officers in Dallas, Texas, tensions had been high in Homestead, Pa. That played out at the Eat N' Park restaurant, where a group of local police officers were having dinner. A couple "goes to sit down and the guy looks over at one of the police officers and was like, 'Nah I don't want to sit here'," employee Jesse Meyers said. "So they got moved completely opposite, away from the police officers." But the couple got a surprise when their bill came: it had been paid in full, and there was a note on it. "Sir, your check was paid for by the police officers that you didn't want to sit next to," one of the officers wrote. "Thank you for your support. I left a $10.00 tip, too." (MS/WTAE Pittsburgh) ...Sometimes the checkbook is mightier than the sidearm.
This Issue's Exclusive Sponsor:
Losing Sleep Trying To Decide On A New Mattress?

Memory foam or latex mattresses/toppers, airbeds or waterbeds, innerspring coil or futon mattresses, all without sales hype: not affiliated with any store or manufacturer. Just personal non-biased perspective on your options. Explore The Mattress Lady
More True Craziness: Britain's Stansted airport has a silly problem they're throwing money at, rather than common sense. High school teachers use school's computer chat system to disparage the students. Burglar gets less than $60 ...and leaves behind his $500 gun. "Ancient" British bylaw makes charity event illegal, so police chase the kids off. Guy named Ronald McDonald involved in shooting at a Sonic Drive-In. Man steals lingerie store mannequin; the weird part is where the police found it. Murderer posts photo of the man he shot online. Florida "street magician" arrested after he tries to make woman's bikini bottom disappear (without her approval). It's not too late to read all of these stories: just ask for your upgrade to start with the 17 July issue. Upgrades start at just $12.50: See your options here.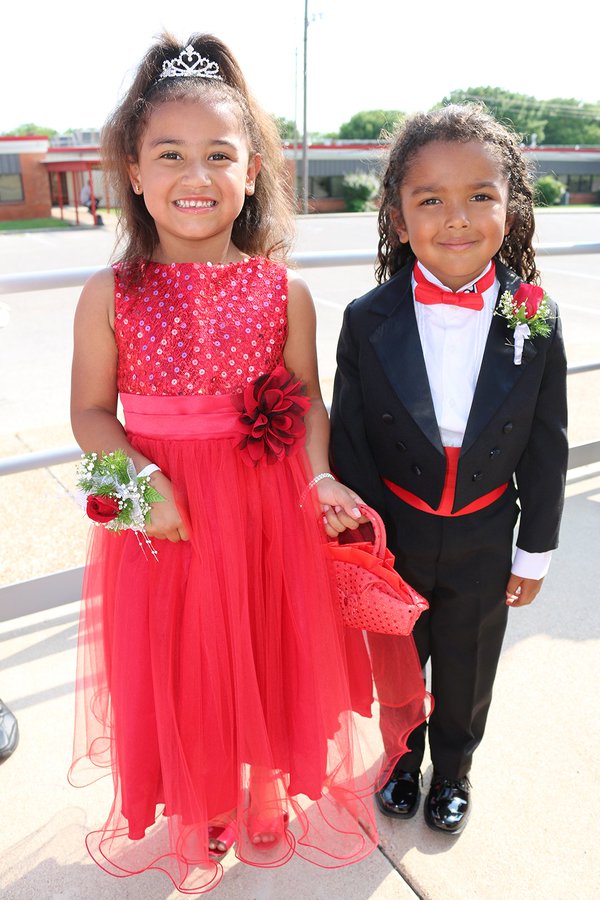 Vicarious Living: Kids no longer have to wait until high school to attend the senior prom: more and more, pre-schoolers are getting their own, complete with formal wear and limo rides. And it's not just parents who missed out on their own proms doing it: even schools are hosting them. "It's adorable. Girls dancing with girls, boys running around," says Lisbeth Morales, who acknowledges that in high school, "I did not go to prom, no." Not everyone thinks it's healthy. "Some of the pictures that I saw were low-cut gowns, you know, getting their hair done, putting makeup on," said Dr. Sanam Hafeez, a child psychologist. "One of the biggest consequences is that you are missing out on the innocence of childhood; of just playing around, and not having to think about what people think of you — about what your hair looks like, or if this dress makes you look fat." (RC/WCBS New York) ...A better question: Does this prom make my parenting look pathetic?
Addressing Issues: Nicole Berns and Daniel Perry do not live in the White House. They do, however, live at 1600 Pennsylvania Avenue in Washington, D.C. The key is the two letters that come at the end of the street address: "N.W." for the Executive Mansion, in the District's Northwest quadrant; "S.E." for the 77-unit building in Southeast where Berns and Perry rent apartments. The Zip Codes are also different. The building's developers chose the address to make a splash: the previous building, a used-car dealership, bore the address 1550. Now mail for various presidents — current and former — comes to the apartment building. Its residents' mail sometimes goes to the White House. And when residents show their ID, they sometimes get a skeptical response. (AC/AP) ...The occupant of the White House knows that feeling.
---
Duck!
Woman Threatens Man with Gun over Missing Duck
Manitowoc (Wisc.) Herald Times Reporter headline
---
Did You Find an Error? Check the Errata Page for updates.
This Week's Contributors: MS-Mike Straw, AC-Alexander Cohen, RC-Randy Cassingham.
---
In Case You Didn't (or couldn't) "hover" the prom photo for the pop-up details, note that photo was posted in public (on Twitter) by the Belton (Texas) Independent School District, showing how at least some schools are behind this trend. A reader in the U.K. noted that such functions are popular there, too.
"When You Sell Out of the Water Bottles," asks a reader who I'll leave nameless, "will you be ordering more? Unexpected car repairs have left me tight for a bit." She noted that I said I only ordered 324 bottles, and was anxious to grab one. But the answer is probably not: they're expensive bottles with not a lot of markup, and I don't want to keep a lot of cash tied up in inventory — even popular items' sales slow down after a few weeks. Odds are these will last a few months more, though, so the reader is likely fine. I reported last week that they were about a third sold (108). That number has broken 40 percent now, but the pace is slowing down, as expected. Info/ordering: Get Out of Hell Free Insulated Water Bottle.
When I Ran The Above Question in the full edition on Monday, the furthest thing from my mind was that Premium subscribers would offer to buy her one. Well, not only did several offer, but four others did. It ended up being a bit of a juggle to figure out what those buyers (after the first one) wanted me to do. Two said just use the money to support True, and another wanted me to do something to support medics. Done — what a generous bunch! As for the reader herself, when I sent her a note she replied with thanks, and "I'm glad you left me anonymous. Not that I think anyone would recognize me by my rather common first name, but because now I represent 'Everyreader' and I like that. Since I had planned to spend a few bucks on the bottle when my purse recovers, and now I don't have to, I will instead upgrade to Premium! That's obviously a special group, and I want to be part of it."
They are, and it'll be my pleasure to welcome 'Everyreader' to that group! If you'd like to join her, see your options on the Upgrade page.
---
Ten Years Ago in True: Congressional candidate runs a Spirited Political Campaign (but...).
This Week's Honorary Unsubscribe goes to Bloeme Evers-Emden. After a rough childhood, Evers decided to help others who had rough childhoods: her story is remarkable. You can read it in the Archive: Bloeme Evers-Emden (OK to share link)
And So Long to an Garry Marshall, an actor, writer, and producer who created Happy Days (and its various spin-offs, including Mork and Mindy), developed The Odd Couple for television, directed Pretty Woman, Runaway Bride, and more. He died July 19 from pneumonia at 81.
---
Subscriptions to This is True are Free at http://www.thisistrue.com. All stories are completely rewritten using facts from the noted sources. This is True® is a registered trademark. Published weekly by ThisisTrue.Inc, PO Box 666, Ridgway CO 81432 USA (ISSN 1521-1932).
Copyright ©2016 by Randy Cassingham, All Rights Reserved. All broadcast, publication, retransmission to e-mail lists, WWW, or any other copying or storage, in any medium, online or not, is strictly prohibited without prior written permission from the author. Manual forwarding by e-mail to friends is allowed IF 1) the text is forwarded in its entirety from the "Since 1994" line on top through the end of this paragraph and 2) No fee is charged. We request that you forward no more than three copies to any one person — after that, they should get their own free subscription. We always appreciate people who report violations of our copyright to us.
---
You can subscribe free by e-mail and get this delivered to you every week.
Last Week's Issue