To get these issues free by e-mail each week, just subscribe using the form above -- your privacy is Randy's policy. (Or cruise around the web site to see more samples, archive, and info on our terrific book collections of thousands of past stories.)
Since 1994, this is the 1076th issue of Randy Cassingham's...

---
The Nanny State's Nanny Police Force: The Counter-Terrorism and Security Bill, currently before Parliament in the United Kingdom, has a special counter-terrorism measure designed for nursery school staff and "registered childminders": they must report toddlers who are "at risk of becoming terrorists." The directive, written by the Home Office, says nurseries and childcare providers, as well as schools and universities, have a legal duty "to preventpeople being drawn into terrorism." As such, they must create training programs for staff "that gives them the knowledge and confidence to identify children at risk of being drawn into terrorism." Such a rule would be "unworkable," says Conservative MP David Davis. "It is heavy-handed," and "I cannot understand what [nursery staff] are expected to do." Indeed, says Isabella Sankey, policy director for Liberty, a human rights organization,such a rule would "sow seeds of mistrust, division and alienation from an early age." (RC/London Telegraph) ...Which is pretty much how terrorists are created.
Current as of 1947: Publishing house HarperCollins sold English-language atlases to schools in the Middle East: atlases that don't show Israel. "Maps can be a very powerful tool in terms of de-legitimizing 'the other' and can lead to confusion rather than clarity," said Dr. Jane Clements, director of the Council of Christians and Jews. "We would be keen to see relevant bodies ensure that all atlases anywhere reflect the official United Nationsposition on nations, boundaries and all political features." A spokesman for Collins Bartholomew, the company's map subsidiary, said including Israel in those atlases would have been "unacceptable" to their Persian Gulf customers, and the particular edition reflected "local preferences." But a corporate spokesperson said "HarperCollins regrets the omission" of Israel, and announced the company has removed the atlas from sale, and "allremaining stock will be pulped." (MS/London Telegraph) ...Next up: a special edition for some customers in the American South, showing the Confederate States of America.
Advertisement
Floored By Remodeling Decisions?

Stone or tile? How do you decide?
The Flooring Lady, an independent flooring expert, will help youfind your way through the maze of questions.
Explore The Flooring Lady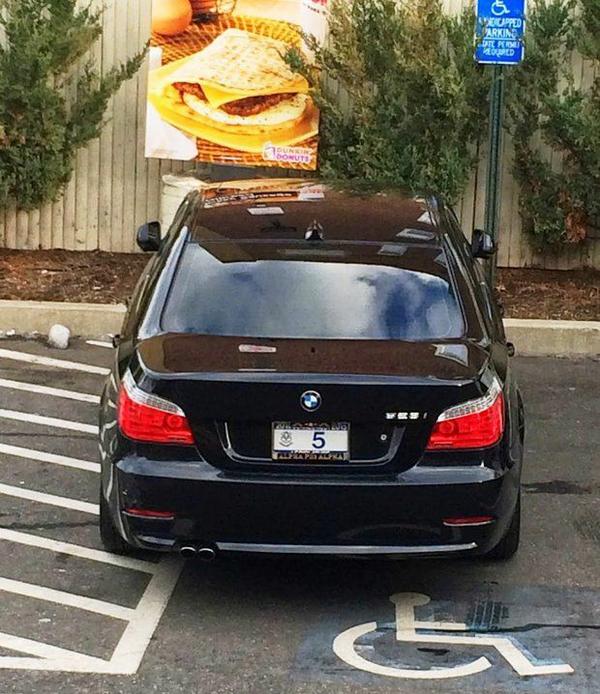 Above the Law: Connecticut State Rep. Brandon McGee Jr, who is on the Human Services Committee, which among other things oversees the state Office ofProtection and Advocacy for Persons with Disabilities, says he "made my usual run" to Dunkin' Donuts near the Capitol recently. An angry citizen took a photo of his parking job — in a close-in space reserved for handicapped drivers. The Democrat is not disabled, and does not have a handicapped parking permit. The photographer, who wanted to remain anonymous, gave it to someone else, who posted it online; McGee's distinctive Legislator license plate on the BMW isclearly visible. "The person who gave me the photo says he does it regularly," the poster said. "I talked to Rep. McGee about the seriousness of his lapse in judgment," House Speaker Brendan Sharkey said in a statement. "He is rightfully embarrassed, he made a public apology, and will donate the cost of the ticket he could have received to an appropriate charity." (RC/Hartford Courant) ...Don't tell anybody, but the "appropriate charity"he has in mind is his reelection campaign fund.
Doctor on Wheels: When Carroll Frazier Landrum, 88, gave up his medical office in Edwards, Miss., because of crime in the area, he didn't give up his practice. "I had my car, and I realized I could do most everything out of it that I needed to be doing." Patients meet him in a parking lot; sometimes he drives out in their direction. The only doctor practicing in a town where the 2010 census found an annual income of $12,308, he charges $45 a visit and sometimes waiveseven that. But Landrum says the Mississippi State Board of Medical Licensure is after him for writing prescriptions at multiple businesses. He says the board warned him that if he didn't hand over his license, he'd face a public hearing. "They told me it would harm my reputation" to have such a hearing, he said. "I plan to fight this." Nine thousand people, nearly nine times as many as live in Edwards, have now heard about his case — and have signed anonline petition backing him. (AC/Jackson Clarion-Ledger) ...Maybe the licensing board should worry about its own reputation.
---
So Angry, He Was Breathing Fire
Reptile Store Owner Hit Employees with Bearded Dragon, Deputies Say
South Florida Sun-Sentinel headline
---
Did You Find an Error? Check the Errata Page for updates.
This Week's Contributors: MS-Mike Straw, AC-Alexander Cohen, RC-Randy Cassingham.
---
Last Week's Essay about Freedom of Religion generated 50+ protest unsubscribes, plus some who lied and said that the newsletter they signed up for, and confirmed that subscription request, was spam, and reported it as such. Gee: how godly of them!
Not everyone commented as they clicked "Go to Hell," but a few did — and they're quoted here verbatim: "Fat Dave" (no, really!) in North Dakota: "USISCRIB THERE IS A DIFFERANS FREEDOM OF RELIGION IT'S NOT FROM RELIGION". For a response, I was torn between "Um, whut?" and "Punctuate much?" Wayne, a civilian employee of the U.S. Army: "Let's get over it, we came for religious freedom, not for 'noreligion at all'. As you say, nobdy asked me. Unsubscribe." And do all citizens actually have that freedom, Wayne? If not, how can we make it so? Bill in Missouri: "As a Christian, I found some of your comments offensive !! Unsubscribe!!" Which comments, specifically?
David in Washington: "I have generally enjoyed the common sense commentary and stories, but feel you are missing a basic point regarding the Winfield, Alabama, story. I can't argue with most of what you say, but I know the Founding Fathers specifically wanted God mentioned because of the underlying belief system and the moderating, positive influence on human behavior. It's nice when someone takes a stand, however you dismiss the Mayor as a little bit crazy. He's not,he's doing the best he can and places faith in his beliefs. Unsubscribe me." Hm. If "the Founding Fathers specifically wanted God mentioned," why didn't they specifically mention God in the Constitution? You know, the Constitution that the Mayor also swore an oath to uphold? And what, exactly, indicates I think he's "crazy"?
But Rather Than pick fights by replying like that, I replied to them all this way: "As clearly explained, my view is you should be able to worship as you please, and no one should dictate what your religion is. I truly would like to know which part of that you disagree with." You guessed it: none of them replied with an answer to that. Because that, of course, would require thought and exploration of their own beliefs.
The only one I sent a different reply to was five-year subscriber Sucksie (no, I'm not denigrating her name! Her e-mail address wasn't entered as Susie, but rather Sucksie!) in Utah: "I don't agree with your sarcasm!" I asked her "Sarcasm? What sarcasm? I had no sarcastic comments this week. Please point it out, and tell me what you don't agree with." You got it: she didn't reply either.
These are people who insist they are right ...but won't, or can't, say why they think so. They don't grasp that letting the government dictate what they are allowed to believe will destroy everyone's religious freedom, except for the very few who happen to agree with the government's take on things. (And these are the same people who tend to think the government screws up everything!) So they shoot the messenger rather than think about theimplications of a truly important issue. They can't grasp that I simply support everyone having the same freedom of religion they themselves enjoy. And that's a threat to their way of life?!
Of course, there was support, too. Scores of shares on Facebook, Twitter, and elsewhere. A dozen subscription upgrades. So before anyone asks: of course I don't regret a single word! Trade in non-supporting obliviots for readers who can think? You bet. Not to mention that I'm here to call things as I see them, and greatly appreciate the support a percentage of you provide to enable that.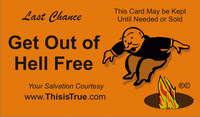 This Is, Of Course, Exactly the same sort of thing that led to me creating the (in?)famous Get Out of Hell Free cards. I expressed a rather mild opinion about someone who was completely over the top and threatenedby other points of view, and for daring to say something about it, a reader told me that in no uncertain terms I was going to Hell! Well, I figured that if some random housewife in the Bible Belt had the power to send me to Hell, I should have at least as much power to get myself out — and the GOOHF card (as I call it) was born. My wife (well, she was my girlfriend at the time) thought I was absolutely crazy to get 2,000 of them printed, but when I offered them to readers,they blew out the door so fast I had to re-order (another 2,000) the next week. A week after that I ordered 4,000. Orders kept streaming in: within six months, we had 82,000 sold, and were getting 10,000 in a run. More than once, I had to call the printer for status; they'd say "they're almost ready!" and I'd reply, "Great! Because they're all already sold, so please get started on another order."
For quite some time, orders of 20,000 had to do, because the printer didn't really want to do more than that at a time. When I came up with a full-color, two-sided version (the back explains the "7+1" Deadly Sins, with emphasis on the +1 that I came up with myself), I suspected they would sell even faster. That was true, so it was nice that the new printer, which we needed anyway since the old guy couldn't do color, was fine with larger volumes. They now print60,000 cards at a time! We've shipped nearly 2 million cards now. I put in an order for 60,000 more today, because it's entirely possible this "plug" will sell that many.
But Why Do We Need So Many?! Because pure and simple, people are sick and tired of being told what to think, and how to believe. They are good people who live good lives, do a great job of looking out for their fellow humans, and yet they are still told "You'll GO TO HELL" for some transgression imagined by someone who doesn't even follow the tenets of their own professed religion. People who can think for themselves love the cards, and they love givingthem out — the average order is for 300(!) cards. Many order our Jumbo Pack, a box of 500ish cards, and then come back for more. They're a blast to hand out because 999 out of 1,000 recipients laugh and have a better day for getting one: think about the harried waitresses, postal clerks, and retail sales associates who have to put up with obliviots every day. They instantly "get" the card and want to know if they can keep it. It's a true joy to say yes!
Want Some? Sales do help support this publication. Not so much because of their cost, which is minimal ($12 gets you 100 cards, including USA shipping), but when you give one away, you also give away this publication's URL (along with a very brief fine-print description on the back), which helps bring in new readers. Lots of people put "Someone gave me one of your cards" in the "Where did you heard about us?" box when they subscribe. The fullrange of GOOHF cards and GOOHF-themed products is shown in True's shopping cart. Have fun giving them out!
Plus, You Missed Eight More Stories: Guy figures a black man with a concealed pistol on his belt must be a criminal, but instead he tackled.... Man arrested after a drunk-driving hit-and-run crash turns out to be the sheriff ...who just implemented his annual "Sober or Slammer" anti-drunk driving campaign. The incredible government Supreme Court argument: they want to deport a college professor because of his sock.That satisfying engine roar from your new muscle car is probably fake. Couple gets married in a Costco store. Spurnned wife one-ups Lorena Bobbitt. Malpractice, Gangnam Style! Boy misses school chum's birthday party, so the birthday boy's mother sends him an invoice for a child's party 'no show fee'." You can still read all of these stories: just ask for your upgrade to start with the 25 January issue.

| | | |
| --- | --- | --- |
| Paypal: | Amazon: | All Upgrade Options: |
---
The Latest Posting to Jumbo Joke: Brain Teasing Riddles.
Ten Years Ago in True: You won't believe the "career day" suggestion given at a middle school: Expanding Kids' Minds.
This Week's Honorary Unsubscribe goes to Peggy Charren. A gallery owner who also ran a business to put on book fairs for children, in the 1960s Charren, who once worked at a New York City TV station, was dismayed at the quality of television shows that were aimed at children, such as her own. The three networks dominated television, and there was no such thing as Sesame Street. She described what she saw as"wall-to-wall monster cartoons," punctuated by heavy advertising for toys and sugary cereals, often pitched by the shows' hosts. To fight back, in 1968 she and a friend co-founded Action for Children's Television, which held its first meeting in Charren's Newton, Mass., living room. The first word of the organization's name was key: action. She pointed out that according to federal law, broadcasters were required to "serve the public interest" tokeep their licenses. In the 1970s, Charren noticed that "One-third of the commercials [in children's shows] were for vitamin pills, even though the bottles said, 'Keep out of reach of children' because an overdose could put them in a coma," she said. ACT's publicity of that fact caused vitamin makers to stop advertising to children. By 1973, the National Association of Broadcasters revised their code to limit ads on kiddy shows to 12 minutes per hour —and prohibited kid show hosts from pitching products. But it wasn't until 1990 that ACT's pressure really paid off: Congress passed the Children's Television Act to govern advertising, and the content and quality of television shows, aimed at children. Satisfied, ACT disbanded in 1992. Charren was "the principal defender of children's television in America," said U.S. Senator Edward Markey, and "a conscience sitting on the shoulder of every commercialbroadcaster." In 1989, she was awarded the Emmy Trustees' Award; in 1991 she received a Peabody award for Distinguished and Meritorious Public Service in broadcasting. And in 1995, she was awarded the Presidential Medal of Freedom. Charren died at her home on January 22, after suffering from vascular dementia. She was 86.
---
Subscriptions to This is True are Free athttp://www.thisistrue.com. All stories are completely rewritten using facts from the noted sources. This is True® is a registered trademark. Published weekly by ThisisTrue.Inc, PO Box 666, Ridgway CO 81432 USA (ISSN 1521-1932).
Copyright ©2015 by Randy Cassingham, All RightsReserved. All broadcast, publication, retransmission to e-mail lists, WWW, or any other copying or storage, in any medium, online or not, is strictly prohibited without prior written permission from the author. Manual forwarding by e-mail to friends is allowed IF 1) the text is forwarded in its entirety from the "Since 1994" line on top through the end of this paragraph and 2) No fee is charged. We request that you forward no more than threecopies to any one person — after that, they should get their own free subscription. We always appreciate people who report violations of our copyright to us.
You can subscribe free by e-mail and get this delivered to you every week.