To get these issues free by e-mail each week, just subscribe using the form above -- your privacy is Randy's policy. (Or cruise around the web site to see more samples, archive, and info on our terrific book collections of thousands of past stories.)
Since 1994, this is the 1118th issue of Randy Cassingham's...

---
Before the Stories: Kit and I just returned from a trip to the Pacific Northwest for business, and I got a chance to visit my brother's daughter, and meet her new daughter, my grandniece. I had met Megan's husband before, but this was the first chance I really had to talk with him much, and he had a story to tell me: when he met Megan, he thought her name sounded kind of familiar. Much later, she named us all, and then the penny dropped: Randy Cassingham? The This is True guy? He was a long-time subscriber, and now they are again, getting Premium.
---
Elder Abuse: Philip White of Eagle, Colo., who is blind, was at the Greyhound bus terminal in downtown Denver trying to get home, but he was told the bus he wanted to board was full, and he not only had to get off, he had to leave the station entirely. A bus station security guard called 911, complaining White was "trespassing." The responding officer, Kyllion Chafin, found White on the phone — to 911, trying to get police help. White asked if he could touch Chafin's badge — a common way for the blind to confirm someone is an officer. Chafin refused, grabbed White, and slammed his head into the ticket counter, leaving him bloodied. White, then 77 years old, was handcuffed and held for eight hours, and never charged with any crime. Now, three years later, a federal jury has awarded him $400,000 in an excessive force case, but Chafin wasn't fired. "We reviewed the case," a department spokesman said. "We didn't find any violations of policy." (RC/Denver Post) ...Denver taxpayers are not comforted to learn the department doesn't have a policy against excessive force.
Tossed: Police officers in Boston, Mass., heard a broadcast describing two robbery suspects in a transit station. They realized the description matched two men who had just run past, so the search was focused in the direction they saw them go. Officers quickly caught up with the suspects and sure enough, they were carrying the masks the victim described, and a fake pistol. Andronique M. Dossantos, 18, and Kostya Ragin, 19, were charged with robbery and assault, and the item they stole from the victim at gunpoint was recovered: a plastic bag of salad. (RC/Boston Globe, New England Cable News) ...It could have been worse: they could have beet him.
Advertisement
Drone Pilots Only

Get Your Wings! Custom metal Drone Pilot Wings dress up your shirt, jacket, and/or equipment box, showing your pride and professionalism in your hobby. Makes a great gift, and is actually less expensive than most message t-shirts (lasts longer, too).
Taken by Surprise: John Wesley Rose, 25, went to the Wayne County, Mich., Sheriff's Office, hoping for a job as an officer, starting at the jail. Once they did a background check, they were only too pleased to put him in a uniform and in a jail. "We contacted him and said we've been looking at your application," said the chief of the sheriff's department. "We need you to come in to take one final test and we'll be happy to hire you." Rose quickly reported in and was "very quickly" placed in handcuffs: the department had discovered that there was a warrant out for his arrest in Kentucky, accusing him with sex crimes involving a teenager. (AC/Detroit News, WXYZ Detroit, WJBK Detroit) ...He wanted to turn himself into a cop, but instead he turned himself in to a cop.
Homeless Man Found Hiding in church attic ...and then it gets weird. Sheriff's deputy too drunk to receive award at Mothers Against Drunk Driving event. Drunk driver tells cops her name is "Hell on Wheels" (and she's right!) During family fight, Florida woman bashes her way into her house with a handy toilet lid that just happened to be outside. Man steals taxi so he doesn't have to walk six whole blocks. The dumbest, most incompetent jewellry theives ever even signed the guestbook. Man goes into bank on holiday: employees left it wide open when they left the night before. Teen boys found to be running prostitution ring. Yep: there were eight more stories in the full edition this week. Stop missing most of the stories: a full year of expanded issues is just $30 and your support helps True survive. See Upgrade Options Here.
Zero Tolerance for Imagination: As Matthew and Martha Miele explained it, their first-grade son was playing "Power Rangers" during recess at Our Lady of Lourdes school in Cincinnati, Ohio. Principal Joe Crachiolo called the Mieles to explain that their son would be suspended for three days because during the game, he was pretending to shoot another student with an imaginary bow and arrow. "I didn't really understand," Martha Miele said. "I had him on the phone for a good amount of time so he could really explain to me what he was trying to tell me." The Mieles met with Crachiolo to ask him to reconsider, but he held firm. "I have no tolerance for any real, pretend, or imitated violence," he said in writing after the meeting. "I can't stop him from pretending to be a super hero," Martha said. "I can't stop him from playing ninja turtles. I can't stop him from doing these things and I don't think it would be healthy to do so." Her husband agrees. "His imagination can go limitless places," Matthew Miele said. "We try to encourage that as parents." (MS/WLWT Cincinnati) ...It takes years for trained school professionals to beat that kind of imagination down.
---
After Multi-Cart Pileup
Conyers Man Gets DUI on Motorized Wheelchair at Grocery Store
Atlanta (Ga.) Journal-Constitution headline
---
Did You Find an Error? Check the Errata Page for updates.
This Week's Contributors: MS-Mike Straw, AC-Alexander Cohen, RC-Randy Cassingham.
---
The Tagline on the Story "Taken By Surprise" (about the guy who wanted a job as a cop, but was arrested instead) was Alexander's first take, and I liked it since it worked no matter what the back story is. But when he submitted the final story, he used a different one: "...Could he possibly not have known that?" I didn't like it. "My hope is," he explained, "that people will read that and go: Of course not! Wait, actually... and realize that there are actually several ways he could not have known that. Perhaps he is the wrong man, and he had no idea he'd been mistakenly identified as a rapist." But I didn't think anyone would have such a thought; they'd scratch their heads and move on. So he offered "...Funny stupid criminal story, right? Now read it again presuming he's innocent and had no idea the warrant existed."
Presumption of innocence? Perish the thought! Why, in America.... Oh. Right. Alexander's correct: the guy could well be, and legally he is indeed, "presumed innocent" unless and until convicted. So you get the amusing tag and the thought-provoking tag, all in one.
The Web Sites I Wanted to Sell haven't gone. The sites are Drone Pilot Wings and the super-popular Jumbo Joke (more than 100,000 pageviews/month), and I have to drop those to have more time for my core business. So early next month, I plan to sell them both, as well as the under/unused domains CrankyCustomer.com and EveryMedic.com (and EveryParamedic.com) via no reserve auctions. So if you have solid interest in any of these properties, I highly recommend you pop yourself onto the temporary mailing list set up to keep you up-to-date on the process, here. (Once they're all sold, the mailing list will be deleted.)
---
There Was a Protest Unsubscribe after I ran the plug (below) for Get Out of Hell Free cards in Friday's edition. First came an inquiry from "KJV" in Pennsylvania, from the town of Corry ("Name origin: misspelling of founder Hiram Cory's name," notes Wikipedia), which "became famous in the late-19th and early-20th centuries for being the manufacturer of Climax locomotives." Heh heh heh... they said Climax!
Ahem. KJV demanded to know "do u [sic] belong to a Church?" And also informed me that "Have been Free subscriber for years holding back from premium only because of GOOHF cards misunderstanding." What sort of misunderstanding? "What is on the back?" he asked.
What, in all those years of curiosity and being provoked to think, he never clicked to look for himself when they were mentioned and/or illustrated in True time after time? OK, fine: I pointed him to the web site where the back is illustrated, and that led to the unsubscribe with the complaint, "cards are antiscriptural". Hey, at least for once I'm not "anti-Christian" (a charge that goes wayyyyy back)!
Really, "antiscriptural"?! KJV should alert the media! He needs to inform the scores of pastors who are Catholic, Baptist, Presbyterian, Methodist, Jewish, Lutheran, and countless other denominations who have ordered and carried and given the cards out to thousands and thousands of the faithful in their flocks. But hey! If I was willing to answer the "do u belong to a Church?" question to his satisfaction, then the cards would have been A-OK with him, right? After all, isn't that why he asked?
So With That, I Proudly Present what I posted Friday: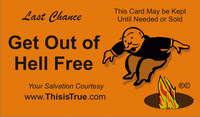 What Do You Do With the Get Out of Hell Free cards? (readers sometimes ask). Have you ever been in line at a store behind a jerk? The customer isn't "always right," but the clerk is being as nice as she can. Or have you seen a waiter struggling with an obliviot at another table? Or a postal clerk being the target of someone venting their spleen about postage prices — which the clerk certainly didn't set. Those are all perfect recipients of a GOOHF card. It's the "I understand" gesture that reminds them that not everyone is a jerk. It makes their day to get that kind of acknowledgement: they smile and laugh right after having to deal with a day-destroying obliviot. It's a great feeling to do that, too: I give away dozens every week.
We're coming up on two million cards sold — not counting the thousands I give away (or the stickers or other GOOHF products). And they're a nice way to tell someone about True, too. The result: a win-win-win: you make someone's day, you get a great feeling, and the recipient learns about a fun, thought-provoking newsletter. Grab some here, and keep a few in your pocket when out to join the fun!
But Don't Give "KJV" One if you see him: he doesn't believe in making others smile when they've been berated by the irrational customer in front of you. What a sad, sad man he must be — and exactly the sort of person who is chasing more and more Americans away from churches, especially the young: only 77 percent of Americans now "identify with some religious faith," and the number who is "absolutely certain" God exists is down to 63 percent, from 71 percent in 2007 (Americans Becoming less Religious, Especially Young Adults: Poll — Reuters, November 3, 2015).
With examples like KJV (and yes, I know the message he's sending with those initials), the trend will certainly continue.
Comments? This is in my blog: Alert the Media.
---
The Latest Posting to Jumbo Joke: Little Golden Books That Never Made It.
Ten Years Ago in True: A "little bit stupid" driver finally figures out, What Was That?
Advertisement
Losing Sleep Trying To Decide On A New Mattress?
Memory foam or latex mattresses/toppers, airbeds or waterbeds, innerspring coil or futon mattresses, all without sales hype: not affiliated with any store or manufacturer. Just personal non-biased perspective on your options. Explore The Mattress Lady
This Week's Honorary Unsubscribe goes to Adel Termos. His is an absolutely amazing story of a response to terrorism: a must-read.
Read his story in the Archive: Adel Termos (OK to share link)
And It's Been a Bad Month to be a drummer! So far, that includes: José Luis Properzi of Argentine band The Super Mice, dead November 3 at 48; Eddie Hoh was a rock drummer for The Mamas & the Papas, The Monkees, and Donovan, and died November 7 at 71; Brandon Carlisle, a punk rock drummer with the American band Teenage Bottlerocket, dead November 7 at 37; Bogdan Enache a Romanian drummer with Goodbye to Gravity, who succumbed November 8 to burns from the Colectiv nightclub fire (age not in my sources); Andy White, a British session drummer known as "The Fifth Beatle" (he played on "Love Me Do" while Ringo beat a tambourine), who died from a stroke on November 9 at 85; and Phil Taylor, drummer for the British band Motörhead, dead November 11 at 61.
---
Subscriptions to This is True are Free at http://www.thisistrue.com. All stories are completely rewritten using facts from the noted sources. This is True® is a registered trademark. Published weekly by ThisisTrue.Inc, PO Box 666, Ridgway CO 81432 USA (ISSN 1521-1932).
Copyright ©2015 by Randy Cassingham, All Rights Reserved. All broadcast, publication, retransmission to e-mail lists, WWW, or any other copying or storage, in any medium, online or not, is strictly prohibited without prior written permission from the author. Manual forwarding by e-mail to friends is allowed IF 1) the text is forwarded in its entirety from the "Since 1994" line on top through the end of this paragraph and 2) No fee is charged. We request that you forward no more than three copies to any one person — after that, they should get their own free subscription. We always appreciate people who report violations of our copyright to us.
You can subscribe free by e-mail and get this delivered to you every week.