To get these issues free by e-mail each week, just subscribe using the form above -- your privacy is Randy's policy. (Or cruise around the web site to see more samples, archive, and info on our terrific book collections of thousands of past stories.)
Since 1994, this is the 1057th issue of Randy Cassingham's...

---
Calculate the Odds of this Catching up with Her: A student at Poston Butte High School in San Tan Valley, Ariz., complained a math teacher was drunk in her classroom. The principal and school police officer investigated, and Kathleen Jardine, 57, allegedly admitted she had been drinking the night before, that morning, and during lunch at school; her blood alcohol measured .205 percent, the Pinal County sheriff's office reported. A half-empty, 750 ml bottle of vodka was found inher purse, along with an empty wine bottle. The night before, Jardine was arrested for drunk driving on her way home from school. It was about an hour after she left work, and her blood alcohol was .257 percent — high enough to classify the crime as a "Super Extreme DUI." Deputies found a half-empty bottle of peppermint schnapps in her car, and asked if she was drinking and driving. "I only drank it when I was stopped," she replied. During her field sobriety test,the math teacher was counting her steps out loud and suddenly stopped to ask the officer, "Did I run out of numbers?" Jardine was fired three years ago from a previous job — teaching math at a high school in New Mexico — because students complained she was drunk in her classroom. She passed a background check before she was hired in Arizona. (RC/KTVK Phoenix) ...Maybe background checks should also include a quick Google search.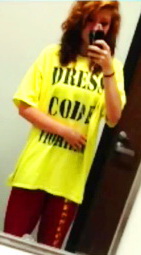 Inappropriate Attire for School: On her third day of classes at a new school, Miranda Larkin, 15, was ordered tochange into a neon T-shirt emblazoned "Dress Code Violation" and red sweat pants. The reason: her skirt didn't reach all the way to her knees, as the rules at Oakleaf High School in Clay County, Fla., require. "The school has said, this is to embarrass you," she said, although the school claims the outfit is designed that way to make sure it isn't stolen. Her mother, Dianna Larkin, who actually advocates school uniforms, is outraged. "This is not aboutpunishing kids," she said. "This is about humiliation," describing the outfit as a "shame suit." She said she'd file a complaint under the Family Educational Rights and Privacy Act, which requires student records be kept private. School board candidate Ashley Gilhousen said school rules exist to protect kids. (AC/WJXT Jacksonville, Washington Post) ...Including from skirts not much shorter than the one Gilhousen wore in her TV interview about the case— and about the same length as the WJXT reporter's.
Advertisement
Is Spam Driving You Crazy?

You don't have to wade through junk just to get to the good mail in your inbox. Take 15 minutes to read Randy Cassingham's Spam Primer web site — and grab his highly rated ebook (just $3.99!) with proven techniques to Stop most spam from even showing up in your inbox.Regain Control of Your E-mail
A Lesson in Online Etiquette: "I already want to stab some kids. Is that bad? 19 more days." said one Tweet, or Twitter posting in June. "So happy to be done w/school for 10 days, but especially to be away from the ones who truly try my patience & make my trigger finger itchy." said another. The posts were among several from Newark (Calif.) Memorial High School teacher Krista Hodges, about her frustrations with students, "2 of whom I wish would gethit by a car." Hodges admitted that her online comments were unprofessional. The school issued a written reprimand, and Hodges has deleted her Twitter account. "I never expected anyone would take me seriously," she said. "If I had thought for one moment that someone would read anything I said on Twitter and take me seriously, you'd better believe I would have been much more careful with what I've said." (MS/San Jose Mercury News) ...Teachers teach,sometimes by example — even if it's an example of what not to do.
Show Me the Money! A home-invasion robbery in North Providence, R.I., ended in the shooting of Richard Catalano, 26, and his mother; the man was killed, and his mother was left in critical condition. "They came into the house to steal his sneakers," claimed Catalano's girlfriend — Catalano collected sneakers, and had just come home from a "Sneaker Exchange" event.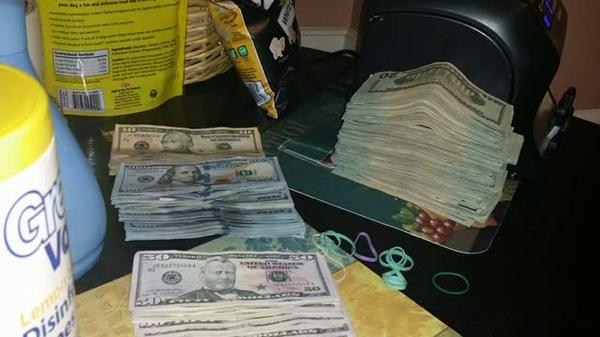 The woman, who didn't want to be named, said the intruder was yelling "Where's themoney?" and then started shooting, but she repeated that it was "All over sneakers. What is this world coming to?" The intruder, identified by police as Dari Garcia, 24, shot himself in the face when confronted by police; it was left unclear whether it was a suicide attempt, or an accident. Meanwhile, another of Catalano's friends, who also didn't want to be named, suggested a more plausible motive for Garcia: earlier that evening, Catalano had posted a photo onFacebook showing a giant pile of cash, implying that it was his profits from the swap meet. (RC/WJAR Cranston) ...Well, he wasn't yelling, "Where's the shoes?", was he?
---
By Slipping Them into Her Handbag
Police: Overly Optimistic Shoplifter Tries to Steal 31 Purses
KOMO Seattle (Wash.) headline
---
Did You Find an Error? Check the Errata Page for updates.
This Week's Contributors: AC-Alexander Cohen, MS-Mike Straw, RC-Randy Cassingham.
---
Regarding the Tagline on the first story ("background checks" should include quick Google searches), it took me just a few seconds to find the story of the teacher's first drunk-at-school incident, in the Albuquerque Journal, without even including the location in the search. Apparently, she wasn'tarrested that time, so it didn't come up in a criminal records check.
Whatever Happened with Savanna Redding? a reader asked. She was the victim of an outrageous zero tolerance incident at school in Stafford, Ariz., in 2003, when Redding was 13 years old. The lawsuit over the school's actions was fought all the way up the U.S. Supreme Court which ruled firmly (8-1) that yes, Redding's Constitutional rights were violated, and her action against the school district may proceed. And then...silence.
I researched it Monday, and found out that the school district settled out of court ...and demanded confidentiality. Wait: a confidential settlement with tax money?! Well, I got hold of the settlement, and tell you how much it was — and how I found out. It's all laid out on my blog.
Eight More Stories: Army officer refused entry to his daughter's school ...because he was in uniform. Grandmother takes down man fleeing from police, and then taunts him about it. Deputy Coroner arrested after he's found sleeping with a cold one — no, not a dead body, but rather.... Police notice car is dragging a safe behind it, and.... Attorney sanctioned for misconduct — so naturally he bills the fines to hisclient. Soundman for Cops TV show shot and killed while filming episode. Police detective caught up in Florida prostitution sting. Mom hangs up on police rather than help them find her missing 10-year-old daughter, because it's time for her to be on stage — she's a stripper. Stop missing most of the stories! A full year of expanded issues is just $30.

| | | |
| --- | --- | --- |
| Paypal: | Amazon: | All Upgrade Options: |
---
The Latest Posting to Jumbo Joke: The Rabbi and the Priest.
Ten Years Ago in True: Guy crashes his motorcycle, but no worries: his ex-girlfriend (a nurse) steps in to help. But... Who Wrote the Book of Love?
Advertisement
Floored By Remodeling Decisions?

Stone or tile? How do you decide?
The Flooring Lady, an independent flooring expert, will help youfind your way through the maze of questions.
Explore The Flooring Lady
This Week's Honorary Unsubscribe goes to Cosimo Matassa. After dropping out of Tulane University when he decided he didn't really want to be a chemist, Matassa ended up shaping the sound of a new music form: Rock 'n' Roll.
Read his story in the Archive: Cosimo Matassa (OK to share link)
And So Long to songwriter Bob Crewe ("Can't Take My Eyes Off You", "My Eyes Adored You", and "Walk Like a Man", among many others), dead in a Maine nursing home on September 11, at 83.
And to Pulitzer Prize winning (1976) and Herblock Prize winning (2005) Philadelphia Inquirer editorial cartoonist Tony Auth, dead September 14 from brain cancer, at 72.
---
Subscriptions to This is True are Free athttp://www.thisistrue.com. All stories are completely rewritten using facts from the noted sources. This is True® is a registered trademark. Published weekly by ThisisTrue.Inc, PO Box 666, Ridgway CO 81432 USA (ISSN 1521-1932).
Copyright ©2014 by Randy Cassingham, All RightsReserved. All broadcast, publication, retransmission to e-mail lists, WWW, or any other copying or storage, in any medium, online or not, is strictly prohibited without prior written permission from the author. Manual forwarding by e-mail to friends is allowed IF 1) the text is forwarded in its entirety from the "Since 1994" line on top through the end of this paragraph and 2) No fee is charged. We request that you forward no more than threecopies to any one person — after that, they should get their own free subscription. We always appreciate people who report violations of our copyright to us.
You can subscribe free by e-mail and get this delivered to you every week.