To get these issues free by e-mail each week, just subscribe using the form above -- your privacy is Randy's policy. (Or cruise around the web site to see more samples, archive, and info on our terrific book collections of thousands of past stories.)
Since 1994, this is the 1196th issue of Randy Cassingham's...

---
Before the Stories: If you haven't run Windows Update on your computer lately, DO IT NOW. I mean before you read this issue. In particular, you want the "Windows Defender" update. If you haven't heard, there's a "ransomware" attack going on that's locking up computers worldwide. That's when malware gets into your computer and encrypts all of your data, and you have to pay a criminal to get the password to unlock it. How much? Depends on how much they think you can afford. They literally have been holding hospitals hostage: they don't care about people dying, so they're certainly not going to care about your unfinished novel, or the only copies of photos of your grandchildren. The storm peaked last Friday; it was thwarted by a security researcher doing something very clever — but you can be sure that the malware authors will simply fix that little flaw, and relaunch it again.
The thing is, the patch for the particular vulnerability these bad guys are using was fixed months ago, but too many turn off automatic updates because they think they will somehow do better without them — "if it ain't broke, why fix it?" I'll tell you why: because researchers find ways for your computer to be exploited, and they can often fix vulnerabilities before the bad guys can attack. Which is exactly what happened this time, but if you don't download the update, you're vulnerable when the bad guys get around to exploiting it. So get to it before you lose something you care about! Click Start, type in "Windows Update" and click it run it — and turn on Automatic Updates while you're at it.
---
If There Are Any, They're Certainly in Florida: A homeowner in Deltona, Fla., woke up at 3:00 a.m. to the sound of someone looking through drawers. He investigated and found a man in his living room. When the burglar spotted the homeowner, he ran — but came back, explaining that "zombies [were] trying to get him and he felt uncomfortable outside." By then the homeowner's son had joined him, and the two held the burglar for police, who allege that Patrick Ray, 31, had stolen several items from the house: a pink selfie stick, a Bluetooth speaker, a wallet, a jacket, and car keys. Ray was charged with burglary. (RC/WKMG Orlando) ...I don't know if it was zombies, but someone already destroyed his braiiiins.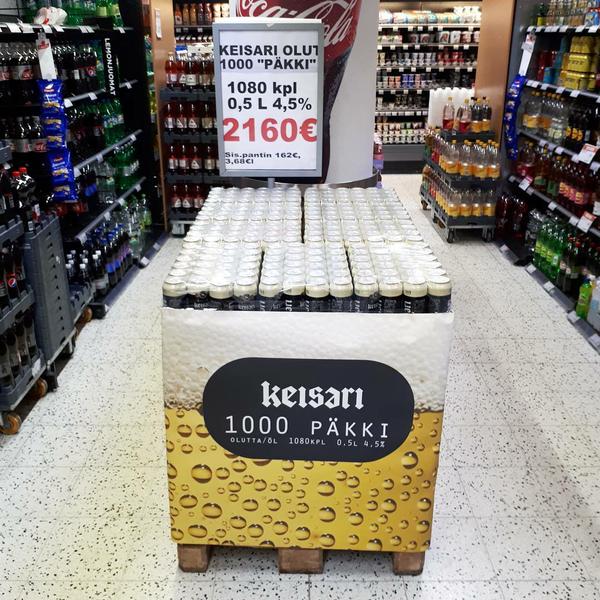 Just the Thing for Laid Off Cell Phone Builders: Thirsty? You better be, if you're buying the latest offering from Nokian Panimo Oy, a brewer in Finland. "The whole thing was just made for fun," admits the brewery's managing director, Matti Heikkila, "and to show how ridiculous it is to be innovative just by packing items in different size retail packages." Their "innovative" new retail package needs a forklift to move: it's a 1,000-pack of Keisari beer. It's their response to the record-sized 100-pack recently offered by their rival, Hartwall. When a sales rep suggested the retribution, customers were so enthusiastic that "we were forced to really produce this 1,000 pack," Heikkila said. The catch: it's only available in stores near the brewery, in Nokia. Still, there have been sales of the 1,000-pack which, to make it fit nicely into the package, actually contains 1,080 cans. (RC/PA) ...Hartwall's next product: a do-it-yourself pure alcohol I.V. kit.
Drawing the Line: "I was walking into class," said sixth-grader Xavier Davis, "and she saw my hair and said, 'You can't have two lines in your hair. Go to the office.'" He was given a few days to fix the hairstyle, which he'd had for six months; after that, if he still had the two lines, he'd get in-school suspension for violating the dress code. After he suffered one day of punishment, his mother fixed his hair to the Baytown, Texas, school's satisfaction: she colored in part of his scalp with a Sharpie. (AC/KPRC Houston) ...For those unfamiliar, a "Sharpie" is a brand of marking pen whose tip is sharper than many school administrators.
This Issue's Exclusive Sponsor:
True Needs Your Support!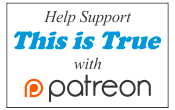 This is True struggles to keep going in the shadow of giant media sites working to get your attention with cat videos, fake news, and fake outrage. Help support Thought-Provoking Entertainment, and get some neat rewards in return.
No Laughing Matter: Police in Boston, Lincolnshire, England, arrested Saulius Cerniauskas, 38, after he'd allegedly imported an extendable baton, four cans of teargas spray, and two of pepper spray — all illegal weapons in the U.K. — from the Netherlands. According to police records, Cerniauskas told police he'd ordered the items for his girlfriend, who sometimes had to walk alone at night, and he thought they were legal. He said his girlfriend felt vulnerable because of the "clown attacks" she'd seen on Facebook. Jim Clare, prosecuting, said the statutory penalty for the illegal weapons was a fine of 20,000 pounds (US$26,000), six months imprisonment, or both, but that was intended for people importing weapons commercially, which Cerniauskas wasn't doing. The magistrates said Cerniauskas's offenses were "considered serious" in the U.K., imposed a sentence of three months imprisonment suspended for a year, and ordered him to pay 200 pounds (US$260) in costs and charges. They also ordered the weapons destroyed. (MS/Peterborough Telegraph) ...They weren't just clowning around.
More than Twice the Stories: The full edition of This is True always has at least ten stories, and often 12 or more. Think of this free edition as a sampler: an appetizer. You miss the main course and the dessert! Feed your brain with more stories, Premium-only extra content, the full text of the Honorary Unsubscribe, and money-saving specials. It's a lot for $32: 52 expanded issues. And we need your support: Premium subscriptions cover 85 percent of True's budget — True would literally not exist if not for the readers who pay a little to get a lot more. Please join them to help True thrive: See your upgrade options here and thanks!
Cold and Wet Needed: Several people were treated for smoke inhalation at an apartment building fire in Sioux Falls, S.D. While firefighters were battling the blaze and treating the injured, a man ran back into the building during the lunchtime fire. He wasn't trying to save a child, or even a pet. "It is not advisable to push past PD and Fire in an attempt to 'save your beer'," Sioux Falls Police broadcast in a Tweet. Indeed, police say, when Michael Casteel, 56, ran back out of the burning building, he was carrying two cans of Bud Ice beer. He was arrested, charged with obstruction and — with a measured blood alcohol level of .082 percent — violating a court-ordered sobriety program. "This incredibly poor judgement could have put many responders at risk," police said. (RC/KELO Sioux Falls) ...Your life may be worth more than two beers; his may differ.
---
Homer Simpson, Report to Mr. Burns's Office Immediately
Nuclear Plant Worker 'Deliberately' Tried to Hide Error, Officials Say
South Jersey Times headline
---
Did You Find an Error? Check the Errata Page for updates.
This Week's Contributors: MS-Mike Straw, AC-Alexander Cohen, RC-Randy Cassingham.
---
Yeah, the Finnish Beer strikes me as a bit pricey. According to the cost in the photo, even in that large quantity it comes to US$2.19 per half-liter can. A reader from Finland confirmed my theory, though: very high taxes. On the positive side, you know it's got to be a lot better than a Bud Ice!
Gordon "in the Bible Belt" reacted to last month's "GOOHFpack" special — a package of popular "Get Out of Hell Free" goodies. He writes: "I was tempted, but I just don't think I could ever use up a whole box of cards. I'd enjoy having *some* cards and other products, so let me know if you ever decide to do a smaller pack."
Gordon has a good suggestion, so I put together a smaller package. It starts with just 100 cards, adds in several "other products," and is still 1/3 off: the resulting $42 pack is just $28, and you still get free shipping (in USA; below actual cost elsewhere). The deal ends June 2, or when 100 packs have been sold, whichever comes first. Details here.
---
Ten Years Ago in True: How Riverside, Iowa, became known as Capt. Kirk's home town: A Home Town So Nice, He Moved Hundreds of Light Years Away.
Today on Randy's Random: Before the Prom (sure it was set up, but it's still really cute: look at the expression on her face!)
This Week's Honorary Unsubscribe goes to William Baumol. Dr. Baumol had a serious malady named after him: Baumol's cost disease — and as interesting as that is, that's not what killed him.
---
Basic Subscriptions to This is True are Free at http://www.thisistrue.com. All stories are completely rewritten using facts from the noted sources. This is True® is a registered trademark. Published weekly by ThisisTrue.Inc, PO Box 666, Ridgway CO 81432 USA (ISSN 1521-1932).
Copyright ©2017 by Randy Cassingham, All Rights Reserved. All broadcast, publication, retransmission to e-mail lists, WWW, or any other copying or storage, in any medium, online or not, is strictly prohibited without prior written permission from the author. Manual forwarding by e-mail to friends is allowed IF 1) the text is forwarded in its entirety from the "Since 1994" line on top through the end of this paragraph and 2) No fee is charged. We request that you forward no more than three copies to any one person — after that, they should get their own free subscription. We always appreciate people who report violations of our copyright to us.
---
You can subscribe free by e-mail and get this delivered to you every week.
Last Week's Issue