To get these issues free by e-mail each week, just subscribe using the form above -- your privacy is Randy's policy. (Or cruise around the web site to see more samples, archive, and info on our terrific book collections of thousands of past stories.)
Since 1994, this is the 1084th issue of Randy Cassingham's...

---
Blowing Smoke: Several sheriffs in Colorado have filed a lawsuit challenging the legality of the voter-mandated legalization of marijuana in the state. "This suit is about one thing — the rule of law," says Larimer County Sheriff Justin Smith. "The Colorado Constitution mandates that all elected officials, including sheriffs, swear an oath of office to uphold both the United States as well as the Colorado Constitutions." And with marijuana legalization,the two are in conflict, he says, "a constitutional showdown" that puts sheriffs in a bind. Nonsense, says San Miguel County Sheriff Bill Masters. "I don't see anywhere in the U.S. Constitution where it requires a local, elected law enforcement official to enforce federal law," he says. "We don't enforce immigration law. We don't enforce Forest Service or EPA regulations. I don't see why this is such a conflict for these sheriffs."Masters adds that "a lot of sheriffs still believe for some strange reason that law enforcement can control marijuana, and it's pretty obvious after being an officer for 40 years and after more than 50 years of a miserably failed drug war that it doesn't work." And is there an upswing in crime with legalization? "I don't see any difference," Masters says, except that "This year we are going to have the lowest inmate population per day thatwe've had since our jail opened." (RC/Denver Post) ...Trying something different after 50 years of miserable failure? Huh: maybe there's hope for the USA yet.
Cocktails, Floridumb Style: Jerome Clemons, 44, was drinking in his Boynton Beach, Fla., home, when he asked his niece for a ride to the liquor store for more. According to his niece, she refused and they got into an argument, so she left. His brother checked on him later, and found Clemons on his porch muttering about being "tired of it all." His brother went inside to cook dinner, whereupon Clemons allegedly poured gasoline on the outside wall of the house and set it onfire. Clemons' brother was able to put out the fire, and police found Clemons walking down the street with a burn on his forearm. He was treated at the hospital and charged with arson. (MS/South Florida Sun-Sentinel) ...His brother was reported as shaken, but not stirred.
Advertisement
Floored By Remodeling Decisions?

Stone or tile? How do you decide?
The Flooring Lady, an independent flooring expert, will help youfind your way through the maze of questions.
Explore The Flooring Lady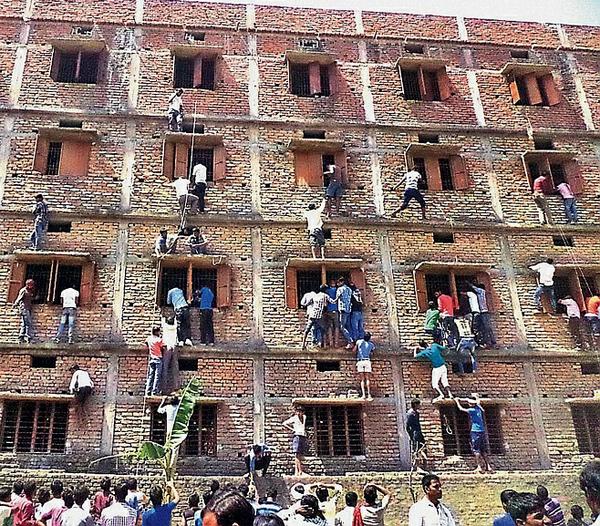 High-Stakes Testing: In Bihar, India,student cheating on state exams is such a big problem that police have been assigned to help stop it, and parents have been detained. But in some cases, police have been caught helping. "It may be that even their kin are taking the exams," said education minister PK Shahi. Parents have even resorted to climbing the exterior walls of test centers to pass cheat sheets to their kids. Shahi is frustrated. "Over [1.4 million] students are taking the examination. You tell us what canthe government do to stop cheating if parents and relatives are not ready to cooperate? Should the government give orders to shoot them?" (AC/Times of India, Washington Post) ...Maybe you could try a testing policy that doesn't get people climbing the walls.
Another Innocent Life Destroyed by Zero Tolerance: Last September Brian Wilson, an assistant principal at Bedford (Va.) Middle School, found a leaf in an 11-year-old student's backpack. The sixth-grader, who was in the gifted and talented program, says he doesn't know how it got into his backpack, which had been sitting in an unsecured locker before Wilson grabbed it. Assuming it was marijuana, Wilson called in the school's "resource officer" — asheriff's deputy — to check it out. Deputy M.M. Calohan tested it three times, and every time it came back negative for marijuana, but she "went to a magistrate and swore he possessed marijuana at school," says Melvin Williams, the boy's attorney. School officials suspended the boy for 10 days, pending an expulsion hearing. At that hearing, it was decided not to expel the boy, but rather to suspend him ...for 364 days. The leaf went to the crime lab for furthertesting. Months later, the crime lab confirmed the initial tests: it was not marijuana. The school system reluctantly accepted the boy back to class — but only at a different school, and only under "strict probation" until those 364 days are up. But after six months of suspicion and absence from school — not to mention a school-mandated "substance abuse evaluation" — the boy is "withdrawn socially, and is now under the care of a pediatricpsychiatrist for panic attacks and depression," according to his parents, Bruce and Linda Bays, who are both school teachers. After the hearing, "he just broke down and said his life was over," Linda Bays said. "He would never be able to get into college; he would never be able to get a job." The Bays family is nearly out of money after paying for lawyers, doctors, and home-schooling, so with Williams' help, they've filed a federal lawsuit against theschool and the sheriff's department for their zero tolerance punishment of their unnamed son's non-crime. The same attorney is defending both: Jim Guynn has filed a motion to dismiss, saying that the school's zero tolerance anti-drug policy doesn't just prohibit actual drugs, but also "lookalike" and "imitation" drugs; that's "a pretty standard rule across the commonwealth," Guynn says. "It's the same punishment andexactly the same result." (RC/Roanoke Times) ...This is an innocent child. And this is the inevitable outcome in a school governed by zero tolerance. Any questions?
---
Annnnd Presto!
[Magician] David Copperfield's Rooftop Pool Ruptures, Floods Penthouse
AP headline
---
Did You Find an Error? Check the Errata Page for updates.
This Week's Contributors: MS-Mike Straw, AC-Alexander Cohen, RC-Randy Cassingham.
---
A Letter from Beverly in Arizona, who just returned to Premium after a decade-long absence:
I just upgraded to premium and want to make sure that my upgrade starts for [last week's] issue...the one with the bride walking out on the groom over the first grade math question. I am motivated to upgrade because my 17-year-old son and I have a history of watching Are You Smarter Than A Fifth Grader? together. When ditzy women aren't smart enough to answer third grade questions, I would tell him sternly "Don't even THINK about bringing some girl THISstupid to the house!" I've just got to know more about that bride and that question!
You are my kind of mom, Beverly! Wonderful. How many parents actually talk with their kids about the importance of thinking and education? (Lectures when they're in trouble don't count, because they're not listening.) And you've made a game of it, which almost ensures engagement ...and thinking. Now that's parenting!
So many parents have told me they read True to their kids to illustrate the difference in thinking and ...not. It comes down to having a great life, or being featured in weird news columns. (Not just True: the Darwin Awards comes right to mind too, though it looks like maybe it has gone defunct.) Yes, thinking needs to be taught to kids, and making it fun makes it stick. Let your kids read True, or read it to them;they'll almost certainly pay attention once they see the attitude here. It's a rare story that's truly too grown-up for younger children, but teens are definitely not too young for any story I write, even (or maybe even especially) the make-a-fool-of-yourself-over-sex stories.
If you have a story about reading True to or with your kids, please send it in: I've been meaning to do a blog post about that for quite some time, and need a few more examples before I do it.
---
The Full Edition Had Nine More Stories with thought-provoking commentary, including: White House decides to delete a regulation subjecting it to Freedom of Information Act requests — and chose to do it on National Freedom of Information Day. Butt-dial results in the boss hearing two employees scheming to steal from the company. Police chief caught up in prostitution sting. Man spray paints his entire face and head to try toget away from the cops. Police officer not only drives drunk, but goes the wrong way on expressway, and.... Massive fire destroys company that makes the chemicals for fire extinguishers. Someone finally does something about a school bus bully, but the story isn't at all what you would expect. Police issue warning about "distraction burglar" targeting locals, but.... Man builds dummy to ride in his car so he can use the carpool lane. Stop missing most of thestories! A full year of expanded issues is just $30:

| | | |
| --- | --- | --- |
| Paypal: | Amazon: | All Upgrade Options: |
Note: the way Amazon does their buttons doesn't work in some mailers. If it doesn't work for you, click the All Options button and take it from there.
---
The Latest Posting to Jumbo Joke: Inner Neighborhood Services.
(it's dubious, yet somehow plausible — and yeah, old!)
Ten Years Ago in True: The approach taken by two different countries regarding bothersome birds. Cheep
Advertisement
Regain Control of Your Inbox

You don't have to wade through junk just to get to the good mail in your inbox. Take 15 minutes to read Randy Cassingham's Spam Primer web site — and grab his highly rated ebook (just $3.99!) with proven techniques to Stop most spam from even showing up in your inbox.Read Randy's Spam Primer
This Week's Honorary Unsubscribe goes to Joel Moskowitz. Moskowitz was a ceramics engineer. Sound boring? Then you need to read his story to see why it's not:
This Entry in the Archive: Joel Moskowitz (OK to share link)
And So Long to "Berry's World" cartoonist Jim Berry. The single-panel, seven-day-per-week comic (two great examples here) ran for 40 years until his retirement in 2003. He died March 20, at 83.
---
Subscriptions to This is True are Free athttp://www.thisistrue.com. All stories are completely rewritten using facts from the noted sources. This is True® is a registered trademark. Published weekly by ThisisTrue.Inc, PO Box 666, Ridgway CO 81432 USA (ISSN 1521-1932).
Copyright ©2015 by Randy Cassingham, All RightsReserved. All broadcast, publication, retransmission to e-mail lists, WWW, or any other copying or storage, in any medium, online or not, is strictly prohibited without prior written permission from the author. Manual forwarding by e-mail to friends is allowed IF 1) the text is forwarded in its entirety from the "Since 1994" line on top through the end of this paragraph and 2) No fee is charged. We request that you forward no more than threecopies to any one person — after that, they should get their own free subscription. We always appreciate people who report violations of our copyright to us.
You can subscribe free by e-mail and get this delivered to you every week.