To get these issues free by e-mail each week, just subscribe using the form above -- your privacy is Randy's policy. (Or cruise around the web site to see more samples, archive, and info on our terrific book collections of thousands of past stories.)
Since 1994, this is the 1048th issue of Randy Cassingham's...

---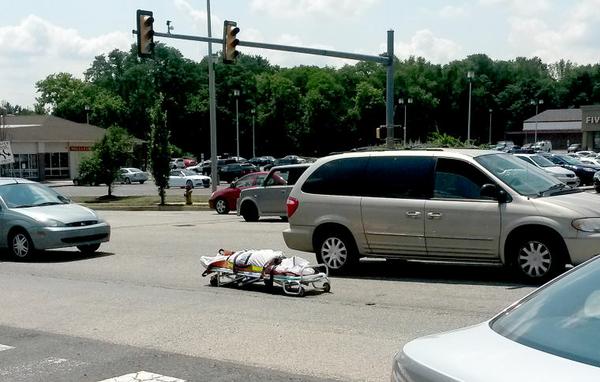 Final Indignity: The driver of a Bucks County, Pa., transport van "immediately knew" something was wrong when a "mechanical malfunction" caused the rear door of her van to open, dumping her cargo on thestreet in front of the Bucks Crossing Shopping Center, leaving the cargo in the middle of the street. Traffic calmly drove around it. The van was from the Bucks County Coroner's Office; the cargo was a body, inside a body bag and strapped to a gurney. "I thought someone was playing a prank," said Jerry Bradley, who saw the incident unfold — and took a photo to post on Facebook. When he saw the driver walking toward him, he pulled the gurney out of traffic and wheeled itto her, and she loaded it back into her van. The Coroner, Dr. Joseph Campbell, did not respond to requests for comment. (RC/Bucks County Courier Times) ...He has learned that sometimes, no comment is the best comment. He learned that from his clients.
Faced Booking: James Wood came home to find his home ransacked and his cash, credit cards and watch missing. But his computer was still there — and logged in to Facebook. Wood posted his phone number to the alleged burglar's profile, Nicholas Wig, 26, with a request for information, leaving his phone number. Wig himself contacted him. They agreed to meet; Wood said Wig expected to trade some loot for some of the burglar's clothes he'd left behind. Instead, Woodhad called the police, who arrested Wig. "World's dumbest criminal," Wood said. (AC/WCCO Minneapolis) ...At least that's how Wig describes himself on Facebook.
Advertisement
Floored By Remodeling Decisions?

Stone or tile? How do you decide?
The Flooring Lady, an independent flooring expert, will help youfind your way through the maze of questions.
Explore The Flooring Lady
Don't Work Too Hard: Tristan Paquet, 15, was diagnosed with a learning disability and put into a special education program in Joliette, Que., Canada. But his mother, Karin Moreau, is not happy with what he does in school. "The school has let him down," Moreau said. "His learning speed is slower than the other children but we can make it happen if we try." Instead of attending classes, Paquet bakes cookies, mends clothes for the school play, and washesstaff members' cars. "We don't learn anything interesting. No math, no French class, nothing," the boy said. School spokesman Diane Fortin stood behind their methods. "We shouldn't push children; we have to guide them considering their strength and weakness," she said. Paquet says that now, his only goal is to turn 16 so he can quit school. (MS/QMI) ...A student who's actually motivated to learn is a threat to their educational model.
How's That Tactic Working Out for You, Bonfiglio? Peter James Bonfiglio, 27, of Port Charlotte, Fla., called 911 to report a middle-of-the-night home-invasion jewelry robbery; he had been shot in the foot. When deputies arrived he accused a woman he knew, and an unknown male accomplice, with the robbery. When deputies contacted the woman, she said no, Bonfiglio had tried to get her to help him sell some jewelry — and showed them text messages from Bonfiglio to back up herstory. Deputies determined Bonfiglio had shot himself, "most likely accidentally," and arrested him on charges of filing a false police report. Eight months ago, Bonfiglio had shot himself, most likely accidentally, and had blamed "someone hiding in the woods." Five years ago, Bonfiglio called police to say he was an Iraq war veteran with PTSD. When officers arrived he was holding a gun to his head. After throwing several Molotov cocktails, Bonfiglio pointed his gun atan officer; the officer shot him, hitting him in the stomach. Records show he was never in the military. In 2005, he was arrested for threatening to kill then-President George W. Bush. He has at least eight other arrests on his record, including for bomb threats, assault with a deadly weapon, and selling fake Secret Service credentials. (RC/WBBH Fort Myers, South Florida Sun-Sentinel) ...So the real problem isn't Bonfiglio, it's that Florida hasn't yet put him in prison forlife.
---
Dummy! Everyone Knows Aliens Only Land in Florida or California
Man Arrested after Harassing Couple in Car He Thought was an Alien Spaceship
KLRT Little Rock (Ark.) headline
---
Did You Find an Error? Check the Errata Page for updates.
This Week's Contributors: MS-Mike Straw, AC-Alexander Cohen, RC-Randy Cassingham.
---
Now That My Wife is the county's new deputy coroner, I can't help but notice more coroner stories lately. That lead story is a doozie! (Click the pic to see it larger.)
Much More Weirdness! Each week the full edition has at least 10 stories. This week you missed: Florida man runs from police after traffic stop; then it gets weird. Woman goes up tree to rescue stuck kitty, but.... SWAT teams claim they are exempt from the law because they're not government agencies. Man who professionally lectures teens on "making good choices" makes a pretty bad choice for himself. Elderly couple take on home invasion robber — and win. Floridaattorney seems to have lost her grip on reality. Boy's free library is shut down by the city because.... Stop missing most of the stories! A full year of expanded issues is just $30 — less if you buy the discounted two-year upgrade. See all the options at the third button:
| | | |
| --- | --- | --- |
| Paypal: | Amazon: | All Upgrade Options: |
---
Last Week's Story about Colorado's Shooters Grill, where waitresses pack heat on their hips, concluded by noting, "The restaurant is located in the western town of Rifle." John in the U.K. commented, "That location sounds too good to be true ;-)"
I'm not sure if that's a serious challenge to the story's veracity, but Kit and I spent most of last week at a medical conference in the mountains. I told her on the way back, I wanted to stop at the closest Costco warehouse, which is a three-hour drive from home (but we were going right by it), and then Shooters for dinner. She agreed to both.
After stocking up on goodies at Costco, we got to Shooters in time for an early dinner. Both of us ordered the Police Chief-recommended burgers. Both waitresses were indeed packing. I couldn't quite tell what our waitress was carrying, but the other gal's looked like a Smith & Wesson M&P in 9mm, carried nicely in a retention holster (latches the gun in so it can't fall out, or easily be grabbed out bysomeone else). That's a serious piece of hardware: M&P stands for Military & Police, since it was designed for that market (but also available to civilians), and costs around $500 — serious cash for a waitress. So this isn't a gimmick where someone straps a World War II surplus piece of junk on their hip to satisfy a "theme restaurant" gig. These gals clearly shoot, and have had training, or they're "real and they're loaded, and we knowwhat we're doing," as the owner said in the story.
It's a place that makes a statement. I certainly know not everyone wants to hear such a statement, and that's OK, but I'll say while we were eating there was a steady stream of customers. Sure, it's a gimmick, but I was not uncomfortable at all. When civilians use guns to protect themselves, they hit innocent bystanders much less often than police do (as I recall, the stats are 2 percent vs 11 percent). I wouldn't be afraid of a cop eating dinner there with asidearm, and a trained civilian with a sidearm is that much safer. Fine.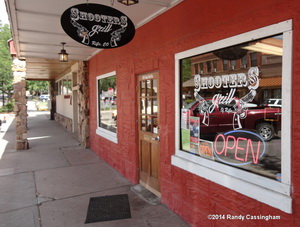 I chose not to ask if I could take a photo inside: the gals looked pretty tired, and I could relate. But I took one of the front, which shows the location (on the window, and on the sign): Rifle, CO — it's indeed areal restaurant in a real 9,200-population town, right along the well-traveled Interstate 70. I declined Kit's offer to take a photo of me standing out front, since it was a long week and I was road weary, but there you go, John!
Oh, and the burgers? A bit greasy, but tasty. I had the "G9" — topped with guacamole, bacon, and habenero-jack cheese. Nice combo!
To Comment, see the story in question, or see the photo larger, this is on my blog.
---
The Latest Posting to Jumbo Joke: Cruise Questions From The Intellectually Challenged.
Ten Years Ago in True: Robber gets really, really lucky ...and then: Nice Try
Advertisement
Is Spam Driving You Crazy?

You don't have to wade through junk just to get to the good mail in your inbox. Take 15 minutes to read Randy Cassingham's Spam Primer web site — and grab his highly rated ebook (just $3.99!) with proven techniques to Stop most spam from even showing up in your inbox.Regain Control of Your E-mail
This Week's Honorary Unsubscribe goes to Alice Coachman. She won Olympic gold ...but then the mayor of her home town refused to shake her hand because....
---
Subscriptions to This is True are Free athttp://www.thisistrue.com. All stories are completely rewritten using facts from the noted sources. This is True® is a registered trademark. Published weekly by ThisisTrue.Inc, PO Box 666, Ridgway CO 81432 USA (ISSN 1521-1932).
Copyright ©2014 by Randy Cassingham, All RightsReserved. All broadcast, publication, retransmission to e-mail lists, WWW, or any other copying or storage, in any medium, online or not, is strictly prohibited without prior written permission from the author. Manual forwarding by e-mail to friends is allowed IF 1) the text is forwarded in its entirety from the "Since 1994" line on top through the end of this paragraph and 2) No fee is charged. We request that you forward no more than threecopies to any one person — after that, they should get their own free subscription. We always appreciate people who report violations of our copyright to us.
You can subscribe free by e-mail and get this delivered to you every week.