To get these issues free by e-mail each week, just subscribe using the form above -- your privacy is Randy's policy. (Or cruise around the web site to see more samples, archive, and info on our terrific book collections of thousands of past stories.)
Since 1994, this is the 1149th issue of Randy Cassingham's...

---
Was This Issue Forwarded to You?

Click Here to Get Your Own Free Subscription.
---
What I'm Reading Lately: My goal this year is to read more good books, not just business books. Right now I'm half-way through Chernow's biography of Alexander Hamilton, which is the main basis of the hit Broadway play. Two things about the book: it's amazing how little history we're taught in school — this stuff is absolutely fascinating (though warning: it's anything but a quick read). And two, I again have to roll my eyes how big publishers price books. You can get Amazon to ship you this big book on paper at a cost of $12.50, or you can get the Kindle version for ...$12.99! Hint: it costs significantly more to print, ship, and store books than it does to send out a digital file; any publisher who tells you otherwise is lying. Still, I much prefer reading on my Kindle. I got the better Voyage model because I wanted reading to be an effortless joy — and it is. (For $220, it ought to be. The Paperwhite is a close second, though, for $80 less.)
---
Deep in the Quivering Hearts of Texas: "Some Texans going nuts again," noted the Houston Chronicle. At least, it says, "a certain type of Texan" who "seem to harbor a touch of xenophobia." The Lubbock office of the National Weather Service dared to call the "massive dust clouds" by the name it usually uses for the phenomenon: a haboob. Yes, the term is Arabic in origin, but Texans are aghast. "In Texas, nimrod, this is called a sandstorm," Brenda Daffern complained to the weather office. "We've had them for years! If you would like to move to the Middle East you can call this a haboob." Katie Smith agreed, "It has been a sandstorm all of my life and only became a Haboob in the last 8 years!!" No, NWS meteorologist Dan Satterfield says, the term has been used in English since 1925, when a paper was published in the Quarterly Journal of the Royal Meteorological Society to describe it. A haboob is a "quick moving wall of dirt," while a dust storm is a longer lasting swirling bowl of dust. (RC/Houston Chronicle) ...And because they may not know this "foreign" word: "xenophobia" is a combination of the Greek "xenos" (strange or foreign) plus "phobos" (panicky fear).
Unlimited Free Samples: That's what I consider the free edition of This is True; if you wish, you're welcome to stay here as long as you'd like. But you're definitely missing out on many more stories every week: almost always more than twice what you see here. This week, for instance, you missed: School teacher settles a fight ...with her pistol. Did sheriff's deputy turn away suspicion of who fired shots because they allegedly came from a family member's house? Police chief leads investigators to conclude man accidentally shot himself, but the chief accidentally had shot a friend in the back. The funny way man admits he set a car on fire. The weird way man reacted when someone dropped a tray in a coffee shop. The stupid argument that gets way, way out of hand. And how some countries severely punish crime ...victims. Stop missing out on most of the stories! See your upgrade options here.
Method Acting, The Next Level: Police responded to reports of shots fired in the Holiday Office Park building in Cincinnati, Ohio. The building was evacuated and officers traced the origin of the shots to the second floor — where a movie audition was being held. "One of the actors trying for a part, using method acting, brought a blank gun unbeknownst to anybody on the production set," said Police Capt. Maurice Robinson. "He fired off a number of blank rounds and for the remainder of the building, it sounded like real gunfire." The man was charged with inducing panic. No injuries were reported. "He just got overly enthusiastic about trying to get the part," Robinson said. (MS/WXIX Cincinnati) ...Next up for him: a part in the "Jailhouse Rock" sequel.
This Issue's Exclusive Sponsor:
Losing Sleep Trying To Decide On A New Mattress?

Memory foam or latex mattresses/toppers, airbeds or waterbeds, innerspring coil or futon mattresses, all without sales hype: not affiliated with any store or manufacturer. Just personal non-biased perspective on your options. Explore The Mattress Lady
Reasons to Call 911: "I have a serious problem," the 911 caller said. "My neighbor sold me a deep freezer. I just opened it, and there's a body in there, I think." The caller had bought the freezer with the understanding that she couldn't use it for a while because it was being used for a "time capsule," but the seller said a church group would pick up the contents. After waiting three weeks for a church group that never came, the caller opened the duct-taped freezer. "I saw toes and a foot and ankle." She slammed the lid, then opened it again and finally believed the corpse was real. Goldsboro, N.C., police said she was right — and they're investigating, even though the medical examiner says the person died of natural causes, because the treatment of the corpse may have been criminal. (AC/Washington Post) ...It was certainly cold.
A Cold Day at 911 Two: "We've had some weird cases over the years," said Lawrence County (Ala.) Sheriff Gene Mitchell, "but this is just top of the line." Johnny Parker says his wife Anita, 43, had told him she was pregnant with a boy. She would never let him accompany her to the doctor, using one excuse after another. Seven months later she called him to say she was cramping and had called 911. He rushed home to find her covered with blood. Anita told him she had a miscarriage — and had flushed the baby down the toilet. At the hospital, doctors had disturbing news: "She wasn't pregnant. She never has been pregnant," Parker said. "I guess she pushed her belly out all the time, because she looked like she was." When he got home later, he realized his dog was missing. Anita, police say, killed the Chihuahua for its blood and chunks of tissue, which she spread around the bed to look like a miscarriage. Its mutilated body was in the trash. Parker got it around the time the "pregnancy" started. "It hurts like crap, man, about my dog. I loved that dog, man." (RC/WAFF Huntsville) ...And the picture of "What's wrong with Anita" gets clearer.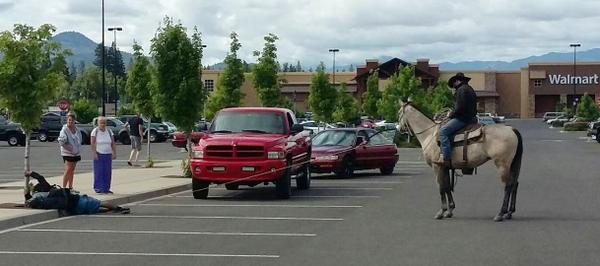 Who Was That Masked Man? Robert Borba, 28, was loading up his truck in a Walmart parking lot in Eagle Point, Ore., when he heard a woman screaming: a man was stealing her bicycle. "I wasn't going to catch him on foot," Borba explained. "I just don't run very fast." He had his horse in a trailer, so he brought it out and rode to her aid. Borba caught up with the man, who was having trouble getting up to speed, so he ditched the bike and ran. Borba, a rancher and former rodeo competitor, simply lassoed the man's legs with a rope, causing him to fall down. The man grabbed a tree to try to pull loose, but Borba simply had his horse, Long John, keep a pull on the rope to hold the man tight. "Do you have a badge to do this?" the man asked Borba. Borba simply took out his cell phone and called police, and held the man for them. Victorino Arellano-Sanchez, 22, was arrested. (RC/Medford Mail Tribune) ...Badges? We don't need no stinkin' badges!
---
Pepperoni Parentage
Divorced Italian Allowed to Pay His Child Support in Pizzas, Court Rules
London Telegraph headline
---
Did You Find an Error? Check the Errata Page for updates.
This Week's Contributors: MS-Mike Straw, AC-Alexander Cohen, RC-Randy Cassingham.
---
There was One Complaint from a Texan in the Premium audience this week about the first story. It's from Greg in ...Illinois: "I have to disagree with you on this. After living most of my life in north Texas, we never called anything a Haboob (except, perhaps a great set of breasts). There's nothing xenophobic about them correcting the story, unless you are zenophobic about what defines a real Texan. Maybe the damned Yankees (visitors from the north that don't return to yankee land) call it a Haboob, but Texans call it a dust storm. Make fun of me if you want, but I'm certainly not zenophobic, nor am I living in Texas (for the past 16 years), but I know the people and the culture, and they won't stand for someone forcing their opinion on them."
Greg needs to read the story again. The National Weather Service meteorologists in Texas do indeed use the term, and they do so because a haboob is different from a dust storm — just as the story says. When others object to the use of the term for the sole reason that it's a foreign word is the very definition of xenophobia. Oh, and by the way: I didn't choose that word, the Houston Chronicle did; that's why that part is in quotation marks. The people who work there, by the way, also live in Texas.
David in Oregon had an addendum: "Regarding the Weather Service's use of the word 'haboob': no one should tell those Texans that the word 'alcohol' also comes from the Arabic." Texans might respond that "We don't drink 'alcohol', we drink beer!" But beer also originally comes from the Middle East: the earliest known chemical evidence of barley beer dates to c. 3500–3100 BCE in the Zagros Mountains of western Iran. In recorded history, it's first found in the written history of ancient Iraq and ancient Egypt. Oh well!
It Figures! (And Last Chance Alert): Last week, after saying there was a limited time to upgrade to Premium before the price rises (at midnight New York time June 30), my shopping cart went offline. The Paypal buttons still worked, but all everyone got from the cart was errors. It took awhile to figure out the problem; once we figured out it was a server issue that couldn't be fixed (or, really, a server operating system that can't be upgraded in place), the only way to get it working again was to move it to a new server. So if you tried and got errors, sorry! It's all fixed now, and the link on the Upgrade Page goes to the new spot.
---
Ten Years Ago in True: A housecat takes on ...a bear (with wonderful photo): Here Kitty Kitty!
No Honorary Unsubscribe This Week: I didn't find anyone who meets the criteria. However:
So Long To actress Janet Waldo, best known as the voice of Judy Jetson (The Jetsons, 1962-1963), Josie (Josie and the Pussycats, 1970-1971) and Penelope Pitstop (The Perils of Penelope Pitstop, 1969-1970), dead June 12 from a brain tumor, at 96.
And To actress Ann Morgan Guilbert, best known as the next-door neighbor Millie on the Dick Van Dyke Show (1961-1966), dead June 14 from cancer at 87.
And Goodbye to actor Anton Yelchin, who played Chekov in the rebooted Star Trek movie series, dead June 19 after being crushed by his car in a freak accident at his home. He was 27.
---
Subscriptions to This is True are Free at http://www.thisistrue.com. All stories are completely rewritten using facts from the noted sources. This is True® is a registered trademark. Published weekly by ThisisTrue.Inc, PO Box 666, Ridgway CO 81432 USA (ISSN 1521-1932).
Copyright ©2016 by Randy Cassingham, All Rights Reserved. All broadcast, publication, retransmission to e-mail lists, WWW, or any other copying or storage, in any medium, online or not, is strictly prohibited without prior written permission from the author. Manual forwarding by e-mail to friends is allowed IF 1) the text is forwarded in its entirety from the "Since 1994" line on top through the end of this paragraph and 2) No fee is charged. We request that you forward no more than three copies to any one person — after that, they should get their own free subscription. We always appreciate people who report violations of our copyright to us.
You can subscribe free by e-mail and get this delivered to you every week.