To get these issues free by e-mail each week, just subscribe using the form above -- your privacy is Randy's policy. (Or cruise around the web site to see more samples, archive, and info on our terrific book collections of thousands of past stories.)
Since 1994, this is the 1182nd issue of Randy Cassingham's...

---
Was This Issue Forwarded to You?

Click Here to Get Your Own Free Subscription.
---
Before the Stories: If my Facebook feed is any indication, there are a LOT of people wanting to communicate with their elected representatives in Washington. Shockingly, some representatives have stopped accepting phone calls. An alternative to writing letters: a good old fashioned fax. But who has a fax machine anymore? You don't need one: Fax Zero, a company that allows you to send a fax over the Internet (for a small fee, or free), allows you to fax almost every U.S. Senator or Congressional Representative — for free. You don't even have to create an account there, and they go to the trouble to ensure they have up-to-date fax numbers.
Why "almost" every one of them? Because some refuse to accept faxes, too. If that "don't talk to me" attitude comes from one of your representatives, maybe you should refuse to vote for them. Fax Zero's tally of the Most Faxed Representatives (with tables for the past 24 hours, 7 days, and 30 days) is fascinating, though the 30-day chart is understated because as of now, it's actually less than 30 days of data. (I know the site's owner, and when I saw the first chart, I suggested he add the second and third.)
---
Teacher, Teacher, I Declare: A parent complained to Raul Quintanilla Middle School officials that a female teacher was giving her son "large amounts of money" that he used for "illegal purposes," causing discipline problems, and she wanted it to stop. The Dallas, Texas, school brought in police to investigate; investigators say the math teacher, Thao "Sandy" Doan, 27, was paying blackmail to the boy — almost $28,000 over two years — to cover up their sexual relationship; the boy allegedly had photos of their affair. The mother turned over text messages between the teacher and her son. Sample: "Anit [expletive] watch ima start getting the pics and everything ready ... to show the cops right I anit playing." Doan has been arrested. It's unclear whether the boy, now 16, will face charges. (RC/Dallas Morning News) ...Mom shouldn't complain to the school about the boy getting money. She should complain that he didn't get a basic education.
I Don't See Your Underwear: Lacey Sponslor, 34, a substitute teacher for a choir class at Pawhuska (Okla.) Junior High School, allegedly was telling students about doing drugs — she has a conviction for a prior drug offense. She also "mentioned she was not wearing underwear" under her skirt, according to police reports. That seemed to get students' attention: one started taking video with a cell phone, and recorded Sponslor doing a cartwheel for the class, allegedly proving her contention. When police spoke to her, she said she was "just dancing" with students. After seeing the video, a prosecutor has filed felony indecent exposure charges. (RC/KTUL Tulsa) ...To be fair, that's the only way she can hit a high C.
Carnival, or Circus? The security screener wasn't about to let Henry Echevarria board his Carnival cruise at Port Canaveral, Fla., with his replica gun. "He pulls out my key and says, 'Oh, here's the problem'," Echevarria said. He and his wife are in law enforcement, and their house key is shaped like a gun — a very small gun. "You can't even get your finger in the hole," he said, "and you can barely get a finger around the grip." Nevertheless, he was told that if he wanted to get on the ship, he would have to get rid of the key. The cruise line put it in a safe. Now it's Echevarria's security that's in jeopardy: "They have my address, they have my key, all they need to do is make a replica and next thing you know they could be at my house." (AC/WTSP Florida) ...You're never safe from "security."
This Issue's Exclusive Sponsor: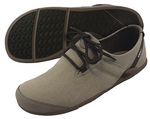 New from Xero: You Do NOT Want This Shoe!
Be prepared. Wear Xero Shoes' new Ipari Hana and you'll never be on time for another event, because you'll be stopped on the street constantly by strangers who tell you how cool your shoes are. Think we're kidding? Try a pair and you'll see.
Really? NINE More Stories?! Yep. The full edition this week also had the stories of the politician who declared "I love this new world — I no longer have to be politically correct!" ...and was arrested for what he did next. A politician in Hong Kong doesn't quite understand the real world either — leading to her being "widely ridiculed." Private college fires president for daring to put a student's safety ahead of profits. Magistrate loses re-election, so he attacks his replacement. Cop uses woman's checkbook to enrich himself ...and then tries to cover up his crimes with attempted murder. "Computer security expert' held off by laptop thief. Fake jail release order backfires on sender. Streaker on Microsoft campus not arrested because.... Florida robber taken down by a waitress — with a well-aimed chair. You can still read these stories! Just ask for your upgrade to start with the 5 February issue. Choose the upgrade option that works for you and stop missing most of the stories.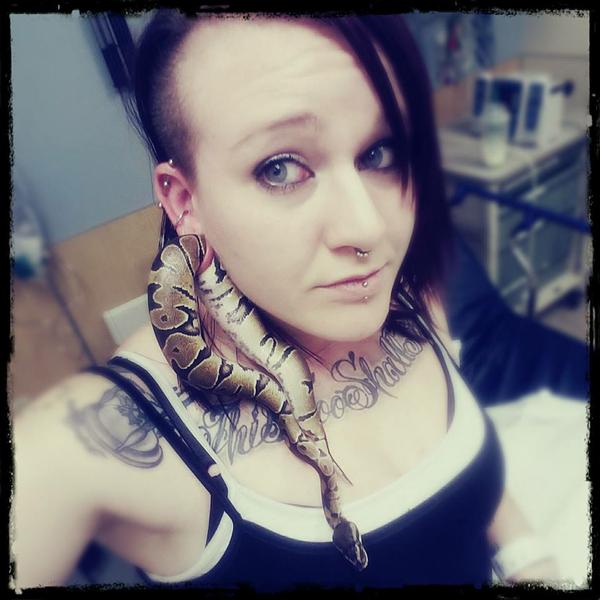 Jewelry: The heavily tattooed and pierced Ashley Glawe was relaxing at her home in Portland, Ore., with her pet ball python wrapped around her shoulders when the snake "lunged" toward her ear — or, more specifically, the wide piercing in her right ear lobe. It got stuck about half-way through. "I tried to get him out myself, and I knew I wasn't going to be able to without hurting him," she said later. She called 911, but firefighters couldn't figure out how to get the snake out of her ear either, and she ended up at Portland Adventist Hospital. "They put string or something in between my ear and the snake and stretched my ear out more," she said, which allowed them to pull the snake out without tearing her ear. (RC/KATU Portland) ...Her chest tattoo already says it all: "This Too Shall Pass".
Happy Anniversary: On the 11th anniversary of Jacob Chapel in Tallahassee, Fla., the church's Pastor, O. Jermaine Simmons, was planning on celebrating with his church. Instead, Simmons was caught in bed with another man's wife, and was forced to quickly flee when the man allegedly threatened him with a handgun. The husband kept Simmons's clothes, wallet, and car keys that he left behind in his rush, but eventually agreed to return the items. Instead of a celebratory sermon, Simmons's message at church focused on the scandal, in which he apparently identified himself and the church as victims. "I'm hurting because I've hurt you," Simmons preached. "It hurts me that you have to defend my actions. You cannot defend sin." Simmons concluded that he wouldn't quit. "What I want from God, I have already received — that's His forgiveness," he said. The parishioners responded with several minutes of applause. A member of the congregation captured the whole sermon on video, which has gone viral on YouTube. (MS/Tallahassee Democrat) ...Hopefully that's the only viral thing that came from the affair.
---
If the Shoe Fits
Toothless Woman Arrested After Officers Find Her Dentures Inside Stolen Car: Cops
WKMG Orlando, Fla., headline
---
Did You Find an Error? Check the Errata Page for updates.
This Week's Contributors: MS-Mike Straw, AC-Alexander Cohen, RC-Randy Cassingham.
---
Why is the Snake Story titled "Jewelry"? Wikipedia notes the ball python (Python regius), is also known as the royal python, which "comes from the fact that rulers in Africa would wear the python as jewelry." And yes, her shoulder-to-shoulder tattoo, partly visible in the photo, does really say "This Too Shall Pass".
Since I know you want to see that photo larger, clicking it (or clicking here) goes to my blog, where you'll find the story and the full-size pic of a good-looking gal with a snake ...in her ear.
Someone You Would Have Liked to Have Met: Well, Marta Becket isn't this week's Honorary Unsubscribe, but her story is amazing anyway, so here's the link to her fantastic obit in the Los Angeles Times:
Marta Becket, desert icon who made the Amargosa Opera House a destination, dies at 92
...and the New York Times has other interesting details in their write-up:
Marta Becket, Dancer Who Built a Theater in the Desert, Dies at 92
You'll see below who I chose instead. While Marta was an interesting person I would have liked to meet, this week's Honoree had a massively profound impact on the world. When it comes to art vs. science, yeah: I'm a geek.
---
I've Hinted That Something New is Coming — and said the new Randy's Random web site isn't it. Indeed it's not, and what we're building is still in testing, but coming right along. It's time to tell you what it is, since it launches on March 1.
The idea was spawned by the sheer number of people who voluntarily pay extra for Premium. About 10 percent of you add on to your Premium subscription fee when you upgrade or renew, which has really helped. On True's Patreon page, for instance, as of now 86 people are paying to get Premium at $4 per month, and scores more are paying even more to help True get to its goal of being fully sustainable. There are some "Rewards" there that many are getting, but many others are just paying extra to keep True going without taking the rewards. I want to sweeten the pot a little with another reward choice for those who are really going the extra mile: another option for those of you who are really standing behind True's mission.
And that pot-sweetener is called The Best of This is True. The idea: start your day — every day — with a story from True's archive that's hand-selected by yours truly to be a particularly good story. It might be extra funny, extra thought-provoking, or just a great example of what makes True fun. It's formatted for easy reading if you're checking your mail on your phone, or it'll be there waiting when you boot up your home or office computer as a way to start your day.
This is the project that took me to Seattle to visit my developer at the first of the year. I sketched out for him what I wanted to do, and he set it up to be completely automated: I could be in a coma and it'll keep going! As long as, at least, I've hand-picked enough stories! That part of the job is already well along, once I'm confident it's working according to the design, I'll get back to picking stories: that's set up to be really easy too: look at the next story and decide whether it's good enough (click), or not (a different click), and on to the next story.
What I'm finding while reading really old stories in the archive: they're still remarkably pertinent, and many of them are really, really, funny! Or pointed. Or mind-boggling.
And, yeah, some of them don't hold up as well, or I can't figure out what the heck my point was back then. Those get skipped. :-)
The result really is what I consider the Best Of the tens of thousands of stories of the past 22-1/2 years (and counting). The best part is, there are so many of them it'll take years to get through them at one story a day — but that's a digestible pace.
There's still some work to go with figuring out exactly how it's all going to work — how you'll get signed up for it — but those who are "Silver" or higher members of True's Community Site (aka Super Premium) will automatically be eligible* get "Best Of", and so will anyone who pledges on Patreon at the $7/month level. Not interested in either path? There will be a way to add on Best Of well before it launches on March 1 — I'll have everything in place by then. So watch this space for more, coming soon.
*(I do know not everyone wants to read archive stories, and that's OK too: you don't have to take it if you don't want it. This will be an option for those of you who do.)
---
Ten Years Ago in True: The difference between "mainstream" media and "alt" media coverage of the death of celebrity Anna Nicole Smith: Death Noticed.
This Week's Honorary Unsubscribe goes to Harold Rosen. An electrical engineer, Rosen didn't invent the geostationary communications satellite, but he was the one who realized that it could be done when "experts" said it couldn't.
Read his fascinating story in the Archive: Harold Rosen (OK to share link)
---
Subscriptions to This is True are Free at http://www.thisistrue.com. All stories are completely rewritten using facts from the noted sources. This is True® is a registered trademark. Published weekly by ThisisTrue.Inc, PO Box 666, Ridgway CO 81432 USA (ISSN 1521-1932).
Copyright ©2017 by Randy Cassingham, All Rights Reserved. All broadcast, publication, retransmission to e-mail lists, WWW, or any other copying or storage, in any medium, online or not, is strictly prohibited without prior written permission from the author. Manual forwarding by e-mail to friends is allowed IF 1) the text is forwarded in its entirety from the "Since 1994" line on top through the end of this paragraph and 2) No fee is charged. We request that you forward no more than three copies to any one person — after that, they should get their own free subscription. We always appreciate people who report violations of our copyright to us.
---
You can subscribe free by e-mail and get this delivered to you every week.
This Week's Issue