To get these issues free by e-mail each week, just subscribe using the form above -- your privacy is Randy's policy. (Or cruise around the web site to see more samples, archive, and info on our terrific book collections of thousands of past stories.)
Since 1994, this is the 1192nd issue of Randy Cassingham's...

---
Was This Issue Forwarded to You?

Click Here to Get Your Own Free Subscription.
---
Anything Your Attorney Says Can Be Used Against You: Tiffany Li, 31, is being held (along with her boyfriend) in the San Mateo County, Calif., jail, accused of shooting her husband to death. She is eligible for bail, but her bail is $35 million, apparently because she is a flight risk since her family lives in China, and "Our belief is her family wealth is in the $100 million to $150 million range," says District Attorney Steve Wagstaffe. Her family hasn't put up her bail, but "nearly 20 friends, family and business associates" are pledging their real estate holdings to secure her release. The rules in such a case say that the total value must be double the bail amount, so about $70 million in property is being pledged. "I was surprised at the number of people that came forward," says Li's attorney, Geoffrey Carr. "She is well-liked in the community and is a straight shooter." (RC/Los Angeles Times) ...Isn't that what got her in trouble in the first place?
Demands of the Job: Judge Deborah Gross-Quatrone says that when she was on the Bergen County, N.J., bench, her boss, Assignment Judge Bonnie Mizdol, verbally abused her. She even felt pushed to work days as long as 18 hours. That's part of Gross-Quatrone's defense to an ethics charge of secretly recording a conversation with Mizdol. But when it comes to accusations that Gross-Quatrone made a law clerk work unpaid overtime, she says she "never dictated start days, hours, or times." And as for the charge that she had her secretary do her son's homework and other non-judicial tasks, the judge said, "She gladly did so on her breaks and on her own time." (AC/Newark Star-Ledger) ...As gladly as you worked 18-hour days, Your Honor?
Peer Pressure: The day after a man disappeared in a suspected crocodile attack near Innisfail, Qld., Australia, a group of people at a youth hostel in Innisfail "dared" Lee de Paauw, 18, to follow up on his bragging that he could swim across the river. It was 2:30 a.m., but he dove in. "Pretty much as soon as he jumped in, there was splashing and screaming," said Sophie Paterson, a British backpacker who was staying at the hostel. "There was blood everywhere and he just wouldn't stop screaming." Somehow, de Paauw managed to get out of the water by himself, and was treated by medics for "serious wounds" to his arm. "It all happened very fast," said Paterson, who admitted she was one of the group who egged de Paauw on. (RC/AP) ...Obliviots: at the mercy of the rest of society since the Stone Age.
This Issue's Exclusive Sponsor:
Regain Control of Your Inbox

You don't have to wade through junk just to get to the good mail in your inbox. Take 15 minutes to read Randy Cassingham's Spam Primer web site — and grab his highly rated ebook (just $3.99!) with proven techniques to Stop most spam from even showing up in your inbox. Read Randy's Spam Primer
Double the Stories: Man charged with 30-foot graffiti tag after cops ...match his handwriting?! Russian petting sue sues after (they claim) their rented raccoon is used in an adult video (the "why" they think that is the hilarious part). The world's least competent robber? Unlicensed dentist's lab made meth on the side. Car impounded after police find its suspension is reinforced with chicken wire and logs. Foster parents decertified after they refuse to lie to foster children to say the Easter Bunny is real. Fundraiser for religious play is upset when his fundraising idea is nixed as blasphemy. The full edition always has at least double (and often more) stories as this free sampler edition. Support Thought-Provoking Entertainment and get more stories: a win-win! See your upgrade options here.
How Nerds Survive Prison: Authorities at Marion (Ohio) Correctional Institution were alerted that a computer on their network "exceeded a daily Internet usage threshold." They tracked down the computer in question — hidden in the ceiling above a training room closet. According to investigators, lax supervision at the prison enabled inmates to build two working computers from parts, sneak them through security, and run cables to connect them to the prison's network. The Ohio Inspector General says five inmates were involved, and one had used the computers to steal the identity of another inmate. All five have been moved to other prisons. "They were able to travel through the institution more than 1,100 feet without being checked by security through several checkpoints," Ohio Inspector General Randall J. Meyer said. "It's almost as if it's an episode of 'Hogan's Heroes'." (MS/WSYX Columbus) ..."I see nothing! I hear nothing! I know NOTHING!!!" —Sgt. of the Guards.
Who's a Good Boy?! When "Capone" — a Black Lab-German Shepherd mix — wandered into a neighbor's yard in Aurora, Colo., the city's Animal Control picked it up. But it wasn't a simple case of paying a fine and getting the dog back: Tracy Abbato and Tito Serrano were told the dog catchers suspected the dog was a "wolf hybrid" and thus illegal in the city. They were charged with "keeping a wild, exotic or dangerous animal," which could never be returned to them. "Capone is a family member," Abbato said. "We've had him for 10 years. He has grown up with my kids; it's devastating." The city decided to prove its contention by ordering a DNA test from the University of California at Davis's veterinary school — which came back "Not an ounce of wolf," Abbato said. But that wasn't enough: she and Serrano still had to go to court to get the criminal charges dismissed. In a plea bargain, the couple agreed to fence their yard, and get training from an "animal behaviorist." Their attorney — yes, they had to get one — noted that "Clearly the conclusion was indicative of what we have known for a long time: there is a lack of training and expertise in visual identification of breeds and species." (RC/Denver Post, KMGH Denver) ...Guilty until proven innocent? Nothing new anymore.
---
McDonald's? Then It's Assault with a Deadly Weapon
Woman Assaults Mother with Cheeseburger
Indianapolis (Ind.) Star headline
---
Did You Find an Error? Check the Errata Page for updates.
This Week's Contributors: MS-Mike Straw, AC-Alexander Cohen, RC-Randy Cassingham.
---
Remember the Story of April the Giraffe (This is True #1186, 5 March 2017)? She was "imminent" to give birth six weeks ago, according to the Animal Adventure Park in Harpursville, N.Y. (The story made True because "a handful of extremists and animal activists" had complained the live-stream video from her pen was "sexual content" ...and a gullible admin from Google's Youtube yanked the feed down.) Well, she finally popped on Saturday (April 15). The male calf is healthy, at 5'9" tall and 129 pounds (1.75m/58.5kg). The Park is continuing to leverage public interest by having a "Name April's Calf" contest. Yeah: online. Surely "Giraffie McNeckNeck" will be high on that list (reference: True #1137, 27 March 2016), but they learned from the Boaty McBoatface fiasco: each vote will cost you $1 ...with a minimum of 5!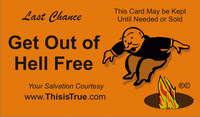 With the Weather Warming Up, I "warm up" to doing my usual summer GOOHFpacks: an assortment of Get Out of Hell Free items at a nice package price. For Package #28, we of course have to start with GOOHF cards: A full Jumbo Pack of 500-ish cards (in your choice of Classic or Pride style, or half and half), a $40 value. Then add a GOOHF Card Case to make it easy to carry your cards, embossed with the GOOHF image, normally $11. For your desk, the laser-engraved solid oak GOOHF sticky note holder, including two pads of our special GOOHF sticky notes, regularly a $24 package. A set of three static-cling GOOHF decals for your car, front door window, or other strategic location, a $5 value. And, for Premium subscribers, we'll also throw in one of the super-popular 'Does Not Play Well with Obliviots' buttons, a $7 value. That's $80 worth of stuff for just $52 — 35 percent off! As always, it comes with Free Priority Mail shipping (USA only: airmail elsewhere for less than cost), and you get the ability to throw in some extra goodies for a special price while you're at it. There's a very small catch: I'm limiting this to 100 packages (and the Premium readers have already grabbed a bunch of them), or May 1, whichever comes first. Full details and ordering here.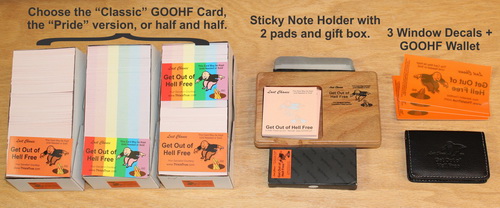 ---
Ten Years Ago in True: Sure enough, politicians are pretty much the same around the world: Being a Politician Is Nice Work, When You Can Steal It.
Today on Randy's Random: You May Be a Redneck If.... And be sure you saw Monday's, The Overview Effect.
This Week's Honorary Unsubscribe goes to Robert W. Taylor. An orphan, Taylor showed the amazing leverage good leadership has. In fact, you are reading this because of Taylor's vision.
---
Subscriptions to This is True are Free at http://www.thisistrue.com. All stories are completely rewritten using facts from the noted sources. This is True® is a registered trademark. Published weekly by ThisisTrue.Inc, PO Box 666, Ridgway CO 81432 USA (ISSN 1521-1932).
Copyright ©2017 by Randy Cassingham, All Rights Reserved. All broadcast, publication, retransmission to e-mail lists, WWW, or any other copying or storage, in any medium, online or not, is strictly prohibited without prior written permission from the author. Manual forwarding by e-mail to friends is allowed IF 1) the text is forwarded in its entirety from the "Since 1994" line on top through the end of this paragraph and 2) No fee is charged. We request that you forward no more than three copies to any one person — after that, they should get their own free subscription. We always appreciate people who report violations of our copyright to us.
---
You can subscribe free by e-mail and get this delivered to you every week.
This Week's Issue