To get these issues free by e-mail each week, just subscribe using the form above -- your privacy is Randy's policy. (Or cruise around the web site to see more samples, archive, and info on our terrific book collections of thousands of past stories.)
Since 1994, this is the 1178th issue of Randy Cassingham's...

---
Was This Issue Forwarded to You?

Click Here to Get Your Own Free Subscription.
---
This is a Resend of the issue that was supposed to go out Friday January 13 ...but didn't. I now have the glitch figured out, and trust it won't recur. (The previous issue that was supposed to come out the week before came out a little more than an hour ago. If you missed that one, you should be able to find it on the Last Week's Issue page.)
---
Turnabout: Residents in Valle de Luz, Guerrero, Mexico, exasperated by "El Tequilero" (roughly, The Tequilla Drinker), whose gang kidnaps people for ransom, say police are doing nothing to stop the crime wave. When a respected community member, architect and engineer Isauro de Paz Duque, was abducted, locals finally had enough: they "took up arms" and grabbed about 20 people that Raybel Jacobo de Almonte — El Tequilero — apparently cared about. Like who? "We've got his mom," said de Paz Deque's wife. To prove it, she released a video of the woman. "My son, if you have the engineer hand him over, please," she pleads in the video. "If you have him I'll trust that you will deliver him," she says. "Do it, please." De Paz Deque was very quickly released. De Altmonte's mother was then released unharmed, but Guerrero's governor claimed that "government intermediaries" had brokered the deal. (RC/Mexico News Daily, AP) ...Time for Mrs. de Paz Duque to run for Governor.
More than Twice the Stories: The full edition always has at least double the stories, and usually more than that. This week, you missed: Bank robber gets away with cash, but the police were able to easily identify and capture him because.... Man convicted of fraud sues his victim ...for $72 million. Rapper claims that he's been shot 10 times now — and is still alive to tell of it. Teen calls 911 to say his grandmother threatened him with a gun over ...what?! Woman has been playing the lottery a lot, but hasn't won yet, so it must be a conspiracy by lottery officials! Man tries to rob a The 6'7", 280-pound, former pro wrestler and bodyguard — and then it gets funny. And the results of the January Reader Tagline Challenge. Stop missing most of the good stuff: Premium subscriptions start at less than $15! See your upgrade options here.
4-Wheel Dunk: A pack of backpackers was on a barge to Australia's Fraser Island when one of their vehicles, a rented 4x4, suddenly decided it was a self-driving car — and autonomous enough to be suicidal. With no driver and no passengers, it started to roll. "A young guy tried to grab it by the bull bar, but he didn't have much luck," said witness Katrina Lawrence. The vehicle went over into the water and sank, taking travelers' phones, passports, and bank cards with it. Manta Ray Fraser Island Barges said it was investigating. "The guys took it quite well," backpacker Chloe Swift said, "but a lot of the girls were crying, and a lot of people haven't rung their families because they are so upset right now." (AC/ABC Australia) ...Also, maybe, because they lost their phones?
This Issue's Exclusive Sponsor:
True Needs Your Support!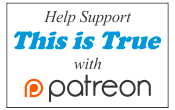 This is True struggles to keep going in the shadow of giant media sites working to get your attention with cat videos, fake news, and fake outrage. Help support Thought-Provoking Entertainment, and get some neat rewards in return.
What Could Go Wrong? After a derailment of a Washington D.C. Metro train, track problems were the chief suspect. Investigators started talking to the track inspectors: policy requires tracks to be inspected twice a week, but many of the track inspectors couldn't even answer basic questions about what their jobs entailed. Their inspection reports were falsified, investigators say. About half of Metro's inspectors and supervisors have been fired, suspended without pay, or demoted due to "years" of "a disturbing level of indifference, lack of accountability, and flagrant misconduct," says Metro General Manager Paul Wiedefeld. He also noted that no one turned off power to the electric third rail when the derailed train was evacuated, as emergency procedures dictate, putting passengers and rescuers at dire risk. Amalgamated Transit Union Local 689 President Jackie Jeter plans to appeal the firings, since "what they've done is not necessarily falsification in their mind." (RC/WTOP Washington D.C.) ...Because pretending to do your job ought to be good enough.
Crappy Car, Crappy Criminal: Kay Lewis of Kansas City, Mo., says two strangers asked her for a ride. She decided to be safe and declined. After spending an evening at the movies with her boyfriend, Lewis left her car parked on the street. The next morning, she discovered the ignition switch on her steering column was broken off. The also discovered something else. "I looked down and I saw a wallet on the ground," Lewis said. "It was an I.D. with a picture matching the guy that I saw the night before." She believes the would-be thief followed her and her boyfriend after they denied the two men a ride, which seems like a lot of work given the state of Lewis's 1985 Oldsmobile. "It's a piece of crap," she said. "I bought it for $300, and have put like a couple hundred worth of work into it." She says police couldn't help her since nothing was stolen, and she stopped short of calling the man, whose name is being withheld. "It's such a hilarious classic stupid criminal story," she said. "When I found the wallet, I was literally looking around like, 'am I being punked?'" (MS/WDAF Kansas City) ...The story alone may double the value of her car.
An Appropriate Location: Larry Harmel, 71, was arrested in Baltimore, Md., by an undercover police officer who was posing as a prostitute after he allegedly agreed to pay her for sex. The arrest led him to resign from his position — as the executive director of the Maryland Chiefs of Police Association. Harmel, a 30-year state trooper and a former police department chief, was arrested at the place where he took the officer for the deed: a graveyard. An attorney for the MCoPA noted Harmel is "a long, storied, exemplary law enforcement officer and public servant who's got an unblemished career." (RC/Baltimore Sun) ...Or, more accurately, "had" an unblemished career.
---
Self-Cleaning Oven
A Neighbor Was Asked to Clean a Home. She Found a Grenade in the Oven.
Bradenton (Fla.) Herald headline
---
Did You Find an Error? Check the Errata Page for updates.
This Week's Contributors: MS-Mike Straw, AC-Alexander Cohen, RC-Randy Cassingham.
---
Quick Special: There Has Been a Surge recently in orders for the credit-card-like plastic Get Out of Hell Free cards. That reminded me it's been awhile since we've done a special on them, so we're throwing in two regular (glossy paper) GOOHF cards with each plastic one ordered to give you extra flexibility on what you hand out. There's no minimum or maximum order requirement. The special runs until Friday, January 27 — and does include the recent orders too. The plastic card order page is here.
Fun With Tech: The glitch that kept the past two issues from coming out when they were supposed to, thus requiring resends, was an eye-roller; I didn't realize something was up because I got my copies ...which is why I at first ignored the "I didn't get mine" emails. Turned out to be a pretty subtle forehead-slapping gotcha. Happily, at least the Premium editions came out as they were supposed to — they use different servers.
Which is to say, if True is important to you — you really missed the issues! — then you should upgrade if you can. It's tough to keep things going week after week, and it really does need your support! Can't afford the $32/year? Then you're most welcome to stay on the free distribution forever. Can afford it? Then you should: see your upgrade options here — you can use Paypal, plastic, even send checks and money orders in the mail (as long as they're payable through a U.S. bank). And thanks!
---
Ten Years Ago in True: An "odd death" story that led to a lawsuit: Lessons from a Strange Death.
This Week's Honorary Unsubscribe goes to Francine York. A character actress, you have probably seen York many times, and likely never knew her name. Read her story, including the time I met her, in the archive: Francine York (OK to share link).
And So Long to Jean Vuarnet, who won the gold medal in downhill skiing at the 1960 Winter Olympics for France by coming up with "the tuck" — a low-wind-profile stance that seems obvious today, but he's the one who introduced it to the world. He died January 2 from a stroke, at 83.
---
Subscriptions to This is True are Free at http://www.thisistrue.com. All stories are completely rewritten using facts from the noted sources. This is True® is a registered trademark. Published weekly by ThisisTrue.Inc, PO Box 666, Ridgway CO 81432 USA (ISSN 1521-1932).
Copyright ©2017 by Randy Cassingham, All Rights Reserved. All broadcast, publication, retransmission to e-mail lists, WWW, or any other copying or storage, in any medium, online or not, is strictly prohibited without prior written permission from the author. Manual forwarding by e-mail to friends is allowed IF 1) the text is forwarded in its entirety from the "Since 1994" line on top through the end of this paragraph and 2) No fee is charged. We request that you forward no more than three copies to any one person — after that, they should get their own free subscription. We always appreciate people who report violations of our copyright to us.
---
You can subscribe free by e-mail and get this delivered to you every week.
This Week's Issue