To get these issues free by e-mail each week, just subscribe using the form above -- your privacy is Randy's policy. (Or cruise around the web site to see more samples, archive, and info on our terrific book collections of thousands of past stories.)
Since 1994, this is the 1199th issue of Randy Cassingham's...

---
Survival of the Fittest: A popular Orange County, Fla., swimming hole, complete with a roped-off area and lifeguards, may be closed after a 10-year-old girl swimming there was attacked by an alligator. The alligator simply swam under the rope into the swimming area. The girl survived, but the gator was killed; it measured 8ft 9in (2.6m) long. Not everyone is in favor of closing the county park's swimming hole, which is on Lake Mary Jane. "I mean, if the county wants to open a park in a place where the alligators have lived, I guess personally that's our decision to come here and decide to swim," said Dustin Benton, who wanted to swim, but couldn't since the lake was closed until the county made up its mind. (RC/WKMG Orlando) ...Sounds like he's recreating with a different kind of Mary Jane.
Ask and You Will Find: "One of our narcotics investigators came to the house looking for something else," says Catawba County, N.C., Sheriff Coy Reid. "When he knocked on the door, the guys said, 'I guess you're here about the opium'." Behind the house, deputies found about an acre of poppy plants used in the production of opium. Cody Xiong, 37, was arrested, and deputies pulled up over 2,000 plants; it's estimated the resulting heroin would have been worth approximately $500 million. The next day, deputies returned to confiscate hundreds of chickens, dogs, and cats that were found with various wounds and signs of neglect. Catawba County officials are investigating whether the chickens were used for cockfighting. "The animals were taken to a secure location and immediately fed and hydrated," the department said in a statement. "They are being examined by veterinarians, tested for communicable diseases, and evaluated for re-homing potential." (MS/Charlotte Observer) ...There's a new free-range field available in the county.
The Most Brutal Cure: It perhaps wasn't a surprise that two people were found unconscious at the Freedom Ridge Recovery Lodge in West Brandywine Township, Pa., suffering drug overdoses. After all, it's a halfway house for drug addicts. Except in this case, the two were staffers — drug counselors at the facility. "If anybody is wondering how bad the opioid epidemic has become, this case is a frightening example," said Chester County District Attorney Tom Hogan. The two counselors were found by the six residents of the home, but it was too late: they're dead. (RC/CNN) ...In other news, the Recovery Lodge has received six applications for their two new openings.
This Issue's Exclusive Sponsor:
Drone Pilots: Do You Have Your Wings?

Beautiful custom metal Drone Pilot Wings dress up your shirt, jacket, and/or equipment box, showing your pride and professionalism in your hobby. Makes a great gift, and is less expensive than most message t-shirts (lasts longer, too).
Order Yours Here, with discounts for extras.
Paintus Interruptus: The water tower in Sussex, Wisc., had the name of the town on it, but it was to be decorated with a new logo, so workers began putting up primer, covering up the town's name. They covered the first S, the U, the second S ... and then they encountered a ventilation problem, so they stopped to let the paint dry. "I almost drove off the road when I saw it," said Jessica Bruss, who has an 8-year-old son and is presumably not completely unacquainted with the word on the tower. Painters will have to cover "SUSSEX" somewhere else on the tower too, and the contractor was unable to promise that the same issue won't arise there. (AC/WTMJ Milwaukee) ...Evidently he didn't suss that they should paint from the back end.
Don't You Just Hate Missing Stories? Such as, this week, when a cop pulled over a motorist to ask if he knew someone was sleeping on his trunk lid (nope!) Woman puts WHAT through the x-ray in the courthouse security line?! Owner of topless cleaning company arrested for shoplifting ...underwear. Impatient motorist drives through cones, and sinks in freshly poured concrete (and then it gets amusing). Girl Scout leader now a fugitive: she checked out $15,000 worth of cookies and disappeared. "Adult goods" warehouse burgled twice in one weekend, and the owners have a message for the thieves. Racist housemates turn on each other; two dead. Florida man taunts his roommate to shoot him — so he does. Wouldn't you love reading these? You can if you ask for your upgrade to start with the 4 June issue. Upgrade here and stop missing most of the stories every week.
See Me After Class: The drama teacher at Forest Glen Middle School in Coral Springs, Fla., has been arrested after an incident with a former student. Police say they found Pamela Stigger, 33, parked in Tamarac "moments after she had engaged in sexual acts with a 15-year-old boy" in the back seat of her car. The boy, who was found with his pants down, said Stigger was driving him home, but stopped and started kissing him, and then they had sex. He said she had been his drama teacher in eighth grade. Stigger was charged two counts of sexual battery and one count of lewd conduct. She denies the charges: "The defendant said she was only trying to mentor him while they were both occupying the back seat of her vehicle," the arresting officer said. (RC/Miami Herald) ...Let's just say I doubt she'll be nominated as Best Actress for that unconvincing performance.
---
The Only Surprise is This Doesn't Happen Weekly
1 Dead, 9 Hospitalized after Eating Gas Station Nachos
AP headline
---
Did You Find an Error? Check the Errata Page for updates.
This Week's Contributors: MS-Mike Straw, AC-Alexander Cohen, RC-Randy Cassingham.
---
Sometimes I Find the Stories for True contributors Mike and Alexander, and sometimes they run across something and ask for the assignment. Such was the case this week with Alexander's water tower story. Does it sound at all familiar to you? If so, you may be a long-time reader. I was quite sure I had done a similar story in years past, and sure enough, I found it: "Of Towering Import" was in the 21 July 1996 issue, putting it in Volume 3 of the True book collection. Pretty much the exact same scenario. In fact, very exact: that was also in Sussex, Wisc., so I'm wondering if it's indeed the very same water tower. And it goes to show the turnover in the news business: the reports I saw didn't mention that the same thing happened in the same town 21 years ago.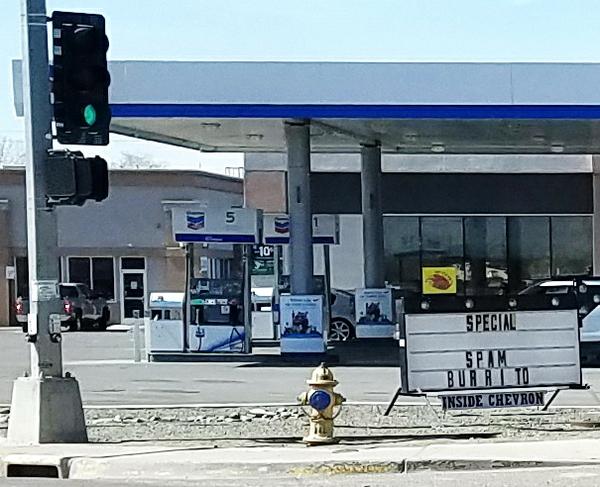 The Deadly Nachos (headline of the week) were contaminated with botulism, in Walnut Grove, Calif., a few miles south of the state capital, Sacramento. It reminded me of this sign (click to see it larger, but it says "SPECIAL: SPAM BURRITO. INSIDE CHEVRON"). The photo is mine, taken in New Mexico as we were passing through on our trip to Texas this spring. Not just a gas station burrito, but a SPAM gas station burrito. It likely won't surprise you that we did not stop. I really am surprised that there aren't more food poisonings from such extra-casual dining ...uh... opportunities.
I Have All the Hardware and am getting up to speed on the software I'll need for my upcoming Podcast. Now to start experimenting! If you haven't caught up on that yet, True's Podcast is coming the first week in July, the start of this publication's 23rd year(!) online. The announcement, and a sign-up form to be on the Podcast Updates List, is here.
If that's not a big enough challenge to get up and running, I decided I can't ...well, don't want to... launch it ahead of something else I've been wanting to do for a long time now: completely update True's web site. I had hired someone to do it, but they bailed on me. I've been converting my web sites to a new Content Management System (such as the Spam Primer and my mastermind group for writers, The Writerati — which is still in no-charge beta mode, as a hint to the writers out there!), and I've learned so much about that CMS that I decided to do the True site mostly by myself. It's a big job: the site is about 800 pages, with more than 13,000(!) comments, and that doesn't even count the story archive (about 2,000 data base-generated pages). I'm really pleased how it's coming so far, and hope to have it ready to go by the end of the month. It'll be secure, and much more "mobile friendly," too.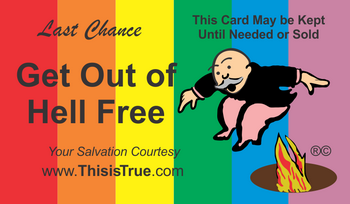 June is "Pride Month" for the LGBT community. I created a special "Pride" version of the Get Out of Hell Free card awhile back. For the next GOOHFpack special, they're on sale. Since the cards were originally priced to break even on the printing, processing, and shipping, it's pretty rare for me to discount the cards themselves, so I'm limiting this deal to 50 packs (or until June 28, whichever comes first). It's a very simple pack: a "mini Jumbo" box of about 300 cards, plus a magnet version of the card for your fridge, locker, or whatever. And the package is nearly 40 percent off. You also get the opportunity to choose some discounted add-ons too, to make your own package. Since I don't discriminate, you get to choose whether you want the Pride or Classic versions of the card. Good deal? I think so. Click the card image or here to order.
---
Ten Years Ago in True: Toy Story — a charming story about a 9-year-old girl and her little brother. And a really smart cop.
Today on Randy's Random: Experience Got Him Here.
This Week's Honorary Unsubscribe goes to Fred Kummerow. A biochemist, Kummerow changed how Americans eat. Then, he made a startling discovery that changed how the world eats.
Read his fascinating story in the Archive: Fred Kummerow (OK to share link)
---
Basic Subscriptions to This is True are Free at http://www.thisistrue.com. All stories are completely rewritten using facts from the noted sources. This is True® is a registered trademark. Published weekly by ThisisTrue.Inc, PO Box 666, Ridgway CO 81432 USA (ISSN 1521-1932).
Copyright ©2017 by Randy Cassingham, All Rights Reserved. All broadcast, publication, retransmission to e-mail lists, WWW, or any other copying or storage, in any medium, online or not, is strictly prohibited without prior written permission from the author. Manual forwarding by e-mail to friends is allowed IF 1) the text is forwarded in its entirety from the "Since 1994" line on top through the end of this paragraph and 2) No fee is charged. We request that you forward no more than three copies to any one person — after that, they should get their own free subscription. We always appreciate people who report violations of our copyright to us.
---
You can subscribe free by e-mail and get this delivered to you every week.
This Week's Issue