To get these issues free by e-mail each week, just subscribe using the form above -- your privacy is Randy's policy. (Or cruise around the web site to see more samples, archive, and info on our terrific book collections of thousands of past stories.)
Since 1994, this is the 1186th issue of Randy Cassingham's...

---
Was This Issue Forwarded to You?

Click Here to Get Your Own Free Subscription.
---
Before the Stories: "Daily" (and quick) is officially in. I don't just mean my own Randy's Random meme-a-day site, or even my new Best of This is True story-a-day delivered to your inbox. Long-time readers will remember that way back in 1999, I created a "good news" feature called HeroicStories (which is not daily). The publisher who took it over from me died, and good friend Leo Notenboom (of Ask Leo! fame) got it running again. Well, Leo has extended the idea with a new daily feature: Not All News is Bad ("A Daily Antidote to Everything Else"). Each day it presents a quick summary of one "good news" item that he finds, with a link to the original if you want to know more. Indeed it is a highly recommended antidote to the political back and forth sniping that seems to dominate Facebook these days. You can choose the kinds of things you see each day, rather than let Facebook choose for you!
---
Icy Reception: Lucas Patchen, 17, plays basketball for Thousand Islands High School in Clayton, N.Y. When the team had a game, Patchen missed the bus. The rules state that players must ride the team bus, so Patchen was benched — even though he had a pretty good reason for missing the bus. Patchen is a volunteer for the Clayton Volunteer Fire Department, and he had been called out for a rescue: a fisherman was stranded on a block of ice drifting out into Chaumont Bay. Patchen sent a text message to teammates letting them know what was up, but that wasn't good enough for head coach Scott LaLonde: Patchen showed up on his own in time for the game, but the coach wouldn't let him suit up, let alone play. "I showed him a picture that the LifeNet helicopter took of the boat and us out there," Patchen said later, "and he proceeded to tell me that it was an administrative issue and it didn't have anything to do with him." School Superintendent Michael Bashaw backed the coach, saying Patchen was "well aware of the rules as this issue arose in the past." (RC/Watertown Daily Times, WWNY Carthage) ...In other words, they didn't think heroic community involvement was worthy of a rule change when this issue arose in the past.
Royal Highness: Employees found something odd at the Legoland in Windsor, England — something just as iconic as the plastic bricks, but not made out of them. Workers checking an unused cottage for asbestos discovered 50 marijuana plants, along with cultivation equipment. "The building in question is inaccessible to the public," a spokeswoman said, "and appears to have been accessed via the Crown Estate" — royal land. (AC/Edinburgh Scotsman) ...So now we know where they make the joints marked "By Appointment to Her Majesty the Queen."
This Issue's Exclusive Sponsor: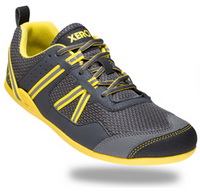 New from Xero Shoes!
Xero Prio is our 'barefoot' running shoe. It still has our famous protective minimalist sole, but with comfortable and super-lightweight uppers that look good, too. Naturally inspired, supernaturally awesome.
An Authority on Transportation: Nevada Transportation Authority supervisor Robert Reasoner, 36, was arrested in Carson City after allegedly arranging to buy heroin from an informant. This arrest is different than the previous charges he's had: two DUI convictions, plus he pleaded guilty to a lesser reckless driving charge after another alleged DUI incident. He was also out on bail after an incident where he allegedly drove under the influence and fled the scene of his crashed state-owned vehicle. Because civil service protections prevent Reasoner from being fired without a hearing, he was placed on paid administrative leave pending an investigation. "He's kind of spiraling out of control," said Carson City District Attorney Jason Woodbury. (MS/Las Vegas Review-Journal) ...To spiral out of control, you first have to be in control.
Authorities on Transportation II: U.S. Transportation Security Administration agents have missed weapons in security tests, so new procedures have been put into place. "TSA continues to adjust and refine our systems and procedures to meet the evolving threat and to achieve the highest levels of transportation security," the agency said in a statement. That means agents will be making "more intimate contact than before," a TSA spokesman admits. Joel Stratte-McClure of Redding, Calif., was told he needed a special pat-down because "bad people conceal weapons in their pants." Stratte-McClure called it "groin scrutiny." TSA public affairs manager Nico Melendez says the new "intimate" procedure is "streamlined" and is designed to "reduce confusion" while it "lessens the cognitive burden for our officers." (RC/Redding, Calif., Record Searchlight) ...Yes, "just grope everybody" doesn't strain the poor agents' minds compared to having to decide who might be an actual threat.
Eight More Stories: Florida "betting consultant" cons bank director out of $45 million. Michelin accidentally gives a coveted "star" to a diner with a similar name as a snooty place. Las Vegas men try to rob a guy in an alley — a cop on a stakeout. Man being chased by police rolls his car two to three times — but he landed upright and kept going. Florida man rams a woman with his car several times because he wanted to "talk with her at any cost." Woman decides not to wait for train that's coming any minute, so starts walking down the track. Nursing home aide arrested after giving lap dance to 100-year-old resident. Murderous robber tells partner in crime "You saw too much!" and shoots him, too. There's an awful lot of craziness in True every week, and this edition is just a sampler. To get it all, try a Premium upgrade — subscriptions to the full editions (with no outside ads) start at just $12! See upgrade options here.
Camera Shy: "It's imminent," says Jordan Patch, who owns the Animal Adventure Park in Harpursville, N.Y. April, a 15-year-old giraffe, is to give birth at most any time, so the park was live-streaming video from April's pen on Youtube so people could watch. But the video suddenly went dark: Youtube yanked it off the air due to "sexual content" and lack of clothing. Really. Patch says "a handful of extremists and animal activists" had complained. "By kicking our livestream offline, you have literally removed an educational tool and you have harmed the species survival more than you could ever recognize," Patch complained on Facebook. That led to a massive uproar, which caused April's fame to go viral — and Youtube quickly restored the feed. As of this writing, the 150-pound, 6-foot-tall, baby has not arrived. (RC/AP) ...They should have named her March, then.
---
Live by the Media, Die by the Media
[Missouri Gov.] Greitens Complains of Lack of Coverage, but Won't Talk with Reporters
St. Louis Post-Dispatch headline
---
Did You Find an Error? Check the Errata Page for updates.
This Week's Contributors: MS-Mike Straw, AC-Alexander Cohen, RC-Randy Cassingham.
---
The Giraffe Story seems to be Quite the Thing this week. The live GiraffeCam is here, with no 6-foot baby dropping as of this afternoon.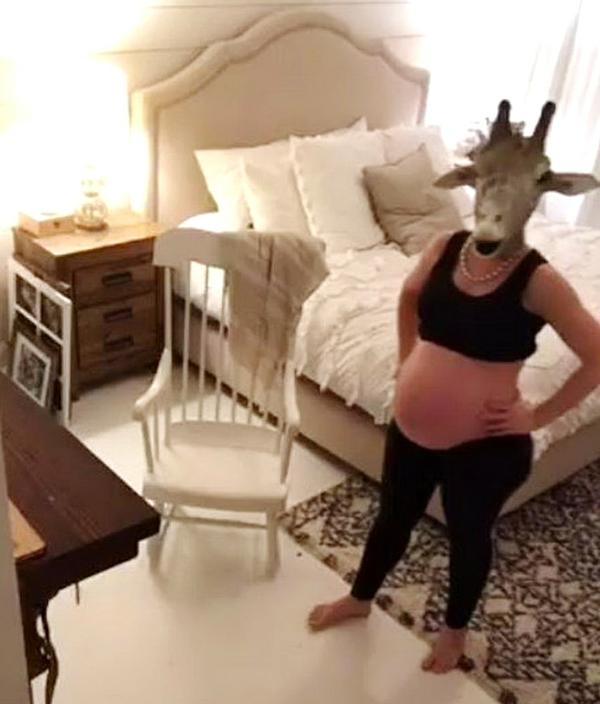 Meanwhile, Erin Dietrich of Myrtle Beach, S.C., has been watching the GiraffeCam more expectantly than most: she's 39 weeks pregnant herself, due March 14. She's so into the April phenomenon that "All our friends have been making fun of me and my obsession with April," she said. "So we just thought 'hey, we should order a giraffe mask'." She did, on Friday, and thanks to the wonders of Amazon, it arrived Sunday. Being a photographer, she put up a camera in her own pen (er... bedroom) and did a spoof video of her waiting for her due date (example screen cap, right). Dietrich streamed it live to Facebook yesterday, and as of this afternoon, her video had been shared by several hundred thousand people, and has more than 19 million views — so many that it rivals the real giraffe's. "Clearly we live an exciting life over here in the Dietrich household," she posted.
Update: Dietrich had her baby on Wednesday. Still waiting on the real giraffe.
As I Was Going Through the weekend's orders on Monday, I saw an upgrade from Perry in Indiana, notable in that he was returning after his previous Premium subscription expired ...in 2003. "We need more truth and keen observations," he explained. "In short, we need good citizens and you play a part in that! Thank you Randy."
I'm much more used to liberals unsubscribing in protest because I pointed out a foible of a Democrat, or a conservative unsubscribing in protest because I laughed at something dumb a Republican did. It's not someone's politics that determines whether they're featured in True, but rather their actions. So to get support in celebration that This is True tells the truth, even if it makes Perry squirm now and then? Lovely indeed. Thanks.
Then Came a Request from David in Texas to be added to the Best of This is True distribution. David has a special professional use for True's stories: "I work in the drug and alcohol recovery industry (I run a group of half way houses) and the obliviots featured are used as part of the recovery programs at our houses. We play guess the 'impaired or not impaired' game. The really 'funny' part is seeing the recognition on a client's face that they've done that and don't want to go back! Keep up the good work!"
I have no doubt whatever that a large percentage of True's stories reflect substance-related impairment, not even counting the ones where it's explicit (such as when there are DUI charges). I think it's really cool that David uses an unending supply of real-life stories to illustrate just how stupid people can get, and yet it's preventable. Thinking more beats drinking more. Kudos to the many men and women who perform the usually thankless task of helping others get sober. I'm sending David some Get Out of Hell Free cards to give to the clients he thinks are really getting it: the cards are a great reminder that there is a way out of our self-made hells, even if it's not always an easy road.
If you, like David, have a "special" use for True's stories, from teaching your kids to professional situations, I'd like to hear about it. Thanks.
---
Ten Years Ago in True: Why are newspapers failing? Here's one reason: Department of the Obvious.
Today on Randy's Random: My Encounter with a Psychic. (And be sure to see Monday's My Hobby on Weekends — which is the second-most-shared meme on the site! :-)
This Week's Honorary Unsubscribe goes to Thomas Starzl. The son of an Iowa newspaper editor and a nurse, Starzl planned to become a priest. But when his mother died from cancer, he turned instead to Continued in the Archive.
And So Long to comic artist Jay Lynch, best known as the lead cartoonist for the Bazooka Joe panels from 1967 to 1990, dead March 5 from lung cancer. He was 72.
---
Subscriptions to This is True are Free at http://www.thisistrue.com. All stories are completely rewritten using facts from the noted sources. This is True® is a registered trademark. Published weekly by ThisisTrue.Inc, PO Box 666, Ridgway CO 81432 USA (ISSN 1521-1932).
Copyright ©2017 by Randy Cassingham, All Rights Reserved. All broadcast, publication, retransmission to e-mail lists, WWW, or any other copying or storage, in any medium, online or not, is strictly prohibited without prior written permission from the author. Manual forwarding by e-mail to friends is allowed IF 1) the text is forwarded in its entirety from the "Since 1994" line on top through the end of this paragraph and 2) No fee is charged. We request that you forward no more than three copies to any one person — after that, they should get their own free subscription. We always appreciate people who report violations of our copyright to us.
---
You can subscribe free by e-mail and get this delivered to you every week.
This Week's Issue